India vs England Day One: A brief overview
908 //
16 Nov 2012, 00:35 IST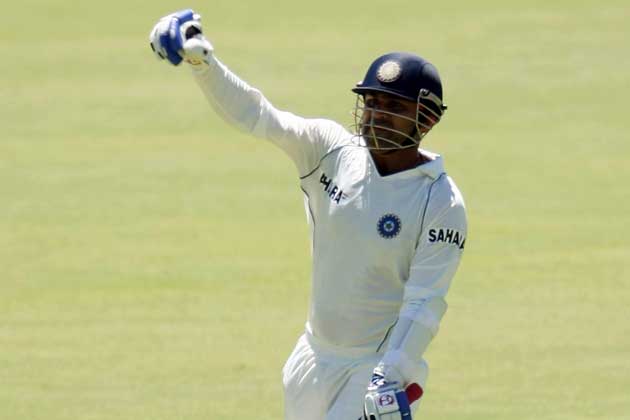 The day started with all positives for team India. MS won the toss, a very rare thing, and he chose to bat first. He went with the most expected team line-up, playing two spinners Ashwin and Ojha. But surprisingly, England took the field with one spinner Swann and a spinner all-rounder in Patel and three seam bowlers. God knows what their game plan was. Leaving out Panesar and going in with three specialist seam bowlers on Indian tracks is like putting your own hands on fire.
I think for a moment Cook forgot they were playing on slow Indian tracks rather than the fast Lord's ground. Cook must have realised his mistake in the very first session, when Sehwag and Gambhir took the attack to England and scored a much awaited century stand after a troubling two years wait. Gambhir lost his cool in the post lunch session and was bowled by Swann, which was supposed to be his lone mistake.
But Gambhir's wicket hardly troubled Sehwag who went on to score a splendid century in his own way, by hitting a super four and proving his form and fitness. But he soon departed in the typical Sehwag way when he totally misjudged a top delivery from Swann and was bowled trying to sweep him. Sachin came and went quite quickly. It was very unlike Sachin to lose his cool so early in the match, giving a simple catch to the deep fielder off Swann's bowling.
The local boy Pujara on the other hand, was scoring freely on the other end. As Sachin departed, Kohli took the crease. He took 30 balls to get off the mark. He departed quite early, giving way to Prince Yuvraj who made his second debut in tests for India.
India closed its day on 323/4 with Pujara still at the crease with 98 runs and Yuvi on 24. Hope we get to see Pujara's 100 early in the day tomorrow. It was completely India's day with Sehwag making a century, making him only the 10th player to score a ton in his 99th test match.
For England, it was a poor outing owing to their bad team selection. It would have made a lot of difference if they had Panesar playing for them.  Swann held the English attack like a one-man army, making him the only bowler to take all the four wickets and the rest of them, including Anderson, were expensive. Prior was too lazy behind the wickets, dropping Sehwag and missing a stumping chance of Gambhir.
The matter will become worse for them if the pitch deteriorates, which is expected to happen in India, because it will enable Ashwin and Ojha to take charge on their batsman, who by no means are good spin players. The happiest man on the earth right now would be Dhoni, as these are the type of conditions he loves playing on. He now only wants his spinners to hit the deck and bowl out English batsmen as soon as possible.
All in all, English players looked effortless on the field just like India looked in England. But it is cricket, and conditions here change like the colour of the chameleon. It's too early to make any predictions.