India vs England "Player Comparisons"!
1.47K //
15 Nov 2012, 12:38 IST
The series between India and England is going to begin today. It is going to be an interesting encounter, no doubt. The English team's last test outing was miserable, losing to South Africa 0-2 in their own backyard. They are hurting no and would want to salvage some pride in this series. England have a strong team with the emergence of players like Cook, Broad, Bell and Trott in recent years. Cook has been in the form of his life scoring consistently over the past few years. He has been a source of massive strength to his team. Now that he is the captain after the retirement of Strauss, he would be raring to go. He would want to mark his position as the skipper by bagging this series.
India, on the other hand, would view this series as a "Revenge Series" for the sound thrashing they received at the hands of England last year. Virat and Viru have already termed it as the "Payback Series" which has made the contests all the more interesting. The openers,though quite not back into their own, have got some form after playing in domestic games. Sachin has gotten back to form after his quickfire century against Railways in the Ranji Trophy. India have lots to prove after the 0-8 loss to England and Australia. This is the beginning of a long season ahead of India and they would do well to start on a winning note.
Both are teams are even footed in the batting department after the retirement of Dravid and Laxman. Let's compare each player according to their position and evaluate both the teams on paper :
The Openers :
Gambhir vs Cook :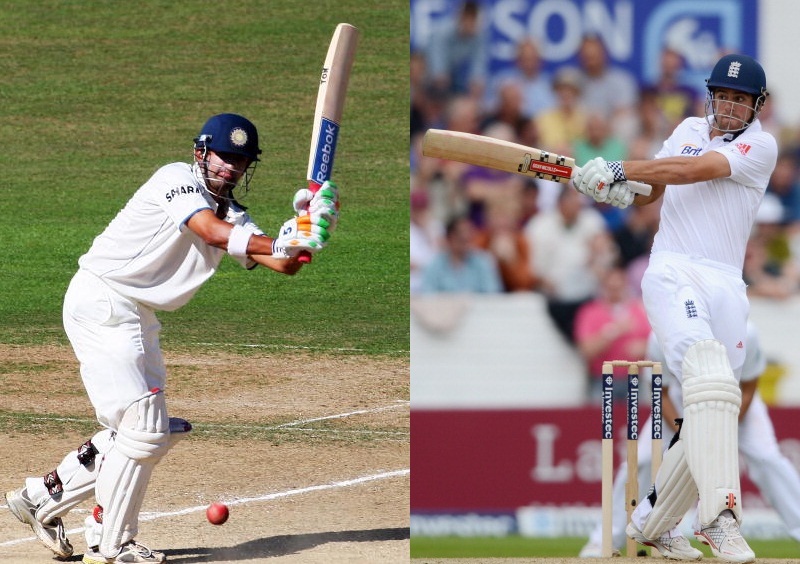 While one is a skipper, the other is an aspiring skipper. Both the batsmen are similar in terms of technique, though Cook is the in-form batsman now. Both these batsmen favour the offside and both know how to build a perfect test innings. While Cook is more of a traditional test batsman, Gambhir is a "with the flow"batsman. He is versatile and can play both offensive and defensive cricket.But with the form that both the players are in, Cook has the better chance of success but it is foolish to rule a player like Gambhir out.
Sehwag vs Compton :
Sehwag is in form after a fighting century from him in a Ranji trophy match and would look to use it against the seam bowlers of England. His form is very crucial to India's success in this series. On the other hand, Compton is yet to make his debut. He has impressed one and all with consecutive half centuries in the practice games. The grandson of Dennis Compton, Nick has been a steady performer in the England domestic circuit. He is a technically sound batsman unlike Sehwag and that should prove useful in these conditions.
The Middle Order :
Trott vs Pujara :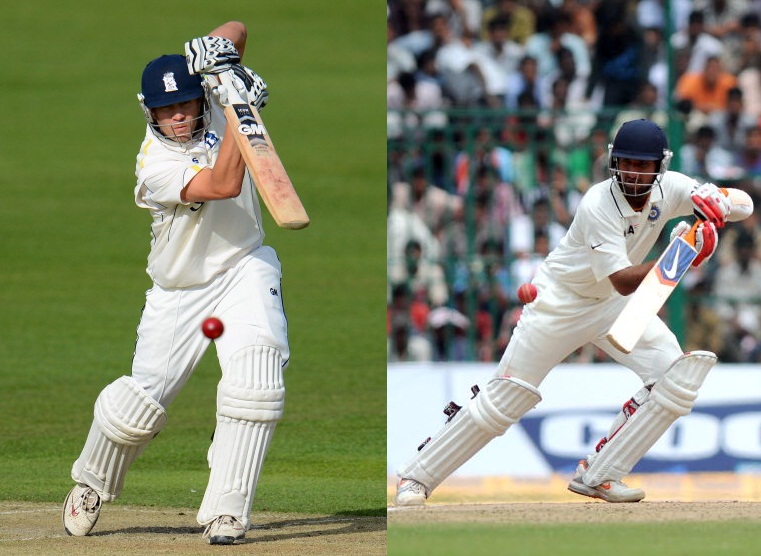 The clear leader in this battle is Trott with oodles of experience and class much like Dravid, but Pujara is also in the same mould as Dravid. It is going to be an interesting battle and only performance can judge the winner among these two. Pujara has lots to prove and he has to be at his best to conquer the relentless English bowling. Trott will face a barrage of spin when he comes up against the likes of Ashwin,Ojha and Yuvraj. He is a class act and a dangerous batsman. India should look to get his wicket soon because once he gets set in, it is very difficult to stop him.
Pietersen vs Sachin :
This can be considered master of all battles. While Pietersen is the best batsman for England, Sachin has ruled the roost for almost 24 years. It is going to be interesting to see both of them play because both have some points to prove of their own. Pietersen, after the texting incident, would want to focus on cricket to show the world his worth. Tendulkar, on the other hand, is in the twilight of his career and he would look to put up a good show in order to retain his pride and name. Watch out for this pair.
Bell vs Kohli :
On paper, one can say the winner is going to be Kohli in a flash, largely due to the terrific form he is in of late. Bell, though a good player, struggles against quality spin and he was found wanting in Pakistan. Bell needs to be more creative in his batting and should look to rotate the strike more often. Kohli,on form, will be raring to get a lot of runs and help the team in winning this series. He has been a key performer and will look to bank on the home conditions to torment the English bowling.
Morgan/Bairstow/ vs Yuvraj :
It can either be Morgan or Bairstow who can play at this position for different reasons. Morgan has the advantage of being the sole left -hander in the middle order. He can lend stability and the advantage of having a right- left combination since Trott, Bell and Pietersen all are right handers. Bairstow has the advantage of being in form. He played brilliantly in the last test against the South Africans leading the English fightback and run chase. So he stands a chance of being picked in the playing eleven. Both of them are average players though, when it comes to the Test format. They have got lots to achieve and both of them are quite new. On the other hand, this is going to be litmus test of sorts for Yuvraj, who is making a comeback to the test format after 1 year. Yuvraj's fitness is a matter of concern for our team; but after he got that double century in Duleep Trophy, the concern has eased up a bit. But Yuvraj needs time to settle down and he should look to make some good runs and provide crucial breakthroughs for India.
The Wicket keepers :
Dhoni vs Prior :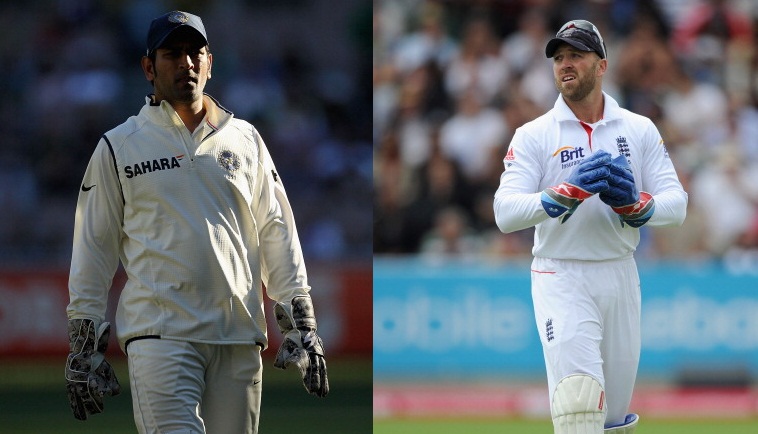 Dhoni's captaincy is at stake and he has to be at his best to lead India to victory, not only as the captain but also with the bat. He was instrumental in the test series victory against New Zealand and would hope to repeat that performance once again. He will have to choose wisely as a captain and should lead India from the front. On the other hand, Prior, who is a good batsman will have to be at his best behind the stumps in the sweltering heat and has to play some vital knocks if his team has to win. Prior is a key player for England and his batting would be an added advantage for them in subcontinental conditions, having played in India before.
The Spinners :
Ashwin vs Swann:
The fight between the two better off-spinners of this era. Swann is a completely orthodox bowler whereas Ashwin lives a midst his variations. Swann has a pretty neat action with which he can drift and turn the ball sharply whereas Ashwin is a pretty unorthodox bowler right from his carrom ball to his stop-jump delivery. This one is going to be an interesting battle, for the one who comes out good will be instrumental for his team in winning the series. This is the most important pair when it comes to bowling and can change the course of a match on their own. Added to that both are extremely good with the bat and can help the team by scoring 30-40 crucial runs.
Ojha vs Patel/Panesar:
The left arm spinner from India is having quite a year, bowling well in the New Zealand series and has been successful right from the last year when he joined hands with Ashwin. He has been quite orthodox and persistent, bowling a nagging line to lure the batsman into playing a false shot. Pairing with Ashwin has reaped rich dividends for team India in the recent times. If they click,then it game over for England.
The Pacers :
Anderson vs Zaheer:
Anderson is a much improved bowler from last time but he will be second to Zaheer since his experiences on subcontinental pitches have always ended up in disaster. He was taken apart by a rookie batsman (Kevin O'Brien) in the World cup group match last year. So he needs to be at his best and swing the ball to provide England with early breakthroughs and has to stop Sehwag and Gambhir from getting away with the match. Zaheer, on the other hand, knows these conditions like the back of his hand and can make use of that experience. But he needs to be innovative and fit to trouble the English batsman who are adept at playing fast bowlers without any pressure. Zaheer needs to sort his "breakdown" issues so that he can bowl to his full effect. This is going to be a crucial series against a top notch side and Zaheer cannot afford to take anything for granted.
Umesh Yadav vs Broad:
This is a very contrasting battle because Yadav is a newcomer whereas Broad is an established bowler in the England team. But the battle is on nevertheless, more so because of Yadav's never-say-die attitude. He always bowls with a large heart, trying to exploit whatever conditions available to his advantage. Broad, on the other hand, can be quite lethal on his day and can turn the tide of the match with a single spell. But he is an extremely volatile bowler and it will be a matter of concern for the English in alien conditions.
One or two changes might be made in this line-up but I'm sure these players are more than up for it to give a great fight. By the time the series ends, we would know who has won the battle among these pairs. But who ever wins it,we are gearing up to witness what is unofficially called the "Payback Series" !