India vs Pakistan: Three balls of glory and a six of disdain
1.11K //
26 Dec 2012, 00:03 IST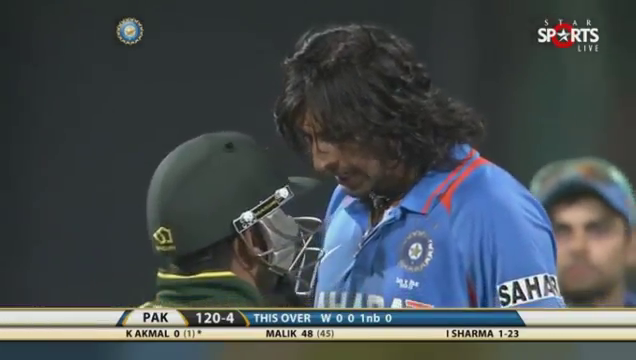 Whoa! What a match!
We were cruising (77-0) and crumbled  to ashes (133-9). We started brave again (3-12) but all efforts in were in vain due to a six by Shoaib Malik!
Now that's what is called an epic India-Pakistan battle that we all lined up for. Everything was up for display – swashbuckling batting, mesmerizing spells of bowling and, of course, the on-field banter between Ishant Sharma and Kamran Akmal.
The feeling of a 7'1″ tall fast bowler running towards you and delivering fire bombs will send shivers down the spine of most batsmen. Well we had a sweet elegant answer to Mohammed Irfan – our latest gift to the art of swing, Bhuvneshwar Kumar, who stunned the Pakistani batsmen with his canny and controlled swing bowling. The clip showing the in-swinger he bowled to Umar Akmal was a treat to watch.
The Indian openers started out well, amassing 77 runs in quick time.
The gutsy opening stand was followed by a heap of wickets. The smile on the faces of Pakistani players indicated that they already sensed victory. The Indian dismissals seemed more of a Christmas gift for the opposition. Did they expect Pakistan to return the favour? Alas! What blasphemy! The great Indian fall opened the gates for Pakistan to steamroll us on home soil.
Pakistan's opening stint was wrecked by swinging deliveries by Bhuvaneshwar Kumar, who claimed 3 wickets on his debut. But the veterans did it for Pakistan. The 100+ partnership between Shoaib Malik and captain Mohammed Hafiz not only steadied the rocking ship but also almost brought it ashore, save that one amazing over from Ishant Sharma. But I guess it was indeed too late for India to come back and Shoaib Malik ensured there were no doubts about that by smashing Ravindra Jadeja straight back over his head for the winning six with 2 balls to spare.
Definitely a game to remember.
POSITIVES AND NEGATIVE:
FOR PAKISTAN:
They must be proud of the way they clawed their way back into the game after the initial assault from Gambhir and Rahane. But they should beware, as the Indians might not be in a gifting mood another night. The batting, though overshadowed by the sheer brilliance of the two veterans, still had some shades of grey and looked vulnerable against fast bowlers from start to the end. Had MS Dhoni not employed part-timers after securing early wickets, we could be facing a different scenario. Anyway, well played and keep it up. Pakistan's fielding effort was indeed commendable tonight.
FOR INDIA:
Congratulations on getting your opening combination right. But the easy going approach can sometimes appear to be lethargic. Some focus on steadying the ship could have got us a more fighting total. The bowling and fielding were indeed worth appreciating. Again, we loosened the grip when we had our opponent floored and ready to be finish. The introduction of part-timers indeed did backfire on us. Though MSD must have his reasons, Jadeja being introduced earlier instead of Virat Kohli would have been a wiser move. Kumar is an astonishing discovery and could well be a solid brick in the foundation being laid for WC 2015. So come on India, buck up, learn from your mistakes and grow from your achievements. Better luck next time.