Indian Premier league : Team preview Deccan Chargers and Royal Challengers
1.12K //
06 Mar 2010, 14:11 IST
The IPL, which was moved to South Africa last year, is back to its Indian home now. And we are all waiting with bated breath for 12th March, the day when the tournament is scheduled to begin. There were a lot of surprises last year. A mixture of good and bad teams. It was a tough competition throughout which Deccan Chargers won with style in the end.
Here is a look at the 2 finalists of last year's edition:
DECCAN CHARGERS
The Champions of IPL 2009 came back fighting from their disastrous campaign in 2008. In 2008 they put on a total flop show. That prompted them to make a series of changes – they changed the captain, coach, even their jersey! Maybe those changes were responsible for helping them win the IPL in South Africa.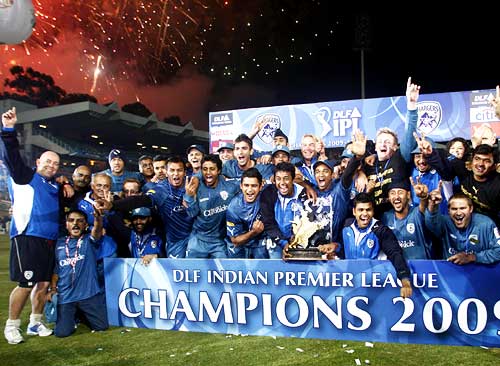 Led by their superbly inspiring captain Adam Gilchrist, the Chargers won the IPL in style, aided greatly by the captain's sizzling batting and the quality bowling of Pragyan Ojha and RP Singh. Gibbs, Symonds, Dwayne Smith and Fidel Edwards too contributed a lot, although they perhaps fell short of fulfilling their potential to the maximum.
In the Champions League which took place in India, the Deccan Chargers were thrashed out of the tournament in the first Stage itself. It seems India is not a happy hunting ground for the Chargers seeing how they fared miserably in both IPL 1 and CLT20 1. South Africa was the best venue for them.
Let's focus on this year's IPL.
West Indies Newbie pacer Kemar Roach has been taken by DC team for a stunning price in the auction. Mitchell Marsh, brother of IPL 1 Top Scorer Shaun Marsh has also been picked up by the management.
Ryan Harris, Kemar Roach, Chaminda Vaas, RP Singh and Pragyan Ojha will make up the bowling attack this time. All of these players look to be in great form and are expected to deliver.
Gibbs, Symonds, Gilchrist, Dwayne Smith and Rohit Sharma also seem to be in good shape. Gibbs and Smith will be the trump cards whose roles will be important.
Squad: Adam Gilchirst, Arjun Yadav, Harmeet Singh, Azhar Bilakhia, Kemar Roach, Mitchell Marsh, Anirudh Singh, A Ashish Reddy, Rahul Sharma, Bodapati Sumanth, T Suman, Dwaraka Ravi Teja, Venugopal Rao, Herschelle Gibbs, Andrew Symonds, Ryan Harris, Dwyane Smith, Chaminda Vaas, VVS Laxman, Rohit Sharma, RP Singh, Pragyan Ojha, Mohnish Mishra
KEY PLAYERS: Gilchrist, Gibbs, Kemar Roach.
Having stood a humiliating second last in IPL 1, Royal Challengers Bangalore came back in stunning fashion under Kumble's captaincy to zoom to the No. 2 Spot in IPL 2. Rahul Dravid and Venkatesh Prasad were criticized for the performance in 2008, and were sacked from their positions. Ray Jennings became the Coach of RCB and Kumble became the captain.
With Kevin Pietersen joining the team in 2009, it added a huge boost to the side but Kumble replaced him as Captain when Kevin went back to England after playing 2 weeks of the IPL.
Now that T20 Specialist Eoin Morgan and Steven Smith are in the team, the batting suddenly looks power-packed and formidable.
Jacques Kallis, Ross Taylor, Virat Kohli, Kevin Pietersen, Cameron White will be the important players for the Royal Challengers' season.
There's not much to shout about the bowling attack though. Dale Steyn, Praveen Kumar, Dillon du Preez, Roelof vander Merwe and Kumble did well last season and have fairly decent records in T20 cricket, and they would be expected to replicate their good work from last year.
Cameron White, the Victorian catain, and South African Jacques Kallis are the two key all-rounders in the team, and a lot will rest on their capable shoulders. But with the large number of proficient foreign players at the disposal of the management, the question is which of those will make the cut to be in the final eleven.
The Royal Challengers almost look like a South Africa-based outfit with the large bunch of players in the team coming from South Africa. Vijay Mallya's team was considered among the favorites last year partly because the tournament was held on South Africa grounds, which were familiar to the large contingent of South African players in the team. It will be interesting to see how the team fares now that the tournament is back on Indian soil.
KEY PLAYERS: Ross Taylor, Jacques Kallis, Virat Kohli.
SQUAD: Jacques Kallis, Manish Pandey, Srivats Goswami, Vinay Kumar, Bhuvanesh Kumar, K P Appanna, Eoin Morgan, Akhil Balachandra, A Mithun, Steven Smith, Virat Kohli, Praveen Kumar, Robin Uthappa, Mark Boucher, Dale Steyn, Dillon Du Preez, Cameron White, Ross Taylor, Kevin Pietersen, Roelof van der Merwe, Rahul Dravid, Anil Kumble, S Sriram