India's dominating partnerships against Sri Lanka
1.38K //
02 Mar 2012, 22:50 IST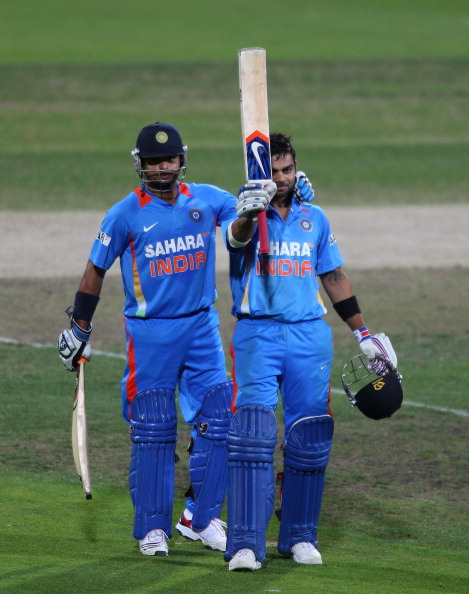 India are out of the CB Series tournament and have failed to defend their championship. They have had many negatives on the tour except Virat Kohli, who was the only bright spot for India in this tour. On Tuesday, the 120 run partnership between Suresh Raina and Virat Kohli steered India home in an historic match. It provided a back door oppurtunity for India to book a place for finals. It will go into the history as one of the most memorable partnerships for India against Sri Lanka. There are many such in Indian cricket history. Let us look at a few other partnerships of the past that carved India's dominance against Sri Lanka.
5 – Yusuf Pathan and Irfan Pathan, Vs Sri Lanka in a T20I
Treated as a batsman friendly cricket, T20 cricket was usually a sort of single-man-dominant game. Players like McCullum, Gayle, Warner have dominated these games across the globe whereever they play. As a partnership, people hardly remember few.
India took on Sri Lanka in Colombo in a one-off T20 international game. Sri Lanka posted a huge total of 171 in the 20 overs aided by Dilshan's half century. India's chase begun in a miserable manner as Sehwag was sent back to pavilion in the 6th ball of the innings. Losing wickets at regular intervals had reduced India to 115/7 in 15.1 overs still requiring 48 runs to win. It was then, Irfan Pathan who joined his half-brother Yusuf Pathan at the center. A carnage was displayed after his arrival. The brothers scored 59 runs in just 25 balls at a run rate of 14.16 runs per over. They guided home with 5 balls to spare. Their innings include 6 maximums and 3 fours. From the jaws of defeat, the Pathan brothers sealed a victory for India.
4- Saurav Ganguly and Rahul Dravid, Vs Sri Lanka in an ODI
It was a 1999 World Cup match at Taunton. Winning the Toss, Sri Lanka opted to bowl first. India had a poor start. Sadagopan Ramesh was dismissed in 5th ball of the innings. Dravid came as No 3 batsman to join Ganguly. Soon, both started to party by finding fence regularly. Dravid who was often criticized for scoring at a slower rate managed to cope up with Ganguly. The crowd at Taunton went crazy seeing the batmen at their predominant form. They were rejoicing. Ganguly raced higher and scored his career best knock of 183. Dravid scored 145 before he was ran out by Muralidharan. The duo scored 318 runs in 269 balls at a rate of 7.09 runs per over.  Supported by this partnership, India set a target of 374, which Sri Lanka failed to score and lost the match b 157 runs.
3- Gautham Gambhir and Mahendra Singh Dhoni, vs Sri Lanka in an ODI
Yet another world cup game. It was bigger than Taunton's. it was a World Cup final. Scheduled on 2 April, 2011 between India and Sri Lanka. Batting first, Sri Lanka set a target of 275 for India . India's chase was hindered by the wickets of Sehwag and Sachin with scorecard reading just 30. Kohli too went after a brief innings. Dhoni, who was completely out of form in the tournament, was gutsy to promote himself ahead of inform Yuvraj Singh. What happened then was history. A 109 runs stand between Dhoni and Gambhir was the difference between the two sides. Those two players scored at a rate of 5.54 runs per over. Needless to say about what happened rest. India won and are the current world champions.
2-Sachin Tendulkar and Suresh Raina, vs Sri Lanka in  a Test
It was the  2nd test match of 3 match test series between the two nations. Sri Lanka were 1-0 ahead. Winning the toss and electing to bat Sri Lanka scored 642 runs scripted by the centuries from Paranvithana, Sangakarra and Jayawardene. India began its first innings. A quick fire 99 by Sehwag helped India to gather the momentum. However at the fall of Laxman's wicket, India were struggling a 241/4. Incame debutant Suresh Raina, who nerve showed any signs of nervousness. He along with Sachin Tendulkar almost took India out of following-on situation. Raina soon became only the 12 Indian to score a century on debut. Sachin went on to score a double century. The duo lasted for 69.5 overs and scored 256 runs. India surpassed Sri Lanka's total and scored 707 runs. Eventually, the match ended in a draw.
1. Gautham Gambhir and Virat Kohli, vs Sri Lanka in an ODI
Sri Lanka were touring India for 5 match ODI series. Trailing 1-3, Sri Lanka came to Eden Gardens to meet India. Winning the toss and electing to bat, Sri Lanka posted a huge total of 315 runs powered by Tharanga's century. Chasing a target that demands more than 6 run per over is always a huge ask for limited overs cricket. But India fancied their chance. Despite losing Sachin and Sehwag early, the two Delhi lads Gambhir and Kohli held their nerves and found singles and rotated strike well beween the wickets. India never felt the pressure of scoring more than 8 runs per over at any point of game. Gambhir batted well and scored his career best 150. Kohli scored his 2nd century of his career. The duo scored 224 runs at a run rate of 6.28 runs per over. Kohli lost his wicket, going for glory. However, experienced Gambhir, played till the very end and guided India home. Gambhir was adjudged Man of the Match but he came forward to hand it to Virat Kohli.