Interview with Javagal Srinath: "Sachin was the one who infused aggression into the game"
2.17K //
23 Dec 2012, 21:44 IST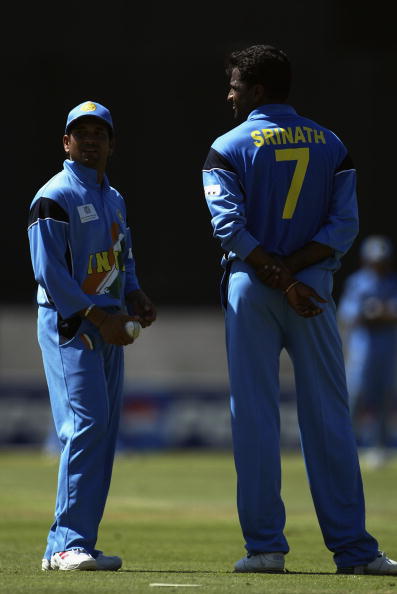 Former Indian pacer Javagal Srinath has shared the dressing room with cricket maestro Sachin Tendulkar when the Indian team was going through a rough patch.
It was the controversial 90s and Indian cricket was hit by match fixing scandal. It surely must have been a horrible time for Indian cricket. What was harder, was to re-coup and get back on track.
This was when Saurav Ganguly had taken over as captain. This was at a time when seniors like Sachin Tendulkar, Rahul Dravid, Anil Kumble and Javagal Srinath had to step up their ante and bring back the lost confidence of a cricket fan and get them to respect the game, once again. They eventually made it happen. They acted responsibly and helped resurrect the team.
All of them were young and hot-blooded but weren't exactly the aggressive kind.
Rightfully so, Sachin Tendulkar's teammates recall those hay-days and remark that it was the legendary batsman who instilled aggression in the game and often changed the course of the match for the team.
"He (Sachin Tendulkar) was the one who infused aggression into the game and you can say that he was a game-changer," exclaimed Javagal Srinath, currently the secretary of Karnataka State Cricket Association (KSCA), the venue for the first T20 tie against Pakistan.
Srinath recalled his days with Sachin Tendulkar and nostalgically expressed that the Sachin Tendulkar revolutionised the way One Dayers were played back in the 90s. "Sachin changed the way One Day Internationals were played right from the time he opened for us in a one day match in New Zealand back in 1994," Srinath recollected.
It was an absolute pleasure to watch him bat in ODIs. I was certainly privileged to share the dressing room with him," he added.
With the major senior players calling it quits in the recent past, the Indian team is in a transition phase and it's going to be quite a task for India to regain the standards set by these big guns over the past decade.
"Transition should happen at the right time," pointed out Srinath. "It takes a lot (out) of the team. If you think that you have reached the high of your game, then you'll have the satisfaction (of retiring)," he opined.
"The good thing is that he will continue playing Test cricket," Javagal concluded.