Ireland on the verge of qualifying for the ICC Cricket World Cup 2015
967 //
22 Mar 2013, 00:19 IST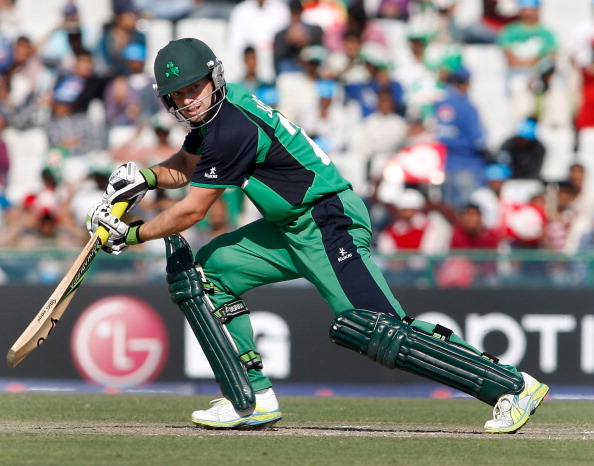 Ireland are on the brink of securing a spot in the ICC Cricket World Cup 2015 after winning its fifth round 50-over matches in the Pepsi ICC World Cricket League (WCL) Championship against the United Arab Emirates (UAE) at the Sharjah Cricket Stadium.
Ireland won both matches, played earlier on Monday and Wednesday, by five wickets and six wickets respectively.
The double-win means that Ireland has opened up a six-point lead over second-placed Scotland and Afghanistan, who are both sitting on 11 points. It's a three-way tie for third place, with the Netherlands, Kenya and the UAE just one point behind.
With five teams in contention for the crucial second position, the stage is set for a mouth-watering sixth round, which will be played in July/August.
Ireland's final two round fixtures in the WCL Championship are against the Netherlands and Scotland. If the European side wins two matches, then it will be assured of a place in the ICC Cricket World Cup 2015 irrespective of how the other matches in the tournament pan out.
In contrast, the UAE will play Canada and Namibia in its final round matches. The UAE will need to win all four matches to keep its hopes alive for a top-two finish.
The top two sides from the WCL Championship will qualify automatically for the ICC Cricket World Cup 2015. The final two positions in the ICC's flagship event will then be determined at the ICC Cricket World Cup Qualifier, which will be staged in New Zealand in 2014.
With so much riding on each match, the UAE will be closely following the WCL Championship matches between Namibia and Netherlands in April, as back-to-back victory for the Dutch will put them in second position on the Championship table.
Reverting to the Ireland-UAE matches, wicketkeeper-batsman Gary Wilson set up Ireland's first victory with an unbeaten 72, while captain William Porterfield led from the front on Wednesday to steer Ireland to a six wicket win.
On Monday, Wilson's measured 72 not out from 102 balls, including 10 fours, assisted his team to reach the 166-run target in the 42nd over. In the second match, Porterfield top-scored with 77 runs to assist his side chase down the 200-run target in the 48th over. The top wicket-takers for Ireland were Trent Johnston (four for 25), Alex Cusack (two for 40) and John Mooney (two for 46).
Ireland's captain William Porterfield was delighted with his team's performance, saying: "The result feels pretty good. One of our goals when we came here was to take two wins in these two games, and we've managed to do that now and put ourselves in a pretty good position moving forward."
The left-handed batsman was pleased to be a part of his side's improved batting performance: "We're pretty pleased with our batting and it is something we spoke about. Obviously, the other day wasn't ideal starting with the batting and we managed to address that today and we came home pretty comfortably there in the end and it was nice to get a score – but it would have been nice to kick on as well and see it through. But it was something we talked about, the top order taking that responsibility and today it was me, but it will be someone else another day."
Looking forward to Ireland's final round matches against the Netherlands and Scotland, the Warwickshire batsman said: "We'll prepare like we've prepared for any other round of fixtures. We'll go out there looking for two wins as well."
UAE captain Khurram Khan was philosophical about the result, saying: "I think the guys batted very well, although it wasn't a huge total – 200 is just an average score. But I think they batted very well, they bowled very well. A couple of bowlers are just part time, and they bowled superbly well. So these are the positives. We understand that Ireland is one of the strongest teams in the Associates, and I think the guys still did very well. We need to learn from our mistakes and hopefully we'll do well next time.
"To lose a game, there is always frustration. I think the difference was that they didn't lose their wickets, they kept their calm, and they kept taking singles and doubles, and that was the difference. On the other side, we kept losing the wickets; whenever we lost a wicket, the next four-five overs, we played dot balls, and that was that. So I think we have to learn from the mistakes, and hopefully we'll do well the next time," he continued.
The attention will now turn to the final fixture of the fifth round, in which Namibia hosts Netherlands on 16 and 18 April. Prior to the fifth round, Netherlands held third spot in the Championship. A double win for Netherlands will move the side to second, one point behind Ireland and three points ahead of second-placed Scotland and Afghanistan.
With the competition now wide open for the teams in the middle of the table, Khurram says his side will be watching the fixture with keen interest, as well as each fixture of the final rounds.
"I think Ireland is clear now at the top, and then for the rest of all the teams, I think it is quite a mess. It is not going to be clear until all the matches are finished. We'll be watching every game and we'll be seeing how the conditions are where we are going to play and how Canada is playing here, because we have to play Canada and Namibia, so we have to keep an eye on their games as well to see how they are doing. We'll have a close watch," he concluded.