Is Dhoni the greatest Indian captain? Or is it Sourav?
Editor's Pick
12 Apr 2011, 16:58 IST
3.42K
[A discussion overheard at a tea-stall adda]
Is Dhoni the best captain in the Indian cricket history?
Which is the place in India where the best analysis and discussion on different issues happen? It is not the news channel studios, but the adda at tea stalls where every morning number of people come and discuss topics ranging from politics to sports over a glass (not cup) of tea. As India's world cup win is the biggest news these days, it is natural that most of the people are discussing cricket these days at such addas. A few days ago, I overheard some part of a discussion between some young cricket fans at a tea stall. The discussion was on the question if Dhoni is the best captain of the Indian cricket team so far. Here are the excerpts from that discussion: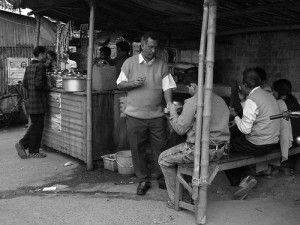 Fan 1(reading the newspaper): Hey guys! Sachin says that Dhoni is the best captain ever he has played under. Sachin has also praised Dhoni's ability to stay calm in difficult situations. Cool! No doubt Dhoni is now the best captain in Indian history. What say?
Fan 2: Hmm, Even Ganguly said so. Look at this piece of news (shows a particular news headline on his news paper). "Dhoni is the greatest ever India skipper, says Ganguly." So there is no doubt. If 'captain courageous' believes this then 'captain cool' is certainly India's greatest captain ever.
Fan 3: Dude! Are you mad? You were waiting till Ganguly's certificate to admit that Dhoni is the best Indian captain? Come on, Ganguly certainly was a good captain but there was never ever a doubt that Dhoni is better than Sourav when it comes to leadership. T20 world cup, Asia Cup, number one rank in test cricket, series wins against Australia and now the world cup victory. Sourav never won so many tournaments. And not to forget Dhoni's IPL and champions' league triumphs. Man! Dhoni is way ahead of Dada! Good that Dada admitted this now.
Fan 2: Yeah, yeah! Agree! Dhoni's captaincy record speaks for himself.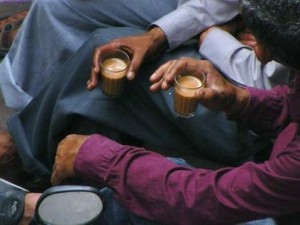 Fan 4: Friends! Sorry to be rude but statistics and records sometimes doesn't show the real picture. It is magnanimity of Sourav that he said that Dhoni is the greatest Indian captain but a true Indian cricket fan knows Dada is India's best skipper ever. Statistics wise Dhoni may surpass Ganguly, win more tournaments but still the most important point is that Dhoni uses the team which Sourav built during his captaincy.
Fan 1: Who denies that? But Dhoni's achievements are his only. You can't give Ganguly the share of those achievements. As someone said just look at the no. of tournaments he has won.
Fan 5: Look dude! Leadership is not about how many cups you won but how you led the team. Dhoni hadn't faced the obstacles Sourav had to fight. Just remember, he was made captain when Indian team was down with match-fixing scandal, Sachin had rejected the idea to captain the Team India. Team was losing matches after matches, tournaments after tournament. Indian cricket was stagnant and it wasn't progressing. Indian cricket was all about winning few matches at home and losing many in the foreign land. The team was heavily dependent on 2-3 players and it was not playing as a unit.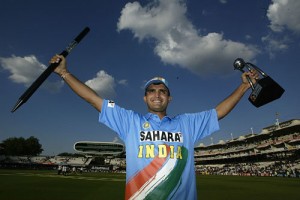 Fan 4: Correct! the situation needed a courageous leader with a vision to lead the team. Sourav had the perfect agenda. He correctly identified the problem area of the team: 'lack of confidence'. He gave the team the confidence. He taught the boys to be the men. He taught to look into the eyes of the opponents. He inducted young players in the team and backed them. Do you remember how Sourav gave Sehwag the chance to open the innings? Sehwag was a lower middle order batsman and wasn't able to score big. Dada advised Sehwag to open the innings as he noticed Viru's true talent. He also said Sehwag that even if Sehwag fails to play well as an opener he wouldn't be dropped for next matches. This is what Sourav was. He sacrificed his opening slot for team's good and see what Sehwag has become today.
Fan 2: Even his decision to play Dravid as wicket keeper to have an extra batsman in the side was brilliant. It helped India those days.
Fan 5: Dada was always a good decision maker. He experimented a lot to induct new faces in the team. In fact, Dhoni himself was Dada's experiment's product. And imagine what if Dada hadn't promoted Dhoni in that match against Pakistan to No. 3 in which he scored 148? Perhaps, Dhoni would have gone unnoticed.
Fan 4: The match winners in the current team like Yuvraj, Harbhajan, Zaheer Khan, Gautam Gambhir, Sehwag, Dhoni himself are all products of Dada's vision. To be honest, Dhoni is 'lucky' to have got the team from Sourav Ganguly. Dhoni isn't bad captain but not a better captain than Sourav. Not even of Sourav's level.
Fan 2, who had the opinion that Dhoni was better than Dada, was about to say something in defense of his views. I was feeling restless hearing the discussion was itching to join the discussion. I had to stop this discussion turning into a battle like situation.
I joined in, "Hey hey! guys! wait! I was listening to your discussion from the beginning and have a thought to share. There is no doubt that Sourav Ganguly was a brilliant captain who changed the direction of the wind in the Indian cricket. He laid the foundation of the current world champion team. He couldn't win the world cup for India because Australia was a very strong team at that time, but, unlike other teams, Sourav dared to defeat Australia. This change in attitude is the gift Sourav has given to Indian cricket. At the same time, the current captain MS Dhoni should also be credited for what he has done so far. He might be lucky to get a world beating team, but Dravid had also got the same team but he couldn't take the team to a new level in which Dhoni has succeeded. It is unfair to compare Sourav and Dhoni simply because they belong to different times, the situations are different and their goals are different. If Sourav had to make India a world beating team, Dhoni was given the target to sustain this success. It is difficult to reach the top, it is equally difficult to remain at the top. Both Dada and Dhoni succeeded, that's why we are at the top now and no one can raise doubts over India's supremacy over other teams. Rather than indulging in debates like these, we sould celebrate the world cup glory which was achieved because of both Dada and Dhoni. India is proud that it got such legendary captains."