Jammed
1.59K //
11 Mar 2012, 19:43 IST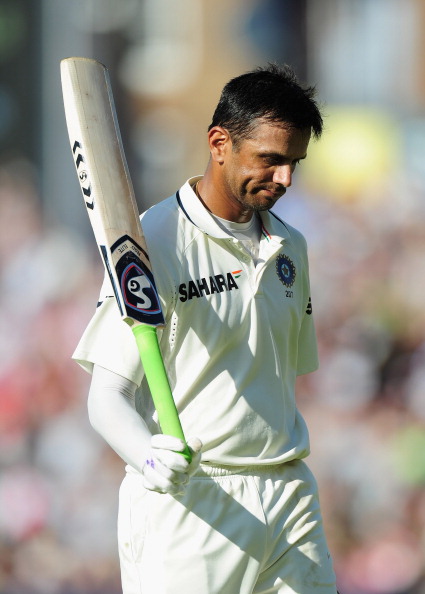 I don't exactly know when I became your fan. Its not like you stood out like he did at Sharjah swatting them left, right and centre and making me discover adrenalin in the process. I do remember being sorry for you and cursing you in equal measure in my first game at the Chepauk when we had to clap for THAT innings and your century while commendable being your debut ODI century, just didn't have the urgency needed. And Jadeja and Mongia did try to make it count. But I digress.
So yeah I was wondering when I became your fan. But my mom- just like moms always seem to in their own uncanny way- had the answer to that question in the form of,"World cuppukku munnadi adichane adhudhaanda (the one he hit before the world cup, thats the one). Which reminded me of the New Zealand tour when your 123 of 123 balls came in a losing cause and I knew you could cut it. Hilarious isn't it? Armchair pundit at the age of 9. Though I actually feel proud of it when I think that the next day I was one of the few who actually saw that full innings and told my friends that this guy could actually play ODI's (cue M.S.Bhaskar and Azharuddin).
And then you went out and showed it to them all what exactly they missed when Sadagopan Ramesh went out early and you, donning the wicketkeeper gloves for this world cup as your first double duty, went out and played THAT 145 which got glossed over by THAT 183. I still remember the run out like it was yesterday. But we did not get past the Super 6 stage and you still were the highest run getter in the World Cup. I was cursing them when they had the temerity to give the man of the tournament award to Zulu. But then I guess that I did not understand the concepts of "contributing to a team's cause" and "how far the team had gone through" and "making impact" much. But hell, if that had to play out exactly the same way again, I would still give the award to you now ahead of Zulu when I now know what those terms mean. Because you made your impact. On me.
And then you put away your disappointment and I my homework, to watch you score yet another century (with a six over extra cover that would become your trademark six) in a losing cause as we were swatted aside by Ricardo Powell in Singapore and in Toronto as if he had been possessed. Ofcourse I did not remember your century much. I did not have enough time for you when I was angry at that Powell. And angry at our so called bowlers. Though I guess that was the baptism of Indian cricket I had to go through – that of  "Always expect a century from anyone when we bowled". But again I digress. My woes with the Indian bowling attack will not do justice to a post that is dedicated to the man who made many bowling attacks look like ours over a 15 year career.
Hyderabad. Again New Zealand. Again an early dismissal. This time you had company. Just like in Taunton. When your 153 was overshadowed by THAT 186.  Again surrealism.
Don't remember much of what went thorough for nearly a year and half what with a couple of my favourites being caught in matchfixing and a general ban on cricket and the all pervasive gloominess that came about with that. That doesn't however put the usual cricket aficionados out of the loop as we knew that the Australian team which had been under a 15 match unbeaten streak in tests was coming to India to play against an edgy captain and a team on the rise after the scandal. First match was a mood killer. And well into the third day the second test didnt appear any different. With 50 runs yet to score to wipe off the deficit AND to set a target, you stepped in. With the man who loved Australia more than India at the other end, it seemed like you could at best hope to sit tight and make sure that we put up atleast 100+ target. But boy did I not expect what you got, how you got and the way you got it all. That was a moment like no other.
And then you came to Chennai, where magic happens in cricket. And you showed us how much you loved us as you continued in the spectacular form. But then I would be lying if I said that I rooted for you. You were always the man to hold one end while we looked at the hitters to set a target. But boy was I glad to see that you held that fort tight. And once again, your brilliance was the second best in the series but I had well and truly become your fan. And Australia never dared to enforce the follow on again on us. Ever.
And then we went off to West Indies with yet another keeper. And for the first time I saw you bowl. You actually bowl. And then you went and kept wickets for Ratra, I have never seen any team since which has bowled ALL its 11 bowlers. Cricinfo tells me that that was only the third instance when such an instance happened and one which hadn't been seen for 21 years. But then I guess it was because cricket loved me as much as I loved cricket that I got to see all kinds of players and teams and records. Damn it I digressed AGAIN. I guess I didn't learn that single mindedness from you. Shame.
And then there was Nottingham (rock back and cut), Leeds (rock back and flick through the midwicket), Oval (which was avidly followed to see how many balls you left for every single run), Adelaide (that Ajit Agarkar freak show), Rawalpindi (Oh! the agony and ecstasy of the lbw), Kolkata (which I had to watch on a television in Thiruvannamalai bus stand never knowing when the bus will start and egging us to win the match when I realised late in that the conductor and the driver were standing right beside me). Good times those were.
And then you got the captaincy where things didn't work out. You had to sit out after 93 matches on the trot. Or was it 94? And you were damn sad at missing out on the century. And clearly your back and mind were plotting to kill you at the same time when you had a lean patch. LOL worthy. YOU having a lean patch. What had the cricket come to? Were the bowlers just too good? Or was it the dreaded O word. That you were just getting too OLD to play cricket? Nah. I am not supposed to think that. And you proved exactly why when you put the bat to the ball, bowler to the sword, seam to the wear and my eyes to a tear. Wait. Not the last part. Nahahaha. And 2011 came, we won the World Cup and went to England with all the swagger of a ODI team to play tests. And the one person who knew how to play test cricket played it and the result is this photograph that has gone viral since Thursday.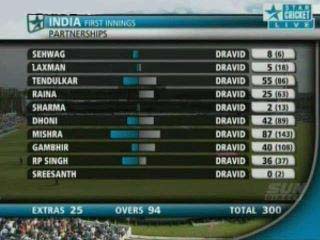 While I like the thought/essence behind that photo, that to me belittles what you have accomplished. Achievements. Not that of you being the 2nd highest run getter. Not that of you being the one with the most outfield catches for us. Probably the one where girls still swear by you as the ideal man they would like to get married to. And definitely the one where you have faced the most balls in test cricket. Balls. You had them by the truckloads. More than any other cricketer that played in the same timeframe as you.
At this point I don't know whether to say I am teary eyed and will never know whether Indian cricket will ever find a batsman like you. Because they may or they may not and it doesn't matter either way because you were just a spoke in the wheel. The wheel will keep turning and you know it as much as I do. I don't know whether to say goodbye because you can't stay away from the sport in any way possible. Plus there is no real use of saying goodbye as such because its not like I am going to stop watching cricket on the offday when I am bored and grumbling that I miss you. Miss you I will but you know what I am saying. I don't know whether to say congratulations. Because I never get that too. Congratulating you on a wonderful career? Congratulating you on getting out when you wanted and not getting thrown out? Congratulating you for bowing out on top because how can one be sure that it was the top? And you will always have the regret of not winning a World Cup even if you swear by the whites. So while I may want to congratulate even if I don't get it that will sound hollow. So should I say thank you for being there despite being consistently overshadowed on an individual basis in a team sport? Hmm. I dont know. I guess that does sound much better than the other options even though it might, again, not be the best one. But hey.
Thanks Jammy. For the Bradman lecture. And for the indelible memories that will stand the test of time (with the aid of cricinfo).