Jamshed propels Pakistan to win; Dhoni's stunner in vain
1.17K //
30 Dec 2012, 19:14 IST
Nasir Jamshed scored a brilliant ton as Pakistan chased down a moderate target of 227 with six wickets and eleven balls to spare. India had one of their worst starts in ODIs before MS Dhoni scored a sensational century to give India a faint hope of winning the last match of 2012. MSD truly played a captain's knock and stood up till the end for more than 40 overs, testing the Pakistani pacers with a mix of patience and power.
Nasir Jamshed ensured that Pakistan didn't panic to lose the match, as the 23-year-old batted with a huge sense of responsibility and ensured that runs kept flowing from one end, despite a commendable effort with the ball by the Indian bowlers. He negotiated the new ball with care and found the gaps with precision and picked up timely ones and twos. He showed due respect towards all the regular bowlers and switched into aggressive mode, once the part-timers were brought into action.
Bhuvneshwar Kumar did the early damage, sending Mohammad Hafeez back into the pavilion with a peach of a delivery that nipped back from length. Hafeez made the cardinal error of choosing to leave under swinging conditions and gifted Kumar a dream first delivery in ODIs. Azhar Ali then found safe hands of Rohit Sharma at the midwicket while going for a pull. Then the experienced Younis Khan joined Nasir Jamshed in action as he called on the shots right from the start to score almost a run-a-ball fifty. The Indian pacers and Ravichandran Ashwin tried their best to raise Indian hopes but when they started picking wickets, it was almost too late to hope for a miracle.
Shoaib Malik joined Jamshed in the chase and both the batsmen kept their records intact against their arch-rivals as they made it across the line in the 49th over without any further hiccups. India though had their chances against Jamshed, who was reprieved once by Kumar, who missed a simple run-out chance, given another life when against Ashwin, a clear edge was missed by the umpire, and then by Yuvraj, who dropped a sitter at point.
Earlier, the match was off to a delayed start, as it had rained badly the previous night in Chennai and the outfield was very wet. The groundsmen were off to some serious work as they ensured no overs were lost and the match started an hour past the scheduled time.
Being put into bat by Pakistan, India surprisingly dropped batsman Ajinkya Rahane at the expense of the returning Virender Sehwag and their decision backfired in no time as Junaid Khan and Mohammad Irfan looked too good for the Indian top order.
Sehwag's lack of footwork was exposed yet again as Junaid Khan cleaned up his stumps with an in-swinging delivery. Gautam Gambhir, who looked scratchy right from the first ball, was tamed and teased by the lanky Mohammad Irfan, before missing a straight delivery which crashed into the middle stump. A lot was expected from the in-form batsmen Yuvraj Singh and Virat Kohli, but they were done in by almost unplayable deliveries from Junaid Khan. Kohli looked clueless to the ball that swung in sharply from the left-arm seamer while Yuvraj misread a straight ball and was completely beaten by the yorker.
The long time out-of-form Rohit Sharma also quietly went back to the pavilion as he edged a ball to third slip to give 23-year-old Junaid Khan his fourth wicket and India were left reeling at 29/5. That left the local crowd favourites MS Dhoni and Suresh Raina at the crease, with two balls still remaining in the mandatory powerplay. Both the batsmen held the game in complete control and batted sensibly to see that India overcomes the shine of the new balls without any further damage.
Both the power-hitters valued their wickets and played on the safer side with the Pakistani spinners bowling tighter lines to the batsmen. They played patient cricket for 142 balls, gathering 73 runs, and when Raina tried to take on Hafeez over the midwicket, he was outplayed by a faster delivery to find his stumps disturbed. Dhoni got a reprieve when he was on 18 as captain Misbah dropped a regulation catch at midwicket.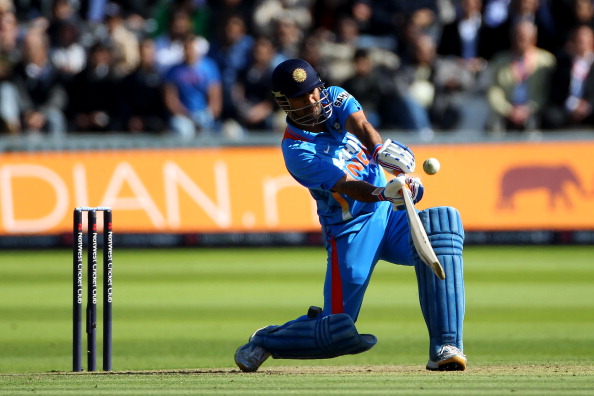 Since then, there was no looking back for Captain Cool, as he decided to give the Pakistan bowlers a run for their money, with Ashwin rotating the strike with some clever singles. The Chennai humidity took its toll on all the fielders and Dhoni tried to keep himself cool and relaxed with physios and drinks being seen on the field frequently. But nothing seemed to stop MSD as he came into his very best, answering his critics in style, with his trademark flat hits to the fence.
Misbah tried all the tricks in the book against his counterpart, but Dhoni was prepared with better response every single time. He went berserk after 45 overs and developed a special liking towards the seven-foot Irfan as 21 runs were hammered off the 49th over, in which he reached his hundred in style with a fabulous six over covers.