Jayawardene ponders over his future
798 //
03 Dec 2012, 17:00 IST
Mahela Jayawardene has decided to think on his future as a captain and an international player after the tour of Australia. The Sri Lankan Cricket team is currently on a 55-day tour to Australia which includes a series of three tests, five one-day internationals and two Twenty20 Internationals.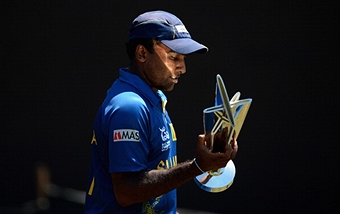 "I am going to take it one series at a time especially after the Australian tour I will have time to think. I took on the responsibility to lead the team for one year and that will end after the Australian tour," Jayawardene was quoted as saying, "I can then sit back and think what I want to achieve not just for myself but for the team as well. I have always said that I am not a guy who will just hang around for the sake of playing."
He has always said to have believed in youngsters and providing them with opportunities at the right stage. "I will sit down and talk to a few people that I talk to usually when it comes to taking a decision and have a  chat with the selectors as well especially with the captaincy position, then it will be much easier for me to make a call on what I want to do in my career," Jayawardene added.
He also spoke about the trust he has in his deputy, Angelo Mathews and he felt Mathews has proven experience in the Sri Lankan Premier League. Jayawardene also believed that it was the right time for Mathews to take up captaincy as there are quite a few senior hands in the team who could guide him.
When questioned about their capability of beating the Aussies Down Under, Jayawardene replied saying, "No one gave us a chance to win in South Africa they were the no. 1 team and to beat them on their home soil was a very big achievement." He also happened to mention the mental preparation that a team has to undergo, if they have beat Australia on home soil.
Jayawardene placed a 50-over World Cup win on the top of his priority list and with Sri Lanka having won test matches all over the world, Jayawardene wants to win test in Australia and India before hanging up his boots.
Source : The Nation