King Viv's greatest innings
841 //
19 Nov 2012, 09:35 IST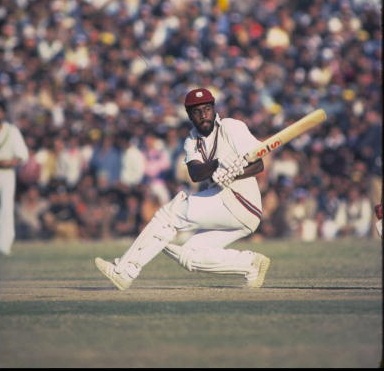 From the latter half of the seventies and throughout most of the eighties, King Richards – The Great – occupied the throne as the "King" of batsmen. There he sat, unchallenged and to those of us, his subjects, who doted on every stroke of his, there was no opponent he feared—no bowler he couldn't overcome. If the mood took him, he could hit any ball for four, and his dominance was so complete that with just a modicum of circumspection, we thought he could make a hundred every time he visited the crease.
Every great bowler of the era at some time or other, was at the receiving end of his mighty blade, and many, like Imran Khan, Dennis Lillee and Ian Botham, consider him the best batsman they ever faced. Stories abound of county bowlers developing sudden niggles when their turn came to face the master. Many foolhardy trundlers, who thought they were above their station, were harshly chastened after thinking they could intimidate the Antiguan.
In March this year, the great man turned 60 and many were moved to reminisce on the many wonderful gifts that the original Master Blaster bestowed upon them. Indeed, as sports fans are inclined to do, there was much discussion on which performance by their hero was his best.
His 109* that won the Test for the West Indies on a turning Feroz Shah Kotla in 1987 is certainly among his best knocks. His 145 at Lords' in 1980 was also an innings of the highest class. Graham Gooch also scored a hundred in that game, and if I can remember a line from Tony Cozier's report on the game, "Yesterday Graham Gooch batted like a prince; today it was the King's turn." Many will swear that his best was his 56-ball hundred in Antigua, or his 291 at the Oval in 1976.
Yet when asked about his best innings, the West Indian legend mentions none of these. Surprisingly, he goes for none of the 24 Test hundreds that he made during his long career, and instead, he astounded his interviewer by selecting an innings of 61 he made at Sabina Park against India in 1983.
Considering the many great innings he played, why was that innings of little over a half-century so special to him? I don't know the answer to that; I can't recall if he gave one. I can tell you however, why it was special to me. It was my first time at a Test match. My friend and I decided to cut afternoon classes in order to watch the final session, despite everyone telling us we were in for an evening of boredom. Though I am yet to understand how an evening spent watching the likes of Holding, Roberts, Marshall, Garner, Kapil Dev, Gavaskar etc. could ever be called boring — whatever the state of the game.
The West Indies had replied to India's 251 in the first innings by scoring 254. The entire fourth day had been lost due to rain and the game seemed heading for a tame draw at tea on the last day, with India 168 for 6. Andy Roberts thought otherwise. His rousing spell after tea, liberally sprinkled with short balls – threatening rib-cage and throat – proved too much for the Indians, and they quickly succumbed, leaving the West Indies with 172 to make and about 28 overs to make them.
Greenidge and Haynes added 46 before Haynes got out going hard for runs. His 34, it turns out, was made off just 24 balls and it was clear that he understood the urgency of the situation. Greenidge on the other hand, was batting much too slowly for our liking, and we let him know. He had scored a painstaking 70 in the first innings, and it appeared to us at least, that he had set out to play in a similar manner. We thought assault and battery was what was required, and so we were not disappointed when he was out for 42, that he scored without a single boundary.
Clive Lloyd, in the meantime, had decided to come in at three when we were expecting the Master Blaster himself. He didn't very last long, scoring only three, and so it was now Richards' turn. He strode to the wicket like he owned Sabina Park and immediately set about the bowling. His first scoring stroke was a huge 6 and the onslaught had begun. Strokes to all parts of Sabina Park served to whip the crowd into a frenzy. At one point, it seemed that every fielder was manning the boundary ropes, yet the King of all batsmen was able to beat them. One straight hit landed in our section of the crowd, and my friend went berserk. He lost control of himself to such an extent that he strayed onto the playing area, and only returned to his senses after being reprimanded by an angry guard dog that almost escaped his handler in striving to reach him.
What an evening it turned out to be! Richards' 61 came off only 36 balls with 5 fours and 4 sixes and everyone there knew that they had witnessed something truly special. He returned to the pavilion at 156/5 with 16 needed for an unbelievable victory. Without his awesome innings, West Indies wouldn't have won and victory was still only achieved in the very last over, with Jeffrey Dujon hitting a full toss for six, in fast fading light.
Next day at school we made sure everyone knew we had been there.