Knives and flowers both are out for Tendulkar!
1.01K //
20 Mar 2012, 10:52 IST
There is plenty of ammunition for his critics – weak opposition, slow century, lost cause, sub-continental conditions; but for his astute devotees its day of divine celebration  - like a once-in-a-lifetime-event. All his devotees are on cloud nine albeit with a touch sigh of relief too.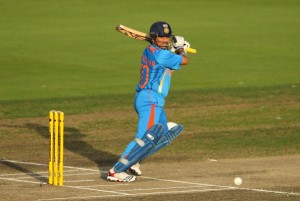 The God himself celebrated this milestone differently. After completing the most awaited feat for past 12 months, the first thing he did was to look at his willow. It was as if a conversation broke out between two loved ones that said 'we have been together for more than two decades in fact even longer, then why you have been betraying me for last one year? What have I done wrong to deserve this?'  And then he smiled signalling a patch-up.
Now even before dust settles on this notional milestone, anti-religious sentiments (those who don't believe in this God) will be high on questioning retirement at least from the limited overs format. Well, for all those mere mortals, rest assured that Tendulkar himself knows what he is doing and what he needs to do. Those who think that he is depriving youngsters of well deserved chances at international level, chances are not gifted; those are to be grabbed against toughest of odds. You never know he may already be preparing to defend his team's World Cup title. As long as that 16-year old child is still alive in his heart and of course his body holds even reasonably well then why not? Performances should be the only criteria for selection and he is certainly not even close to ruling out on that ground.
Generally no criticism of Sachin is worthy of response since all of them are either publicity stunts or half truths; but one that definitely needs a response because it has come from his captain. Dhoni is a very wise man and his statements generally reflect deep thought and are straight. When he said seniors are costing his team some runs, there is definitely some substance in it. But if it is also directed towards Sachin then it's not sensible. Firstly he is not the slowest of the fielders on the field and secondly, Sachin's brain must be an encyclopaedia of on and off the field for cricket tactics.  And let's not even mention the batting tips passed by him to all remaining 10 batsmen, Dhoni himself included. Having this at Dhoni's disposal weighs much more than those virtual few runs he is talking about.
Well, while his critics will continue to find new topics; those who have fallen in love with his magical cover drives and surreal straight drives for more than two decades, wish this beautiful love affair continues forever.