Kyle Jarvis - A ray of hope for the beleaguered Zimbabwean team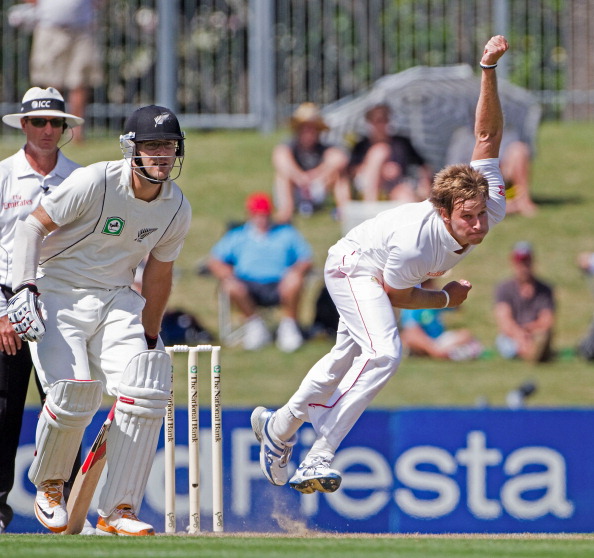 A decade ago, when Zimbabwe was heading towards lawlessness and virtual anarchy under the tyrannical regime of Mugabe, cricket in the country suffered. Constant rebellion from players and lopsided encounters resulting in Zimbabwe crashing to heavy defeats, forced the cricket authorities to suspend them from playing Test cricket in 2005. After slugging it out in the backwaters of international cricket for a while, the beleaguered Zimbabwean team made a welcome return to Test cricket in 2011.
When Zimbabwe took on Bangladesh in 2011, there was renewed hope and enthusiasm. The political situation in Zimbabwe was gradually stabilising, and they had a team made up of a keen bunch of promising, young cricketers, hungry for success. The 22-year old fast bowler, Kyle Jarvis was one of those promising cricketers who was thrust into the limelight. The fast bowler, making his Test debut, didn't disappoint, as he proved to be the wrecker-in-chief by taking five wickets in the game. As Zimbabwe's cricketers soaked in their triumphant return to Test cricket with a resounding victory against Bangladesh, Jarvis must have been a pleased man.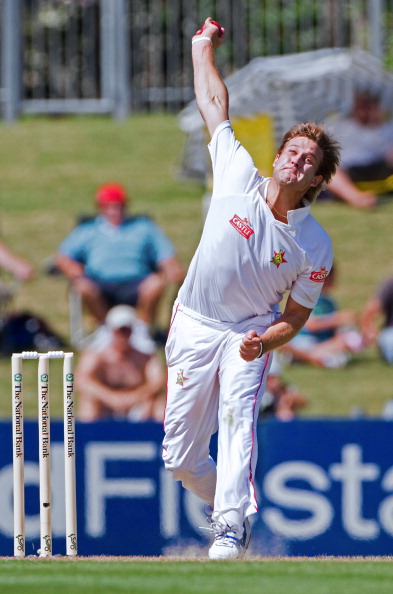 In that one-off Test against Bangladesh, Jarvis's ability to slant the ball into the right-handed batsman before making it leave the right-hander late, made for compelling viewing. He also showed that he was a street smart cricketer with a clever piece of swing bowling. In the second innings, by bowling from around the wicket and wide of the crease, Jarvis got it to bend it back sharply into an unsuspecting Shahriar Nafees and detonated his stumps. It was a boomerang-bending exhibition of swing bowling from the 22-year old Jarvis.
By taking a five-for against the touring Kiwis in 2011, he demonstrated that his performances against Bangladesh weren't a flash in the pan. In the second innings, Jarvis bowled like a temptress, as he ragged and lured the Kiwis into making fatal mistakes outside the off-stump. New Zealand's premier batsman, Ross Taylor with a typically bellicose knock was looking to take the game away from Zimbabwe. Enter Kyle Jarvis, who got it to move it in the air, and trapped Taylor dead in front. In an era where drying up runs has become the name of the game for bowlers, Kyle Jarvis brings a rare touch of adventurism with his craft of swing bowling.
As not many teams want to play Tests against Zimbabwe, they were confined to playing mainly a few One Day games and T20s in 2012. It didn't help Kyle Jarvis, as control has never been his forte. His 20 wickets in One Day cricket have come at the cost of 48.90, and his economy rate of 6.23 doesn't make for good reading. It suggests that Kyle Jarvis has struggled to make a mark in the shorter formats of the game.
Fortunately for Jarvis, Zimbabwe got a rare opportunity to play a short Test series against the Windies in 2012/13. In the just concluded first Test at Barbados, Kyle Jarvis made his presence felt with a blistering spell of swing bowling, and took another five-for. As a keen cricket observer, it was his ability to use the crease, and bowl from around the wicket to left-handers that again caught the eye. The left-handed Darren Bravo was looking in good touch, but Jarvis outfoxed him by bowling from slightly wide of the crease, and induced a healthy edge to the keeper. It tells us that Kyle Jarvis has a mature head on his young shoulders.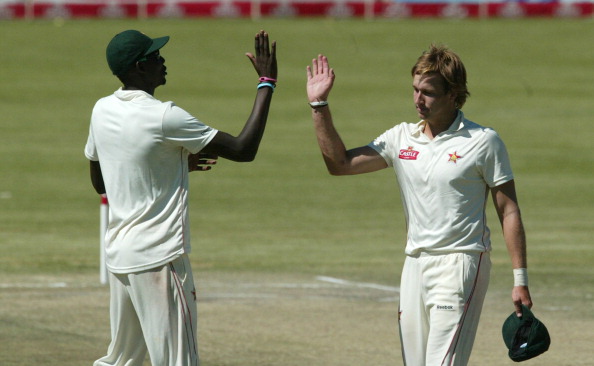 Kyle Jarvis, the son of former Zimbabwean swing bowler Malcolm Jarvis, was fast-tracked into the system. But after he left everyone spellbound by spearheading the Zimbabwean pace attack in the under-19 World Cup in 2008, Jarvis was soon hampered by a troublesome back injury. From Zimbabwe's perspective, it is great to see that Kyle Jarvis has battled back from a career-threatening injury. Heath Streak, Zimbabwe's bowling coach, hopefully will be able to mentor and nurture the prodigiously talented Jarvis.
In spite of some sterling performances in Test cricket, the precociously talented Kyle Jarvis is known only to cricket cognoscenti. If he was playing for a major Test playing nation, there would have been a lot more hype surrounding Kyle Jarvis. It shouldn't bother Jarvis, as his job is to take plenty of wickets with pace, cut and swing,  and win games for Zimbabwe.