Legendary Lessons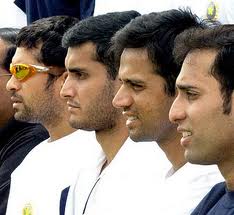 The Golden age of Indian cricket is nearing its end. With Rahul Dravid's exit, just two men of the pack remain – in Laxman and Tendulkar. Time is not long, before we see the presence of them too for one last time in the cricket field. The "Fab Five" as they are better known as includes five legends of all time.
Tendulkar was first to make his appearance and may be the last to leave. His legacy has been greatest in cricket apart from Sir Don Bradman. He practically holds almost every batting record apart a few in both forms of the game. Following him Kumble established himself and left after 18years as the third highest wicket taker. Ganguly and Dravid came together; while Ganguly scripted a new era in his captaincy and ended up as a respected batsman, Dravid has quit as the second best behind Tendulkar and arguments will continue on his merit as the best no. 3 in cricket after Sir Don. Laxman has been the man to bail out the side from pressure situations and he has time and again proved his weight.
Each of them have been the legends in their own right. Collectively they have made India from a home bully to the no. 1 Test side and have sowed the seeds that culminated in second World Cup glory after 28 years. Personally, every one of the five have been perfect role models for the budding aspirants not just in cricket but in general life too. Their behaviour, conduct and dedication is a big topic for discussion. This article reflects on the 'lessons' each of them give to the youngsters in any field. There is individual perspective and a collective account.
Rahul Dravid
V.V.S.Laxman
Fab Five
Many sides had many legends playing together. But this Indian side will probably be the most uncontroversial pack among them. If the game is so popular in India, it owes a lot to these role models. These were just a few of their unique characteristics. Still a lot more of their actions are lessons for us in every walk of life. Lets thank them for all they had given us.
Hail the Greats!! Salutes O 'ye MASTERS!!