Marlon Samuels accused of throwing again
783 //
23 Dec 2012, 16:34 IST
Melbourne, Dec 23 (IANS/CMC):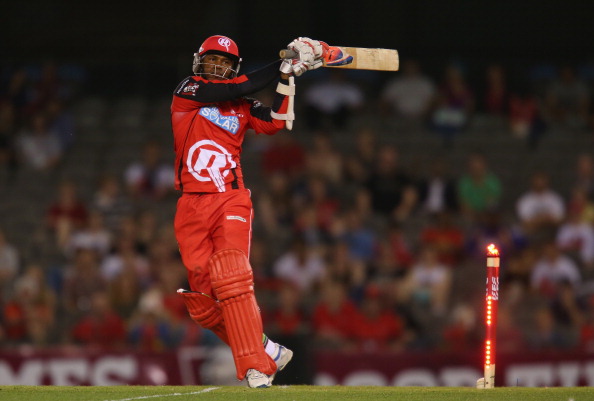 Brisbane Heat coach Darren Lehmann has sparked controversy in the Australian Big Bash League by accusing West Indies all-rounder Marlon Samuels of throwing.
His criticism follows the Heat's six-wicket loss to Samuels's Melbourne Renegades at Docklands Stadium here Saturday. Subsequently, Cricket Australia charged Lehman with code of behaviour breach.
"I've spoken to the umpires about it. I just want something done," an upset Lehman complained.
"He couldn't bowl in the IPL (Indian Premier League) last year, yet he can bowl in the BBL. We've got to seriously look at what we're doing. Are we here to play cricket properly or what."
Samuels, bowling his rigid off-spin, opened the bowling and sent down four tight overs for just 18 runs, helping to strangle the Heat and restrict them to 133 for eight after they opted to bat first.
Renegades then chased down their target with five balls to spare, with Samuels making just 15 from 18 balls.
Lehmann, who played 27 Tests and 117 One-Day Internationals for Australia between 1996 and 2005, said he was particularly concerned by Samuels's faster ball.
"If he's deemed legal, I'm totally understanding of that. But from my point of view from 20 years of cricket, I've got a problem with 120 kilometres per hour off no steps."
Playing for Pune Warriors in the IPL this year, Samuels was reported for a suspect action by umpires, with his notorious faster ball coming under special scrutiny.
Samuels had been also reported four years ago and barred from bowling but was subsequently cleared by the International Cricket Council last year.