The measures that can be taken to improve the level of the Associate nations
1.73K //
04 Mar 2015, 03:15 IST
Imagine you're a cricketer from an Associate or Affiliate (one level below Associates) cricket nation. You firstly take to cricket in a land where people think you are talking about the insect – Cricket, or the kind of land where you have other pressing concerns like bringing food to the dinner table.
You wend your way through eight divisions of the ICC World Cricket League, playing in locations as varied as Fiji to Uganda to Nepal, to the ICC Trophy, the quadrennial qualifying tournament for the quadrennial World Cup, to take your rightful place alongside the big brothers at cricket's showpiece event. You have nowhere near the resources they command. Yet you pull enough and more punches of your own, holding your own, and in fact toppling a few apple carts along the way.
That's a month and a half of cricket in the big league, staying in plush five-star hotels, playing cricket in front of 60,000 screaming fans, having your pictures beamed around the world in high-definition. And then, zap! It's all over. The carnival is done. Now go back to playing second and third division teams in Kampala, Kathmandu and the like, watched by (if you're lucky) a few hundred schoolkids taken out for a weekend picnic.
No motivation for the cricketers belonging to Associate nations
Why would you feel motivated to continue? For the few crumbs from the pot of gold that the ICC will throw at you, at the end of four years? That way, a Kenyan or Ugandan would rather take to marathon running than cricket. A young Dutch kid, would rather take to football or field hockey.
Nothing exemplifies this more than Kenya in 2003. They got one free ticket against New Zealand, but managed to beat Sri Lanka, Zimbabwe and Bangladesh, all Test sides, and to an extent, justified their presence in the semi-final, having given a Super Six scare to their eventual conquerors, India. And then what became of their lot? 30 one-day internationals in four years with India (1 game), Pakistan (2) and Sri Lanka (1) being the best ranked opposition that they faced in this period.
They had to be content with 6 games against Bangladesh, and 20 games against fellow Associates, across four years! Hardly the best preparation for a World Cup, in one of the most lop-sided sports! Is it any wonder then, that Kenyan cricket fell away and we do not see them at this year's World Cup? Would a Kenyan marathoner prepare for the Olympics and hope to do well, with absolutely no quality competition in the intervening four years? Why then, are we seeing that in cricket alone?
Play-off between the best Associate and the worst Test playing nation
The answer, for the ICC is to provide a roadmap and opportunity for top flight cricket, for the Associates. They're well on their way to that. The ICC had in 2014 expressed a desire to give more countries the opportunity to play Test cricket, by having the winner of the ICC Intercontinental Cup (therefore the best Associate first-class team) play the bottom ranked Test side home and away, for a four-year right to play Tests.
If things stand the way they are, we could see England take on Ireland (by far the red-hot side at the Intercontinental Cup) in a Lord's Test Match as early as 2018! Surely, the incentive to be the best first-class Associate, and try to topple a Test side could be the prize that could spur the Associates to do better. And that would also mean that the race for the bantamweight title between 8-9-10 could hot up, as who would want to have their Test status on the line.
The bottom side will have to buck up, and if they don't, it is only fair, that as a natural consequence the best Associate shall come snapping at their heels. This promises to make things a little more competitive as there are huge incentives on the line.
Teams on tour to play a neighbouring Associate country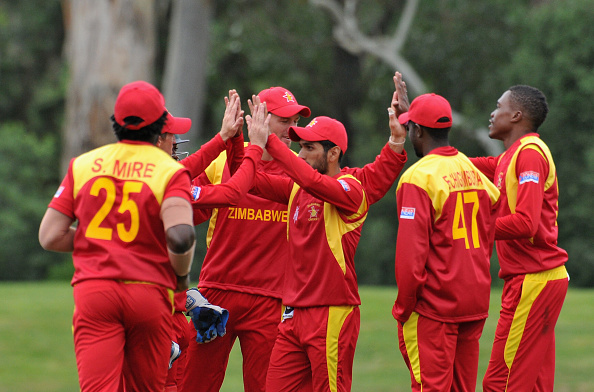 One other way could be to have Associate countries' neighbouring Test sides play tour games against every visiting team. Teams touring England could play one of their side games against an Ireland or a Netherlands (again, the right to which, could be determined by the Intercontinental Championship placings). Every "proper" Test side (omitting of course, Bangladesh and Zimbabwe) could tag an Associate side. Pakistan could tag UAE along (they play there anyway), South Africa could tag Kenya or Namibia.
This is not without precedent. There was this practice a few years ago where Australian teams travelling to England would halt at Colombo, probably for the ship to refuel, and play Ceylon (Sri Lanka) in a side game. Sri Lanka, in their formative years, also gained a lot from the much-loved Gopalan Trophy (SL v Tamil Nadu), that featured many Ranji and Test stalwarts. Ireland and Scotland do play side games when teams tour England and have even run them close on occasion. However those games are few and far in between and the ICC could do well to institutionalise this for every team's home series.
Associates taking part in neigbouring Test sides' domestic competitions
However, the biggest benefit to an Associate side would be, in taking part in the national competition of the Test side thus tagged. This too has been experimented with, sporadically. Ireland and the Netherlands have on occasion played England's 20 and 40-over competitions. Namibia takes part in South Africa's provincial three-day competition, as also in Zimbabwe's Twenty20 tournament.
Even the normally averse to experimentation, BCCI, has tried this in the zonal Duleep Trophy, albeit with youth sides from teams like England and Bangladesh. What could be better for an Associate team than to take part in the English county championship, with potentially 18 games against the most eclectic mix of top-flight international cricketers thrown in? The experience should surely stand them in good stead.
Why the ICC's decision to reduce the World Cup to a 10-team event is flawed
Oh, and on the subject of Associates, how do we not talk about the ICC's hare-brained idea to reduce the World Cup to a ten team event? The idea is flawed from the start. Firstly, if a side is deemed fit for Test status, which is regarded as a far bigger prize than a World Cup entry, (say Bangladesh or Zimbabwe), how does the ICC deem them unfit to contest for cricket's greatest prize ever?
It goes without saying that full member sides do deserve automatic qualification, with ample opportunity for Associates to show what they're worth! Four teams do seem like a lot, especially when we have the bottom two Test sides almost playing at the level of the Associates. And that, precisely, is why two Associates beyond ten test sides at a World Cup seem optimal. Simply put, if the best two Associates aren't good enough to make you sit up, the next two certainly can't do any better!
Here's hoping that the ICC will do what it takes to give the Associates their proper place in the sun, and allow the game to grow to newer, and potentially lucrative markets! After all, it is the frenzied celebrations that greeted Bangladesh's ICC Trophy victory in 1997 (and consequent entry to World Cup 1999) that convinced the ICC to look at them seriously. Who knows, we may have many more such markets emerging, and newer fan bases!
This article first appeared here and has been published with permission from the author.