Moment of truth for Cheteshwar Pujara
6.68K //
04 Jan 2015, 05:25 IST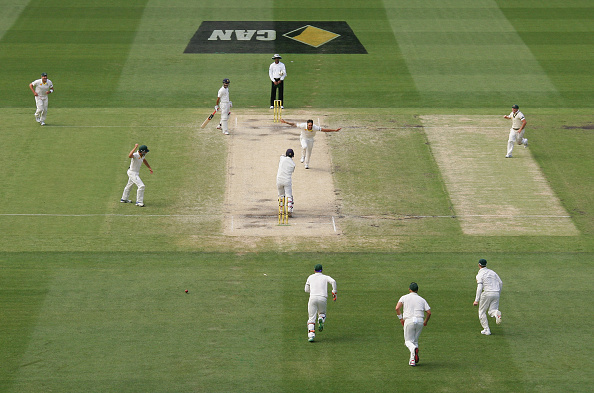 The current edition of the Border-Gavaskar trophy has been associated with adjectives like lively, newsy and enthralling more comfortably than its preceding one. For academic purposes the tussle has been settled before the final round and yet there is keenness in the build-up to the Sydney test.
Two tests have gone down to the last session, there are physically spent bowlers with 100+ overs in 6 innings and skippers at either end have led respective batting units with vigilant, consistent knocks.
Sparks have flown, tense confrontations have occupied match day reviews but on-field performances have managed to adhere onto memory chords, in the manner they should. Quietly certain players with under-performing report cards have slipped under the radar amid the noticeable concoction surrounding them.
Pujara's lack of confidence has been disappointing
Surprisingly a certain Cheteshwar Pujara features among those who haven't lived up to their repute. He is fidgety at the crease, slightly unsure about his off-stump, the ball is striking the bat ill-timely, the foot work is not decisive and the off-spinner is giving him a lot of home-work!
It is not an unfamiliar sight, his struggles in New Zealand and England had also hurt the team's cause. The slump intrigues even more, given the success of Vijay, Virat and Rahane on away soil during the same phase.
Numbers don't describe the picture entirely, but tend to highlight key nodes of a career chart. Likewise, a batting average of 24.15 in 2014 from 10 Tests after high yielding 2012 (81.75) & 2013 (75.36) emphasizes the significant drop in form. 22 innings have elapsed since the last 3-figure knock, the gap in the home and away averages has widened and at 31.81%, his frequency of getting dismissed to spin bowlers is rising.
Can Pujara prosper under Kohli?
Good players tend to raise their game against tougher opposition in their backyards. Some emerge with good success immediately; others struggle to meet the modified standards. Either way it toughens you as a player but lack of desired output can sometimes lead to self-doubt.
Virat Kohli is a recent example who experienced a sudden blip of touch in England and needed to take some time off to resume his purple patch. Those who have worked with Pujara vouch for his desire to work hard on the shortcomings to improve his technique and it would be safe to assume about him being passionate during practice sessions more now than he would have been previously.
Being a Test specialist has its disadvantages
Being format-specialist in cricket can be good if you are playing long tours often, but can hamper if you seek in-the-middle practice in pursuit of redeeming lost form. In most probability this could be India's last Test series for quite some while.
Pujara has an uncertain IPL contract and his fallback option for mainstream recognition remains scoring in heaps for his state side in the Ranji trophy; something he wouldn't mind doing. The numerous trending topics during the 3 Tests thus far have mis-aligned the focus on Pujara's struggle for runs. Time can slip quickly for Pujara though, and soon his position in the eleven could be questioned if his form (or the lack of it) continues.
You tend to give a longer rope to quality players and Pujara deserves time to find his missing mojo. The square at the Sydney Cricket Ground (SCG) has witnessed many fabled hundreds off Indian middle order batsmen.
The stadium is one of the few which have undergone an overhaul for the upcoming World Cup. India will play there for the first time since the renovation and would probably be the right venue for likes of Pujara to renew batting touch and carry forward the legacy of Indian batsmen on this hallowed turf.