Murali Vijay answers the critics with his bat
1.06K //
03 Mar 2013, 18:29 IST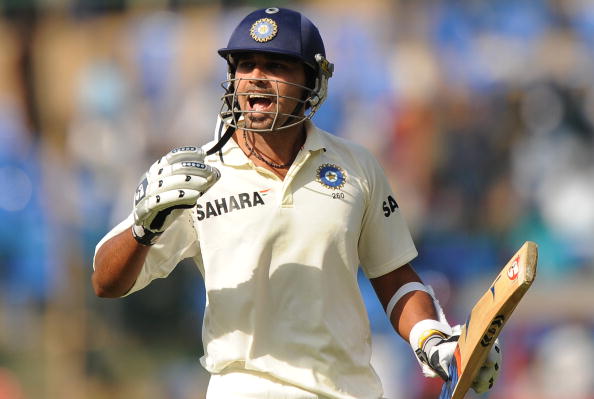 The entire Indian team was in a jubilant mood, after a resounding win against the touring Australians at Chennai. The champagne would have flowed liberally in the dressing room, to celebrate the victory against a formidable opponent.  But in midst of that euphoric celebration, the Indian opener, Murali Vijay wouldn't have been happy with his own performances in the 1st Test.
The dejection was written large on Vijay's face, when for the second time in the 1st Test, he lost his wicket to Australia's spearhead, James Pattinson. In his comeback Test, Murali Vijay seemed to be a man full of nerves and jittery thoughts.
In a stark contrast to the first Test, Murali Vijay in Hyderabad, dug deep to battle his inner demons, and make a well-measured century. Vijay's brisk gait to the crease and his dogged determination gave you an impression of a cricketer who wanted to prove a point.
At Hyderabad, Vijay was duly rewarded for his hard-graft. At the crease, he personified calmness with a serene approach, while facing Australian bowlers. He was quick to judge the pitch and the bowlers, and modify his technique accordingly. As the track tended to stay low, he presented a dead straight bat, and left the ball well, to negate the threat of James Pattinson. It could be seen that the essence of building an innings has been ingrained into his system, during his formative years. Only when the opposition bowlers got tired, did Vijay open his shoulders, and played expansive strokes on the up.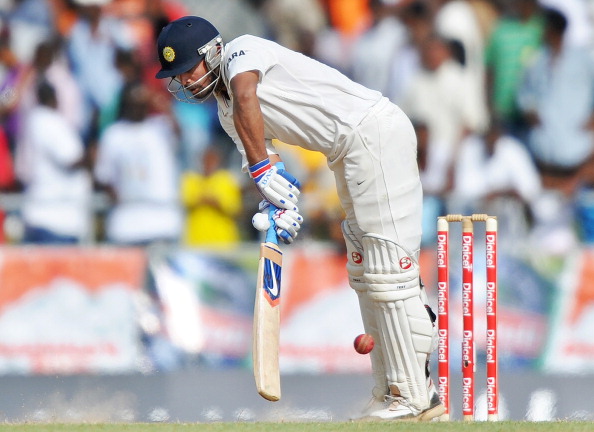 In the second session, Vijay played with a refreshingly positive attitude. He played some elegant shots, against both the quicks and the spinners. The exquisitely played, well-timed flick shot through the mid-wicket region of Siddle was a sight to behold. It was Mark Waugh-esque in its style and elegance. Whenever both Doherty and Maxwell came onto bowl, he showed exemplary footwork, and played dazzling strokes. It tells us, Vijay has a wide array of shots, and picks the length quickly.
We all have to remember this was Murali Vijay's comeback Test series. So, when he went into bat today, there would have been that extra added pressure on him. To make it worse for Vijay, his twin failures at Chennai meant that critics and fans were baying for his blood. In many ways, Vijay's elegant display of batsmanship at Hyderabad was an eloquent riposte to his critics.
Back in 2008/09, when Vijay made his Test debut against Australia at Nagpur, it seemed like he had a bright future ahead of him. But instead of establishing himself in the Test side, what transpired was a stop-and-start career. He had to constantly live in the shadow of India's formidable opening pair of Gambhir and Sehwag. Even when he got an opportunity to make a name for himself during the tour of West Indies in 2011, he flopped miserably.
Vijay didn't have a good season in domestic cricket in 2012/13 either, as he averaged just 17.25 in Ranji Trophy. The tide soon changed for Vijay, as he made a gritty hundred in the Irani Cup against Mumbai. As luck would have it, the selectors noticed that fine effort from Vijay, and he found himself in the Indian Test side.
After playing for Rest of India against Rajasthan last year, Murali Vijay said: "It's not all in my hands, I can just take it in my stride and move forward, be a better cricketer," he said. "It was really a test for me, initially I was disappointed and I accepted the reality, you know, you have to work on your game, and this is a nice chance for you to analyse yourself and become a better cricketer."
Hopefully, Vijay's Test hundred at Hyderabad will kick-start his second coming in Test cricket. The Indian cricket team is going through a transitional phase. But there is hope for a die-hard Indian cricket fan, as the trio of Vijay, Pujara and Kohli can become the fulcrum of Indian batting line-up, in the near future.