Nick Compton awestruck at Cook show
671 //
06 Dec 2012, 22:12 IST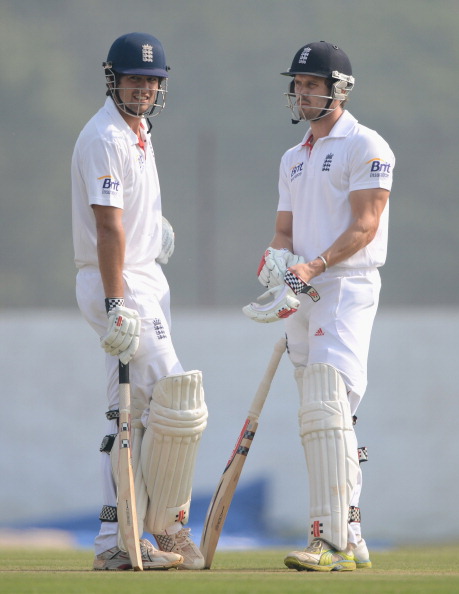 Kolkata - Having watched Alastair Cook write his name into English cricketing folklore from the other end on day two of the Eden Gardens cricket Test against India, opener Nick Compton cannot stop admiring his captain.
Cook struck a masterly unbeaten 136, on way to becoming the youngest batsman in world cricket to complete 7,000 runs at 27 years and 347 days, surpassing Sachin Tendulkar, who achieved the mark when he was 28 years and 193 days old. The day also saw Cook emerge England's highest century maker by cracking his 23rd Test hundred.
"It was quite a moment. It speaks volume about his abilities,' said Compton, who was involved in a 167-run opening wicket partnership with Cook that consolidated England's grip over the game.
"He is so clinical, makes very few mistakes. He does it time and time again and for longer periods, that's the sign of a very serious player," the 29-year-old Compton said after the day's play.
"He is very clear and seems to know what he is doing, what he must do, very unflappable. Having a partner so chilled out at the other does help you. He is so solid. It gives the other guys so much confidence. You know he is not going to give up.
"He is very clear in his game plan and very positive. He has taken his game to the next level which is clearly reflected by the six he hit," said the six feet two inches South Africa born player.
No doubt the right-hander enjoyed his time in the middle with his skipper.
"Cook is tough and unflappable. We have a very good bonding even though we don't say much things in the middle. A look there…a little nod. I really enjoyed my time at the middle with him."
It was also a good day for Compton as he notched up his maiden fifty in his third Test match. But the grandson of the legendary English cricketer Denis Compton was disappointed at not being able to score big.
"I am starting my career and wanted to give myself an opportunity. I have done that in patches but haven't managed a big score. Though I missed out again I am happy for my maiden fifty."
Expressing satisfaction at his team's performance, Compton said the visitors will take each session as it comes and try to build on the score.