No-ball by Suraj Randiv:Is the fuss about Sehwag being denied a century?
927 //
18 Aug 2010, 18:10 IST
Players say the game is not about the records. Hundreds, double-hundreds or five-wicket hauls: they don't matter. So, why is there a fuss about Virender Sehwag being denied a century? To me, the whole idea of the opposition including Suraj Randiv apologising to the batsman for denying him a century looks ironical and ludicrous. I do not intend to justify the folly of Suraj Randiv and Sri Lanka . I surely do not. Neither do I intend to hurt the Indian fans or Virender Sehwag whom I consider to be one of the modern greats in the game. Let me elaborate my take a little bit on this incident concering Virender Sehwag and Suraj Randiv in a broader context.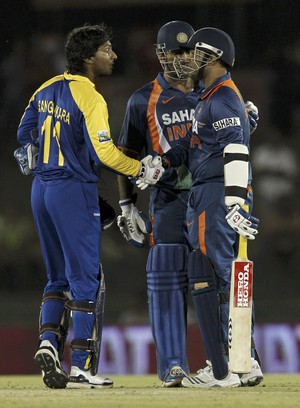 As far as I understand the game, bowling team tries to restrict runs and tries hard to ensure that none of the batsmen reach to centutries. Correct? We don't see apologies from the team saying, " Deeply sorry, mate. Bowled you out for zero" very often, or do we?
On the other side, this act of Suraj Randiv was surely against the cricketing spirit and should be criticized. Not for denying Virender Sehwag a century, to which I believe he has every right as an opponent. But for giving away the runs. As a player, he is expected to play with fairness and competitive spirit. One simply does not give away runs. Infact,  Suraj Randiv should apologise to SLC for this.
Further, Sehwag ranted at the press conference which was not needed at all. His very act belies the pretense of many cricketers that winning the game is the only important thing,nothing else matters. I personally have nothing against records and milestones. Every cricketer including the great Sehwag must, in fact, aspire to reach new levels. What I hit out against is hypocrisy.
*
One curious point: Randiv did ball two legal deliveries before the infamous "large no-ball" to Sehwag. What on earth changed his mood? ( Some sources allege Sangakarra responsible for this action of Suraj Randiv. I refrain from commenting on this.) Mr. SherlockHolmes, will you please help?