ICC World Cup 2015: India v Ireland - Why Ravichandran Ashwin deserved the MoM award more
7.47K //
10 Mar 2015, 19:36 IST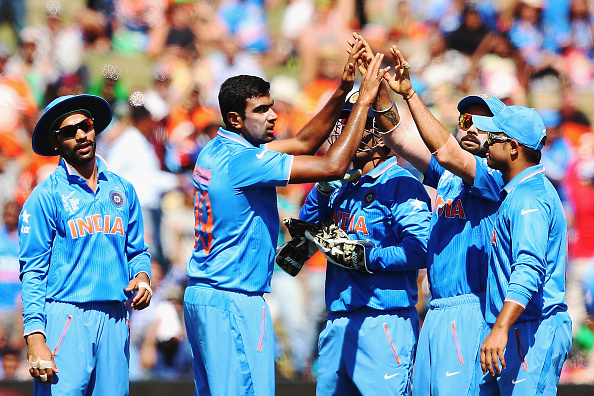 Former Australian batsman Dean Jones, in an after-match analysis, called Ravichandran Ashwin the best spinner of the ongoing World Cup, emphasizing that he is well aware of how beautifully New Zealand's Daniel Vettori is bowling. Coming from a man who is usually scant in his praise, this is quite a big compliment. Ashwin coaxed it out of him and of anyone who has seen him bowl today against Ireland.
Ireland burst off the blocks
The Irish, known for their aggressive intent and the belief with which they approach every game, were off to a bright start at 60 for no loss in ten overs. The Indian pacers had an average start for the first time in five games; not bad, but average, mind you. They didn't manage to pick wickets, not because they bowled badly but because the pitch, as Shikhar Dhawan and the rest of the Indian batting unit would demonstrate, was as flat as a highway.
The boundaries were small, so small that you could almost compare the ground, outfield and all with Bangalore's Chinnaswamy stadium, bowlers' graveyard. Shaun Pollock, on air during the match, jokingly referred to it as the ground you should head to if you need a century.
Enter Ashwin, match turns on its head
Ashwin broke the opening stand in the final ball of the third over; Paul Stirling chipped one straight to long off, although it was his intention to play it inside out to extra cover. It was not a fortunate wicket by any stroke of imagination, considering how he had bowled the 17 deliveries until then. He tossed them, without fear of being smashed by big bats and bigger beliefs. He was bowling with a lovely loop, 85kph to 90kph, the seam-up arm ball appearing not too many times, but enough to create doubts, almost like an out-swinger.
The flight was there accentuating the guile, getting the dip, luring the openers forward, tempting them to drive, and yet not close enough to let them. Eventually the chip had to arrive, as Stirling didn't manage to get to the pitch, even after skipping down the track. No one on the field was surprised with the wicket. Ashwin was doing it right through the tournament, so consistently that – when the pacers didn't pick any wickets – there was almost a sense of anticipation that Ashwin will get the break anyway.
Ashwin bowled eight overs on the trot. After the wicket of Stirling, he bowled 30 more deliveries giving away just seven runs, including a maiden over. He was menacing right through, 35 out of his 60 balls pitching on good length. In his entire quota of 10 overs, Ashwin had bowled just one short delivery. No wonder then that his dot ball percentage was a whopping 61. He had bowled nothing down the leg. He bowled just two deliveries that offered batsmen a semblance of width. Everything else was at them, trying them, testing them, teasing them. It isn't a surprise that while he was bowling, Ireland's run-rate almost nosedived from 6 an over to a meager 4.5; Ed Joyce's wicket to Raina an added bonus.
He is back and big time
Dhoni had saved two of Ashwin's overs for the powerplay, something he always does when the duo play for Chennai Super Kings. Ashwin gave away seven in the first and eleven in the second, which was a tad too expensive for him. Yet he managed to fox Andy Balbirnie, who tried sweeping and got a top edge to short fine leg: a critical wicket at a critical juncture. That wicket proved to be the difference between 300 and 260, as Balbirnie has been one of Ireland's more consistent batsmen.
That he continued to toss them up with flight in spite of being hit for a six and a four showed how Ashwin has started believing in himself more. His skill doesn't waver now like it would at one time, when he would try too much, too often and respond to attacking batsmen by bowling flat or short. Now he doesn't; now he waits. His skipper loves it, so do the experts! Figures of 10-1-38-2 confirm it.
Ashwin, and not Dhawan, the deserving Man of the Match
While it is a batsman's game and Shikhar Dhawan probably got the Man of the Match award for the entertainment he offered the crowd with reckless nonchalance, treating the Irish bowlers as pedestrian club cricketers, Ashwin probably deserved it more. With off-spin being a dying art, managing to return to the roots, bowling in the classical fashion – loop, drift, turn, bounce and occasional arm-ball, Ashwin is reinventing his own career and redefining the mindset of a spinner.
Attack aggressively, his body language says now, with deliveries that come out of his hand slowly, menacingly, beguilingly. Ireland got a masterclass of fine off-spin bowling and the audience got a treat!