Pakistan maul Windies in T20 for blind
671 //
04 Dec 2012, 22:57 IST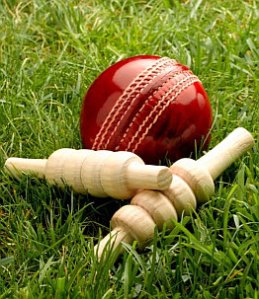 Bangalore - A belligerent Pakistan on Tuesday mauled West Indies by 200 runs in the league tie of the T20 World Cup for the blind, with its star batsman Mohammad Akram setting a record in the tournament by scoring 264 runs off just 85 balls.
Winning the toss and opting to bat, Pakistan piled up a mammoth 366 for five wickets and choked Windies to 166 runs for eight wickets in the stipulated 20 overs.
Studded with a record 49 hits to the boundary and five sixes, Akram, who has partial vision, slaughtered the Windies attack with disdain, as he smashed every second ball to the fence and set an invincible target to the Caribbeans.
"It was one of those days when I could connect the ball from the word go. It's a knock I would cherish for life, as 226 runs came from 49 4s and five 6s," Man of the Match Akram told reporters after the one-sided match, played under a cloudy sky and damp weather at the Central College grounds in the city centre.
At the same time, Akram, whose highest score in T20 till date was 75, lauded Windies for tight fielding, which prevented him from scoring a triple hundred and setting another world record.
"I wish I could score the tournament's first triple hundred but for some good fielding by Windies players. I will aim to get past 300 in the next game though my final goal is to win the World Cup for Pakistan," Akram asserted.
Though Akram has been likened to the explosive Windies' regular southpaw Chris Gayle, he said his inspiration was Pakistani all-rounder Shahid Afridi and his favourite player is former Indian professional skipper Saurav Ganguly, who is the brand ambassador of the tournament.
With over 300 runs each from all the three league matches Pakistan played so far, the team is being viewed by the other eight vying countries as a dangerous side though India too struck a similar form in its two league games.
In the other exciting league tie, which went down to the wires, Sri Lanka beat Australia by seven wickets, as Aussie bowlers failed to stop them from crossing a modest target (234) for three wickets in 18 overs, thanks to a brilliant 173-run partnership in 78 balls by Chandana Deshapriya (partial vision) and Saman Kumara (totally blind).
Put to bat, the Aussies could muster 233 runs for five wickets, with Lindsay Heaven (partially blind) notching up 104 runs in 58 balls and Mathew Horsey (partial vision) hitting a breezy 73 in 40 balls.
Man of the Match Deshapriya smashed 129 runs of 52 balls and Kumara's cameo knock of 44 in 14 balls made the target easier.
In the third game, South Africa trounced Nepal by 186 runs at the Adiya Global Sports ground on the city's outskirts.
Electing to bat after winning the toss on a cloudy and chilly day, South Africa piled up 304 runs losing only two wickets in 20 overs and restricted minnows Nepal to 118 runs for four wickets in 13 overs before sudden rain stopped play.
South African centurions Man of the Match Sonwabile, who is partially blind, scored 128 runs in 68 balls while Desigan Pillay (partial vision) hit a cameo 104 runs in 50 balls and the duo were involved in a 232-run partnership in 118 balls.
The fourth match between Bangladesh and England was washed out due to heavy downpour and both the teams were awarded a point each.
The players are classified into three categories – totally blind as B1, partially blind as B2 and with partial vision B3. Each team of 11 members comprises four blind (B1), three partially blind (B2) and four with partial vision (B3). The wicketkeeper is a B3 player.
Interestingly, for every run scored by the blind, one more is added. As a result, a hit to the boundary will be counted as eight and a sixer 12.