Pakistan's polio-affected bowler Farhan Saeed paces his way into people's hearts
3.72K //
28 Feb 2015, 05:04 IST
If a movie was made on Pakistan's Farhan Saeed, there would not be a better title than 'triumph over adversity'. Meet Farhan Saeed, a polio-affected cricketer who is doing what he is passionate about – bowling!
Saeed's left leg was affected by polio at the age of 2 and he uses a crutch for mobility, but that hasn't deterred him from pursuing his passion.
I have done everything on my own: Farhan Saeed
Saeed, whose miraculous bowling action once helped him return with the figures of 5/22 in 5 overs, revealed that he has developed this unique skill by himself without anyone's help.
He said, "I haven't learned it from anyone. I have done everything of my own. During the days of street cricket, my friends used to wonder how I would bowl like a proper bowler so they suggested me to do away with the run up and chuck the ball.
"But I was keen to bowl with a run up and over-arm action rather than doing the spot bowling so I kept trying it with overarm style and when I finally learned it many people, including some first-class cricketers, suggested me to continue with it.
"Most of the batsmen find it difficult to bat against me. They come to me after the match telling how confusing it was for them to play against me. It is all due my parents' prayers and my passion for the game that I bowl so well."
Pakistan Disabled Cricket Association's (PDCA) joint-secretary and media manager, Mohammad Nizam, talked about Farhan Saeed's special talent.
"The first time Pakistan's disabled cricket team played an international series was in 2012 against England in the UAE," said Nizam.
"Many high-profile people of cricket, including the former ICC Chief Haroon Lorgat and the former PCB Chairman Zaka Ashraf, were present at the venue when Farhan Saeed delivered first ball.
"Everyone's eyes became wet on seeing him bowl for the first time. If you see videos of his bowling action it is really unbelievable and it is rare to find such talent."
His passion for the game has helped him meet his idol, former Pakistan pacer Shoaib Akhtar, among the other players from his country's national team.
Saeed said, "I have met nearly all players of the Pakistan's national cricket team.
"Shoaib was quite impressed to see me bowling, so much so that after the meeting I read in a newspaper him saying, 'I went to give tips to a bowler who was on crutches, but after seeing his control on line and length I myself learned many things from him and I urge other bowlers to learn from him'."
I am thankful to everyone at PDCA: Saeed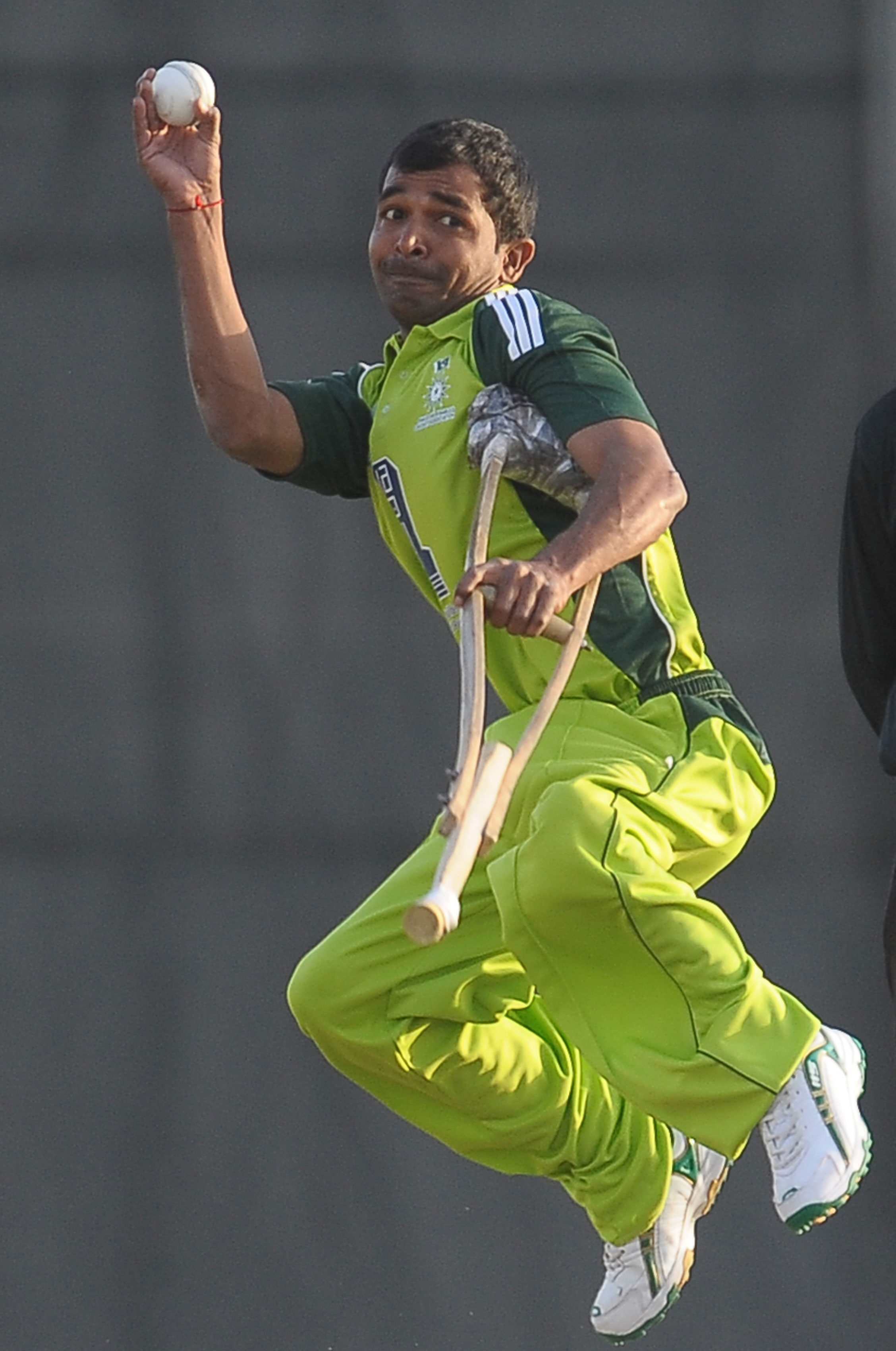 Farhan Saeed admitted that people fear him losing balance while bowling, but said that he has never felt that way since joining the disabled team in 2007. He also thanked the members of the PDCA for treating him like a family member and instilling the confidence in him to do things which a normal person may not be able to do.
"A lot of people get amazed when they see me playing," he said. "They wonder at my confidence on bowling with the stick (crutch). They usually get concerned when they watch me running as they fear I will lose balance and fall over but I have never felt that way.
"When I used to play on the roads and streets, I was prone to losing balance and slipped many times. Now I have been part of the disabled team since 2007 and not even once I felt like losing balance or felt the stick getting slipped.
"The members of PDCA – President Saleem Karim, Secretary Amiruddin Ansari, joint-secretary Mohammad Nizam – have instilled lot of confidence and passion in me and made me believe that I can do things which sometimes a normal person can't. I am very thankful to all the people at PDCA who have treated me like a family member."
We want to see the disabled players get paid regularly: PDCA joint-secretary Nizam
Mohammad Nizam acknowledged the development going on in countries like England, Afghanistan and Australia regarding disabled cricket. He, however, expressed his dismay at not being able to provide central contracts, which they plan to introduce, for the players.
"We are not paying these players at the moment but we bear all the expenses of their travelling, accommodation, clothes, sports gear etcetera when they come to play," Nizam said.
"In future we plan to introduce central contracts for them so they are paid regularly. But most of these players are settled. They have jobs at government or private sector. One of our players, Jahanzeb Tiwana, is a law graduate and about to become civil judge.
"This cricket is getting popular day by day as, after England, now Afghanistan's team has also stepped in and we have heard there is work going on in Australia as well. I hope when more teams get developed the International Cricket Council (ICC) will also play its role in this cricket. ICC's role is necessary to make this sort of Cricket flourish.
"Moreover, media has played a major role in making this cricket popular all over the world. I must say the things we have achieved in seven, eight years could have been hard to achieve even in 15 years without media."
There should be a World Cup for disabled cricketers: Saeed
With the current World Cup going on, Saeed expressed his wish to take part in a World Cup for disabled people on similar lines to the World Cup for blind cricketers. He said that he would love the chance to represent Pakistan in an international tournament which would give players like him chances to showcase their talent.
"Yes, there should be a World Cup for disabled cricketers just like there is one among the national teams at international level," he added.
"There is a World Cup for blind cricketers as well so we also want to play in a such a world tournament, it will be give us more chances to excel and represent our countries at international level."
"Farhan's story is incredible and he is a great ambassador for all abilities cricket. At an Australian level since launching the National All Abilities Strategy in November last year we are making significant progress in our efforts to be a sport for all. A practical example of this is the inaugural All Abilities Championships we are about to hold in March"

- Sam Almaliki, Cricket Australia's Senior Manager - Community Engagement