Pietersen sets up brilliant day of Test cricket
703 //
25 Nov 2012, 17:30 IST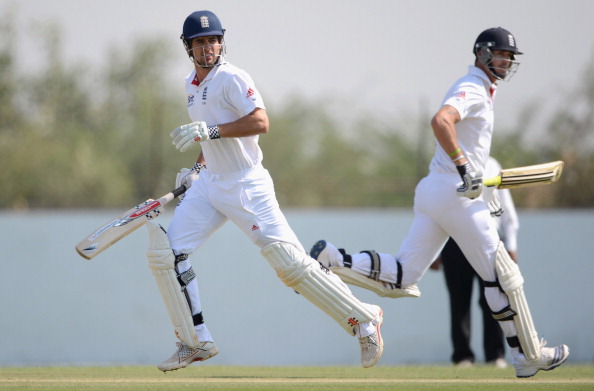 Wow. What a brilliant day of Test cricket. If anyone ever says they don't like Test cricket, or Twenty20 is more entertaining, strap them to a chair and play the full coverage of today's play. That'll do the trick.
Today was also a message to the ICC, if you want to keep Test cricket alive, make sure there are more pitches like this one. This pitch is perfect, it offers assistance to the bowlers, but as Pujara, Cook, Pietersen and Gambhir have shown – if batsmen apply themselves – runs are there to be made.
Pietersen came into this series under a lot of pressure. He is still technically in a re-integration period, I should think that has been accomplished today. He made the claims from some quarters that he should never play for England again look utterly ridiculous.
You will see few better innings than the one Pietersen played today. Make no mistake, the ball was turning and spitting, it's just that he and Cook (who must not be forgotten, as easy as it is to do) nullified India's spinners to such an extent that the pitch looked benign.
You know when KP is in form, he bats with a swagger and an air of invincibility that hasn't been seen since Viv Richards. He plays the most outrageous shots with consummate ease. Put simply, he is incredible to watch.
When on 97, when nerves might understandably be taking their toll, Pietersen nonchalantly decided to reverse sweep Harbhajan. 4 runs, 22nd hundred, no problem. From there, as so often happens, he stepped up another gear.
He treated Pragyan Ojha, an exponent of his supposed nemesis left arm spin, with complete disdain. Two slog sweeps went sailing over mid wicket, with men posted on the boundary. But the best shot of all was his six over cover. Ojha was bowling a defensive line, desperately searching for some respite. Pietersen saw it float outside off, waited, then smashed it over cover with such ease it was almost unbelievable.
His eventual dismissal, caught behind off Ojha, was a shock. It clearly shocked the rest of England's batsmen as they promptly folded, but the damage was done.
Monty Panesar and Graeme Swann then proceeded to completely out-bowl the Indian spinners and put into context just how well Cook and Pietersen batted. It was completely spellbinding, Indian batsmen – supposedly the best players of spin in the world – being completely outclassed by two orthodox English spinners.
Gambhir was the one bright spot for India, showing a fight that was clearly lacking in his team mates. Especially Kohli and Yuvraj, who both looked like they had no interest whatsoever in sticking around.
India are not beaten yet. If Gambhir and the more-than-capable Harbhajan can add a few runs tomorrow morning, they might just be able to put pressure on England.
We've seen before how England can collapse against spin and you can't rule out the same happening again. Get that lead up to 100 and we could have a proper game on our hands.