Pirates of the Caribbean
1.69K //
12 Jul 2011, 09:22 IST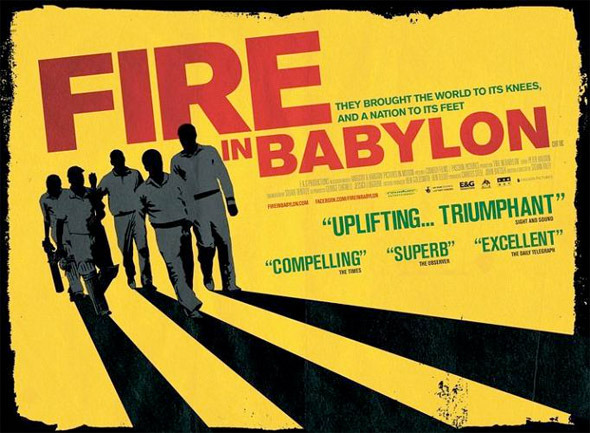 Cricketing fans will love watching this documentary, about the great West Indies side of the 80s, that dominated test cricket for two decades. For the odd bunch of Indians (includes me) who hate watching even the 3 hours of T20, watching 'Fire in Babylon' won't even make you feel the slightest hint of boredom during its 1 hour 23 mins of playtime.
The documentary revisits some of the most important test campaigns in West Indies history. It carefully avoids the ODI's, including the world cup triumphs in 75 and 79 and completely devotes the film to test cricket. Director Stevan Riley also punctuated the cricketing action with small doses of racism and struggle for equality.
Beginning with the tour of Australia in 75, a young and inexperienced  side led by Clive Lloyd, was humbled by the pace attack from Dennis Lille and Thompson. After Suffering a humiliating series defeat and being racially abused by the crowd, Lloyd's team came back to West Indies to recoup.
To dominate test cricket, Lloyd thought they had to think like them, act like them, and to become them, his team had to weigh pound for pound. Hence Lloyd gave a free licence to Andy 'Hit Man'  Roberts and Michael 'Whispering Death' Holdings, when they bowled against a visiting Indian side in 76. That series left several Indian batsmen battered and bruised from the intimidating fast bouncers. As a sign of protest, India's captain Bishen Singh Bedi surrendered the test fearing for the safety of his men.
Under Lloyd's leadership, West Indies grew in strength using both  fear and intimidation, to fuel their aggression for annihilating any batting line-up that stood against their wrath.
We again go back to where it had all began four years ago in Australia, with West Indies making a comeback tour in 79. From the word go, we see the Indies take the Australians head on. Viv Richards particularly stood his ground against Lille, driving his of cutters, lofting his good deliveries and hooking his feared bouncers. Soon the noise from the crowd chanting "Lillee! Lillee! Kill! Kill! Kill!" died down. West Indies won the series 3 nil and had thus avenged their previous loss.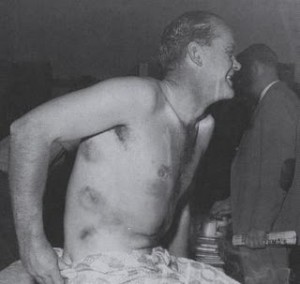 Brian Close beaten by Holding's deliveries
The highlight of the movie has to be their famous "Black Wash" against England in 1984. The series was much hyped, whether the Indies could beat their masters at their own game? They had not only pummeled the English but sent their batsmen running for cover. By then the Indies pace attack grew to 4 strike bowlers, who were dubbed as "Terrorists". Along with Roberts and Holding, Joel Garner and Colin Croft made up the rest of the firing squad. Malcolm Marshall deserves a special mention in this review. Despite having a double fracture on his left hand, we see him bring England to its knees, by taking 7 wickets. He also bravely stepped out to bat one-handed, which further demoralized the English side.
The documentary interviews all of the remaining members of the historic Indies side. Among other things than cricket they share with us, many interesting tidbits about the effect on West Indies cricket due to the Kerry Packer series and their strong opinion about apartheid in South Africa. Their quotes are briefly interrupted by some good native Caribbean music, singing in praise of Sir Viv Richards and his fast bowlers. I felt a figure like Clive Lloyd was severely under played due to his less screen presence. Strangely for a documentary, the counter arguments have been looked over. Interviews with Tony Greig,Sunil Gavaskar, and Greg Chappel would have made it an even more compelling watch.
Fire in Babylon is more than just an ordinary sports documentary, glorifying the results of a cricket team. It sheds light on many aspects of the game, that hindered West Indies progress and also points the root cause of their eventual decline. They were sadly never given their due by the English press, which haggled them for knocking the batsmen cold. The West Indies cricket board never paid what they deserved, from the money coming into the game and were often left feeling short changed. The authorities including the empires and other cricketing boards joined hands in trying to stifle their pace attack by introducing limited bouncers per over, short run-ups, and slow bowling pitches.
Despite the numerous hindrances and obstacles, the Caribbean Islands which only unite under the West Indies banner to play cricket, dominated the game every time they took to the field. Fire in Babylon is a celebration of cricket and freedom about the players who were born in Colonial times but grew up in independent times. Clive Lolyd from Guiana, Viv Richards from Antigua, Michael Holding from Jamaica, Malcolm Marshal from Barbados and many others had become the most feared Pirates from the Caribbean, as they set sail to foreign shores capturing and plundering every power that stood between them and glory.