Preview: India vs Australia 4th ODI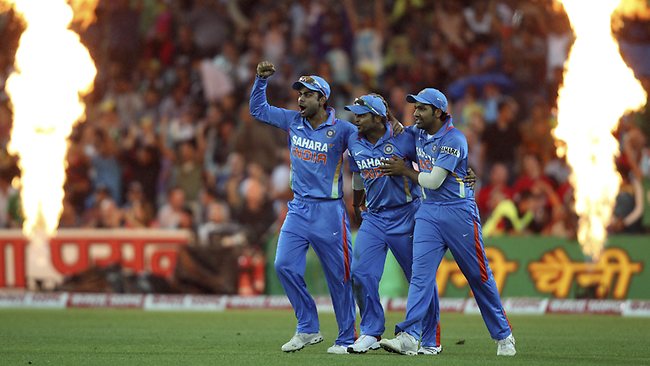 Australia 2 India 1
The seven match bilateral series between India and Australia is well poised  for a cracker of a tournament. The head-to-head score as of now is a colossal irony, a delight to the young Australian side, agony to the top ranked Indian team.
Prior the series, former Australian captain Ian Chappell ridiculed Cricket Australia (CA) squeezing another inessential and redundant tournament. He condemned CA as cash cow deeply interested in generating revenue that would come along being associated with BCCI.
Apart from that, he admitted India is a formidable side especially in their backyard, hence a hard nut to crack for the young Australian team. A gargantuan defeat at the hands of India would certainly bruise the spirits of the team members who are scheduled to face England in the return Ashes series down under.
At this stage of the tournament, it seems Ian Chappell has to eat his words. Australia made a very strong statement in the first match at Pune. They put up a fighting total of 304 and the celebrated Indian batting fell 72 runs short. VICTORY!
In the second match, Australians were brutal on Indian bowlers at the Sawai Mansingh Stadium, Jaipur. They piled up a mammoth total of 359 bringing back sour memories of a World Cup final in 2003. This time, the venerated Indian batsmen came to the party presenting Diwali fireworks to the people who thronged the stadium. Yes, this is what Ian Chappell feared. No target is too big for the Indian boys. WIN for India.
Going into the third ODI, on a placid, dry wicket in Mohali, it was expected India would continue from where it stopped in the last match. George Bailey won the toss and elected to field. Young or veterans, Australians are smart, always. They know their game as well as their opposition's.
The weakness of Indian team since time immemorial is the lack of a lethal bowling line up that can win matches consistently. India was revered for its batting.
This time around George Bailey put Indian bowlers at test. He challenged India to set the target, a rhapsodic arrogance to take Indian bowlers for a rollercoaster ride. India fumbled, struggled save a brilliant hundred by captain MS Dhoni.
The end result of the game stands perfect testimony to India's bowling bunch which can crumble anytime. Death bowling has been a nightmare for them. Faulkner faulked Ishant Sharma, and it was all over in one over. As someone jested, Ishant Sharma would not like to believe in "life after death bowling'.
In the end a game which was for Australia to loss turned around. India LOST!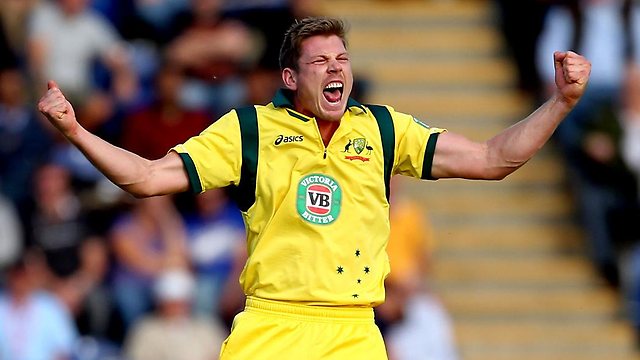 Here we stand, ahead of the fourth match admiring the infants from down under. Their top order batsmen are in prime form. They consistently scored above 300 in all three matches. George Bailey is as cool a cucumber as MS Dhoni. Glenn Maxwell is destructive right from the first ball. Voges could play the sheet anchor role in the middle. He is someone who can surreptitiously construct a partnership allowing his partner at the other end to go haywire at the opposition.
India has a fair share of concerns in the batting department. Yuvraj and Raina have not fired as the team would like them to. Neither did Ravindra Jadeja. If the top order fails, the lower middle order must pull their sleeves up and bat around Dhoni.
In the bowling department, Australians enjoy the supremacy. They possess a genuine pace attack. The likes of Mitchell Johnson who can clock 90 miles an hour and hit the deck hard consistently is unwelcoming for any batsmen.
Clint McKay is much disciplined keeping his line and length right giving little room for batsman to free his arms outside off stump. He is brilliant and wily with changes in pace of the ball. Shane Watson can stem the flow of runs with his medium pace. Probably, Faulkner is the only weak link in the pace attack but he manages to scalp crucial wickets. Doherty will be the prime target of Indian batsmen to go after.
It would be interesting to see if India makes a change or two in the bowling line up. Dhoni has backed his bowlers who went for plenty, and opined they must be given a long rope and people warming the bench can wait longer. Ashwin's carrom balls failed to hit the hole throughout this tournament. It jerks out of the board. However, Dhoni was onboard to state that bowlers cannot be spoon fed and they must understand their business.
The tournament kicked off with India as favourites hands down. Now, the balance has certainly shifted, if not on balance. It can go either way.
The upcoming match is in Ranchi, home to Indian captain Mahendra Singh Dhoni. Ranchi is expected to be a batting paradise. Not a pleasant piece of news to Indian bowlers abashed by the opposition. If asked to bat first, India must, undoubtedly, stack up an insurmountable total.
India would prefer chasing given the fire power they have. Australia would like to chase given the blunt bowling attack India has.