Pujara and Kohli - A glimmer of hope amidst the ashes
731 //
28 Nov 2012, 17:24 IST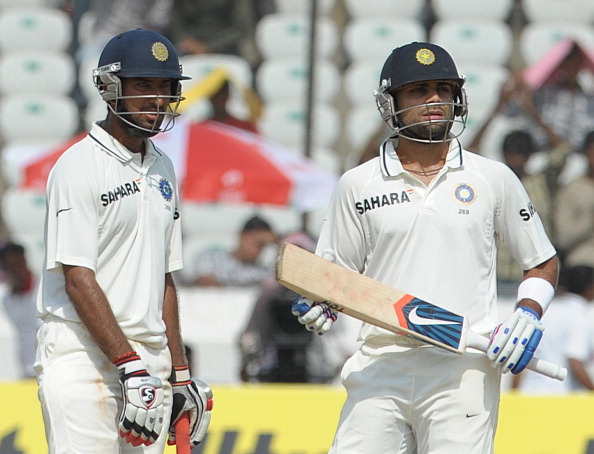 Ever since the retirement of two giants of Indian cricket – Rahul Dravid and VVS Laxman, there has been much talk about whether the selectors will be able to find suitable replacements. A couple of forgetful away series against England and Australia and a home-series against New Zealand, however, have been instrumental in helping the selectors find two capable, if not suitable, replacements for the pillars of Indian cricket. They go by the names of Virat Kohli and Cheteshwar Arvind Pujara.
Kohli's claim to fame was in 2007 when he led the India Under-19 Team to win the World Cup. Since then he has never looked back. A typical modern day cricketer, Kohli is flamboyant and plays the game with aggression coupled with maturity. He broke into the Indian T20 and ODI team early in his career and has already become one of the most reliable batsmen, and the most consistent one too, in the blue jersey. He had to wait till 2011 to break into the Test side and has been successful in carrying on his good form in the longer format of the game. Averaging close to 40 in 12 Test matches with a couple of hundreds and five half-centuries, there is immense proof of Kohli maturing as a player since the dismal Australian tour where he stood up amidst the ruins.
Pujara, on the other hand, had to struggle a lot before earning the India cap. He had to score fluently in the domestic circuit for a long time before he grabbed the selectors' eyes. That he scored three triple tons in the Ranji Trophy within a month speaks volumes about his patience, temperament, grit and never-say-die attitude. Drafted into the Indian team in the Bangalore Test against Australia in 2010, Pujara made good use of the opportunity as he scored a gritty 72-run knock in the fourth innings to steer his team to victory. A knee injury kept the prolific run-getter away from international cricket for almost a year before he bounced back with a century against New Zealand and followed it up with a double ton in the first test against England at home. Averaging more than 70 in 12 innings, Pujara is now labelled as the "next Dravid on the block"!
In spite of being teammates in the Under-19 team, Kohli and Pujara have vastly different ways of approaching the game. Their style differs, their techniques differ, yet their goal is the same – win each and every match for India. While Virat represents GenX with his aggressive ways, grit, deadly attitude, emotional outbursts and courageous moves (something that justifies his billing as the next Indian skipper), Pujara, more sobre in nature, brings with him a typically orthodox style of game-play. He is more defensive, careful in shot-selection, calm, composed and patient. Unlike Kohli who prefers to take the battle onto his opponents, Pujara is more reconstructive in nature, happy to respect the bowlers and wait for the loose balls. While Kohli's recklessness has often cost his team, Pujara believes in being a vigilant artist throughout his whole innings, which may appear monotonous, given he lacks the flamboyancy and innovation of Virat.
Both, however, have one thing in common – an insatiable appetite for runs. Even in the toughest of circumstances, both will grind their way through the innings and put a price on their wickets. They won't ever give up without a fight, 'cause after all, they are matured enough to value their cap.
While Kohli will soon be the one expected to fill up the big boots of Sachin Tendulkar when the Master retires, Pujara has already started living with the "next Dravid" tag on his helmet and he knows that his statistics will be going into the scanner in comparison to the stalwart every time he goes out there to bat. These are today's youngsters, matured as they are, expected to carry on the legacy of the Greats. Can they or can't they – time will answer, but one thing is for sure – with these two around, India's batting line-up is not at all fragile!