Rahul Dravid: Beyond the statistics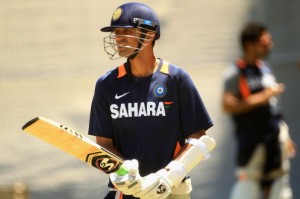 Speculations were doing rounds and it finally happened. Rahul Dravid's retirement announcement wasn't out of the blue but one couldn't help wonder if just a low keyed press conference as a farewell would do justice to his service to Indian cricket.
After 15 years of cricket at the highest level, his record speaks for itself. He ended up with 164 tests and scored 13288 runs, second only to Sachin Tendulkar, at an average of 52.31. Considered one of the safest man in the slips, he also pouched 210 catches, a record for a non wicket keeper. But instead of glossing over his amazing statistics for the umpteenth time, we take a look at the qualities of Dravid that helped him to earn admirers and the respect of the spectators and fellow cricketers all over the world.
The way he played his cricket made him an inspiration for many as his batting was reminiscent of the struggles the common people face everyday. He was not a prodigy like Sachin Tendulkar, neither possessed the almost magical touch of VVS Laxman nor had the flamboyance of Virender Sehwag. But he had a rock solid technique, water tight defense and drives that were precise to every inch's movement. Something acquired by grit, determination and years of practice, constantly reminding everyone that you don't have to be naturally gifted to be successful. He showed that if one is willing to adapt and shows perseverance, talent can be cultivated over a period of time.
He innings were often a grind, as he would dig himself in, settle down and wait with a hawk's vigil for that one bad ball to score off. Though it didn't set the cricket stadiums on fire, his runs usually came in the toughest of circumstances and when the team needed them the most. Be it in the bouncy conditions in South Africa, the seaming conditions in England or the pressure situations against Australia in Kolkata and Adelaide, when the going got tough Dravid invariably found himself in the thick of action. After all, not for nothing he is called Mr. Dependable.
Another facet of Dravid that stands out above everything else is his team spirit. Never one to shy away from a challenge, Dravid took up various responsibilities keeping the best interests of team in mind. When the Indian team under Sourav Ganguly preferred playing ODIs with seven batsman, it was Dravid who had to step up and don the dual role of a wicket keeper batsman to allow the seventh batsman in the XI. Even though he was primarily a number three batsman, his batting slot was shuffled around according to the need of the hour. While on overseas tour he was often asked to face the new ball instead of an injured or an out of form opener, his best effort in Indian conditions was when he came out at number six to forge that astonishing partenship of 376 along with Laxman to begin a new chapter in Indian cricket.
Dravid was also a firm believer in his abilities and someone who never allowed criticism to get better off him. Every time he faced a setback, he made strong returns on the back of some serious hard work and strong mental resolve. Early in his career he was derided for being a one dimensional player and a misfit in the shorter version of the game. But he made a marked improvements and ended up being the highest run getter in the 1999 World Cup in England. By the time his ODI career came to a halt, he had already amassed over 10000 runs and was regarded as one of the best finishers in the game.
Even in test, when his form took a dip many predicted that his time was up. But in true Dravid style he answered back with a superb run with the bat in 2011 which saw him score 1145 runs, including 5 centuries. In the disastrous English tour, he was the only player who returned with his reputation enhanced. Scoring 461 at 76.41 per innings, he looked pretty assured in the middle, oblivious to the mess around him and proved that despite advancing age, why he is considered a better batsman than all the youngsters vying to replace him, put together.
But as all good things, his career too had to come to an end some day. The Australian tour was his last chance to post a series win downunder but the script went horribly wrong. A mere 194 runs at an average of 24.25 in  tests. What was more astounding was the regularity with which 'the wall' got breached – he got bowled 7 times (one of them was a no-ball) in eight innings. As the erudite former Aussie captain Ian Chappell aptly said, it indeed seemed as if few bricks are missing from the wall.
With Dravid's retirement, many eras in Indian cricket come to an end at a time. The era of nice guys in the gentleman's game, the era of technically sound batsmen who can adjust their game according to the condition and the era of the eternal team-man who didn't mind going those extra miles for the team' s sake.
Now one wonders, how Indian constructions would look without a 'wall'.