Rahul Dravid- Indian Cricket's White Knight!
1.40K //
12 Mar 2012, 11:20 IST
Over the years, as an avid cricket fan, my views about the game have changed drastically from time to time. From a young kid screaming after every four or six scored by an Indian batsman or a wicket taken by an Indian bowler in the 2003 World Cup (yeah,that's when I started watching cricket) to now being fed up with the inconsistent, lethargic and less motivated performances by our Men in' Dark'  Blue and to switching on to following some other sports instead in order to get over the excess cricket hangover,it has been somewhat of a cycle for me. However, what hasn't changed, is my unconditional love and awe for my childhood superhero, Rahul Sharad Dravid- Indian cricket's white knight.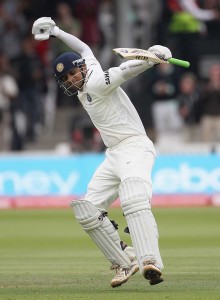 In Christopher Nolan's 2008 superhero classic 'The Dark Knight', a white knight is described as the supreme body representing all that was good, he who never faltered in his methods, no matter what situation arose, he who selflessly gave, gave and  gave, and kept on giving to the end for the welfare of others.
This description,quite aptly, fits Rahul Dravid. Right from the time he made his test debut at Lord's in 1996 to that dreadful press conference last Friday on 9th March,2012, he has done everything for his nation  that you could hope to ask from a cricketer.The supreme symbol of all good,the poster boy for all 'nice guys'. If not for a few human errors which I will come to later, he was most certainly India's only 'white knight'.
He started his ODI career jumping back and forth in the batting order,sometimes as an opener,sometimes at number 3,sometimes at numbers 4,5,6 or even 7,but he did it all without complaining even once. He kept wickets after a gap of 10 years when India didn't have a wicket-keeper,most notably in the 2003 World Cup in South Africa where he kept with ease as India marched on to the finals only to fall runners-up to probably the greatest Australian ODI side of all times.
He did what was right and perhaps that is why never opposed  anyone and obeyed to whatever that was ordered to him without questioning even once. He kept when India needed a keeper, opened when India didn't have an opener, captained the side when India needed a leader and retired when India needed fresh faces. He did it because it was right to contribute to the cause of the team. Even during those torrid times in the 'Greg Chappell' era,even if there was unrest in the dressing room because of the Australian's supposedly anarchic approach, Dravid did not oppose Chappell because it was not right to do so. Maybe that is one of the flaws of being too good. But immediately he stepped down at the right time and stopped Team India from stooping any lower. He never gave in to any vices, be it stardom, be it the kick of being captain and doing what you want, be it money, be it anything, without blinking an eye-lid he gave all of these riches away for the cause of the team. Maybe it was wrong for him to celebrate too much too! Very rarely have I been privileged to watch the man smile or laugh after achieving something great. I remember an instance during Pakistan's tour to India in 2004-05 when he played a typical 'Dravid's knock' bailing India out of a 9/3 situation to 280 in 50 overs scoring 104 along the way. As he reached his century, he barely showed any emotions, and me and my mother shouted out in unison,"Smile, dammit!!."Perhaps it was right to be humble and emote less in times of joy. But it was a joy to watch him behave like a 'human' at times when he leaped in the air pumping his fist after scoring the winning runs of that historic Adelaide test against Australia in 2003 or when he roared in joy after leading India to a series win in Pakistan in 2006 or his outburst of emotion when he scored that century against England last year in the first test of the series and very few other incidents like these.
It is a privilege to have watched him in his best as well as worst times.After all, he is the man who showed the world that nice guys can finish first at times.A big salute to the inimitable legend!