Ravindra Jadeja - The successor to Sourav Ganguly?
1.21K //
03 Dec 2012, 08:26 IST
Yeah, it is a weird thought, but it occurred to me when I was going through yesterday's Ranji Trophy updates. Jadeja is in red-hot form this season, having made two triple centuries already. He has joined an elite league consisting of legendary cricketers like Sir Donald Bradman,Walter Hammond, Brian Lara and Mike Hussey to name a few. It is an astonishing feat, considering the fact that he is a lower order batsman who was used mainly as a bowler in international cricket.
The most ironic thing is that he has never been in the picture for Test selection, and that is the format where he has excelled in recent times. The triple he scored yesterday was his third overall: a feat unmatched in Indian domestic history and the second youngest to achieve this feat after Wally Hammond in all of first-class history. Though Jadeja hasn't been much of a success, and he has squandered the numerous chances he got in the shorter formats, thanks to a sympathetic skipper who prefers to have all-rounders in his side, Jadeja has been quite shoddy and mediocre, making just 860 runs and picking 57 wickets in 58 ODIs. These performances don't really merit further discussions, but he has been making waves since last year when he made his first triple ton.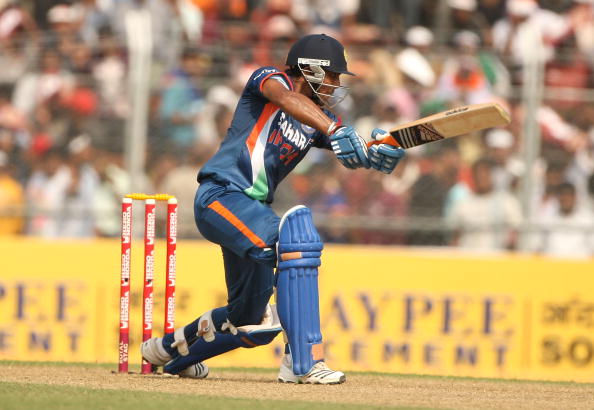 One can argue that he would be yet another failure on the lines of Rohit Sharma, Abhinav Mukund and Murali Vijay who have thrived at home, where the conditions are flat and most suited for batting. But a person who has even played a lower level of club cricket would agree with me when I say that making a fifty in even easy conditions requires a lot of talent and relentless practice. Getting a triple, that too three, in a very short time is a feat worth honoring. This knock should make the selectors sit up and take notice of him. Surely a player in this kind of incredible form is better than a "senior". The selectors should look at him as an all-rounder, since he can be a handy bowler and a very good option in the subcontinent conditions.
You would be wondering by now why I have mentioned him as a successor to Dada. Maybe there are no similarities on the outset, maybe their playing styles are stark contrasts to each other, but India need a left-hander at No.5 to balance the batting line-up.  Numerous players, including a couple of left-handers have been tried out, but to no avail. Jadeja would add perfect balance to the side if he is selected to play at that spot. His slow bowling will be very useful when playing in home conditions. He is a better bowler than Yuvraj, since he is more of an allrounder, whereas Yuvraj is just a part-timer. So he can be used to add a bit of spice and variation to the bowling line-up. Added to that, he is an excellent fielder – energetic and flexible – and he will be able to stop 15-20 runs every match with his fielding alone. Once Sachin calls it a day and Kohli takes his place, Jadeja can be tried out to play at No.5.
I would never say that "He is the one!" But with the transition phase that India is in, it would not hurt to try him. We have tried out many combinations and none has worked for us so far. Players in form should be given a chance in my opinion, and who knows, he might exceed our expectations and succeed at a being a good Test player.
"Opportunity does not knock, it presents itself when you beat down the door" and he has been doing that since last November and like I said, it would not hurt to try.