Remembering the forgotten one
1.26K //
12 Mar 2012, 11:53 IST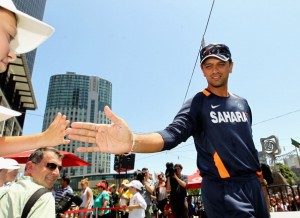 It was 1996 and India was on a high after beating Pakistan in the Chinnaswamy stadium on MG Road, Bangalore. It was not an ordinary victory. It was filled with spite and anger, and was fueled by the passion of tens of thousands of fans in the stadium and world over as the Indian cricket team electrified us all. I have no doubt that you remember Ajay Jadeja giving Waqar Younis the stick and hitting him for more than a few sixes, much to the shock of the Pakistani fielders and the Indian spectators. Pakistan commenced their chase with renewed vigour and Aamir Sohail in particular was merciless. The crowds were beside themselves with rage when he gestured towards the boundary line with his bat and said a few words to India's fast bowler which I am sure were not along the lines of "I hope you are having a good evening, Venky!" I think we all know what happened next. Prasad came steaming in from around the wicket with a gorgeous yorker that crashed into Sohail's stumps. The next couple of milliseconds were some sort of a hysteria-induced paralysis and when it registered as to what had just happened, Indian fans the world over almost went mental. The modesty of Aamir Sohail's mother and sister was called into question by millions of Indians. I, an 11-year-old boy then, used "foul" language when I said "YAAA! Go back you brainless donkey, stupid idiot", and was admonished by my mom who was equally excited. My baby brother was exactly that, a baby of 5 years old and in the first grade. My dad did something that was an interesting amalgam of a break dance, high fiving himself, gesturing at the TV and yelling "COME ON!" It was 9 March 1996. I had turned 11 years old that day. It was the best birthday present I could ask for. India winning. Not my dad break dancing.
But our World Cup dream ended there. We proceeded to meet Sri Lanka (eventual winners) at the Eden Gardens and as the crowd sensed that India was losing, they began tossing "missiles" onto the ground. Clive Lloyd, the ICC match referee walked out onto the pitch to confer with the on field umpires. Soon, India's captain – Mohammad Azharuddin (or 'Azza') reluctantly waded into the middle and through awkward sign language (which unfortunately did not include what Virat Kohli did in Australia) tried to negotiate with the crowd to calm down. But this was no ordinary crowd – this was a Bengali crowd. Devoid of roshogollas and mustard oil, they were pissed off! We were 7 wickets down and had just lost our last recognized "batsman" – Nayan Mongia. In walked Ashish Kapoor with the stride of someone as confident as a lab rat in a snake pit. Muttiah Muralitharan got him first ball. The crowd went nuts. Ashish Kapoor walked back to the pavilion almost looking relieved, leaving Vinod Kambli out in the middle. Our next batsman never made it out. The Bongs had seen enough. With the wrath of a thousand Mamata Banerjees protesting against Nandigram – they lost their cool completely. Clive Lloyd was forced to make a tough decision. India forfeited the match. That was the last we saw of Kambli for a while.
India's next tournament was the Singer Cup in Singapore against Sri Lanka where the flashy left hander Vinod Kambli was replaced by someone whom no one had heard of. A medium build right hander named Rahul Dravid. Destined for greatness over the next decade and a half, this young man had a disastrous debut and was immediately dropped after the series, leading several people to angrily enquire about the whereabouts of the dropped Kambli. Later, in the same year, Dravid was called up by the Indian side along with another young man whom no one had heard of – Saurav Ganguly. Dravid's role was to fill in for the injured Sanjay Manjrekar and Ganguly's was to replace Navjot Singh Sidhu who complained of a lover's spat between him and Azza. Rahul Dravid scored a superbly compiled 95 and after the match, the experts were left talking about not his cover drive, his leg glance, his mid wicket flick, his square cut or his straight drive – but his front foot defence. The greatest left arm pace bowler of all time, Wasim Akram, had once said that you can judge the calibre of a world class batsman not by how he cover drives you to the fence for a boundary, but by how confident he is in his ability to defend against you on his front foot. After his 95 opened the eyes of the sleepy selectors, Dravid went on to keep his spot in the team for the next Test despite Manjrekar's return. He scored an 84 in the third test, but the people in India were more bothered about why Tendulkar was not scoring and whether Salman Khan was having an affair with the wife of the Indian captain. No one had realized that one of the greatest cricketers in the world had softly announced his arrival.
In the 1996-97 tour against Hansie Cronje's unstoppable South Africa which included the likes of Hudson – Kirsten – Adams (the left arm psycho spinner) – Cullinan – Klusener – Pollock – Donald – Cronje himself – Adam Bacher – Dave Richardson and Brian McMillan, Dravid was asked to bat at number 3. Those days, Nayan Mongia was asked to open the innings (I wonder what the Indian coach was smoking) with a certain Vikram Rathore. The Indians were using a formula called "Keep trying out new players in the opening slots. Something is bound to click sometime." It never did. Dravid scored 148 in the first innings and 81 in the second innings. During one of Donald's fiery spells, Dravid took a knock on the rib cage and then on the helmet; after being taunted by Donald, Dravid proceeded to leave the next few deliveries which were agonizingly close to his off stump, leading then Protea great, Kirsten (at second slip) to applaud his leaving ability. Yet, the Indian media was fixated on Tendulkar's captaincy (Azza had been replaced) being a burden to his batting and how our bowling options were limited to Javagal "Rothi Surat" Srinath, Venkatesh "Leg Cutter" Prasad, Anil "I aint no spinner" Kumble and (shudder) … Dodda Ganesh who was replacing (double shudder) an ineffective David Johnson. Dravid was unnoticed despite winning the man of the match award.
From Jan 1997 through June 1998, he featured in away series against the West Indies, Sri Lanka and Australia scoring 964 runs at an average of 57 runs. He had made his preference of batting at number 3 very clear, but was constantly shuffled through the batting line up being asked to open the batting, bat at 2 down as Ganguly struggled to find his rhythm, make way for Tendulkar and a newcomer called Amay Khurasia. He never complained. He adapted. He smiled. He scored. He smiled some more. The world was beginning to take notice.
In the meantime, he began to regularly feature in the Indian ODI side as well, leading up to the 1999 World Cup in England. He was criticized by the BCCI when he suggested that the Indian players allow themselves to be loaned out to English Countys teams for free 3 months prior to the World Cup so that they could play in English conditions and get used to the bounce, the weather, the pitches, etc. But the Indian board preferred to have the players at home for another meaningless series against Zimbabwe. Days before the World Cup, the master strategists in the Indian Board realized that we did not have a deep batting line up (why it took them so long to figure this out is beyond me) and commenced their quest to find a wicket keeper batsman who could try and pull of a Moin Khan or a Romesh Kaluwitharna or better yet … an Adam Gilchrist. No such luck. Rahul Dravid had done some wicket keeping during his St. Joseph days in Bangalore and was a part time keeper in Ranji Trophy games. He had no experience keeping wickets consistently at the International level. Yet, he offered his services and the people up at the BCCI readily agreed. After decimating Sri Lanka in a 300+ run partnership with Saurav Ganguly in Taunton, Dravid experienced muscle cramps, but had had to take the field because India had no other keeper. He was supposed to be rested for the next match, but had to play in the end when Sachin Tendulkar lost his father. When asked about it in the press conference at Trentbridge he snapped at the press  for mixing cricket with the loss of his colleague's father and famously said "Sachin is where he needs to be right now, with his family. We are here for him when he needs us." But the press and the crowd were obsessed with Tendulkar's return and they salivated as Tendulkar cracked a century against Kenya and dedicated the match to his father. Tendulkar scored 140 and everyone spoke of it. Dravid scored 104 and nobody but the scorekeeper realized. When Tendulkar reached his 100 and raised his arms and looked at the heavens to pay his respects to his father, Dravid was at the other end, applauding his partner and walking over to shake his hand and hug him and exchange a few words which were perhaps motivation laced with condolences. Dravid walked away from the 1999 World Cup as the top scorer with 461 runs. He was not present at the awards ceremony, nor was he missed. People were talking about the man of the series who had single handedly demolished a number of teams – Lance Klusener. Following the World Cup, there was a controversy about how Steve Waugh had pushed Jagmohan Dalmiya off the winners' platform. The media and the Indian public gobbled it up. Dravid was in India and practicing at the KSCA for the upcoming home series. The rest of the Indian team were taking a break. No one acknowledged that Dravid's dual role as a batsman and a keeper had paid huge dividends for India.
In 2001, Dravid and VVS Laxman joined forces to produce one of the greatest comebacks in the history of cricket. Australia were on course for a comfortable victory. With a follow-on enforced, the 2 put on close to 400 runs with Laxman cracking 281 and Dravid amassing 180. Dravid was once again second best – people knew he existed by now, but he wasn't exciting. He wasn't glamorous. He wasn't Sachin. The match revolved around Laman's 281 and Harbhajan's hat-trick. In 2002, Dravid began to emerge out of Tendulkar's shadow. But he didn't do anything different. He continued playing his regular game. On the fourth ball of one of his innings, he was struck on the side of the head by a Mervyn Dillon bouncer. He fell to the ground and needed medical attention. He proceeded to score an unbeaten 144. Later in the year, he hit 4 test centuries in 4 matches against England and the West Indies. In Headingly, he overcame the wrath of an in form opening pair of Darren Gough and Steve Harmison, the arrogance of Flintoff and the unorthodox Alan Mullaly. He scored 148 on a seamer friendly pitch. He ended the series with 602 runs in four matches. In the following 3 series, he scored 3 double centuries against New Zealand, Australia and Pakistan – all away games. In what he describes as the second best match of his career against Australia at the Adelaide Oval, the batting pair of Dravid and VVS Laxman proved to be Australia's nemesis again. In the first innings, India were in doldrums with 4 wickets down for 85 runs in reply to Australia's massive 556 when the duo joined hands. By the time their partnership was broken, the pair had put on 303 runs. Laxman was dismissed for 148 while Dravid went on make 233. At that time, this was the highest individual score by an Indian batsman overseas. By the time Dravid was done, India was only 33 short of Australia's first innings score. Dravid followed this with an unbeaten 72 under immense pressure in the second innings to set up a famous victory. The Indian media was full of praise for Tendulkar's captaincy and some genius had discovered the trend of Laxman's success against Australia. Dravid's performance was noticed, but not discussed.
The examples go on and on. His stint as India's captain was less than desirable, yet better than Tendulkar's record. During the 4-0 test white-wash we suffered in England in 2011, Dravid was the only one to stand up and hit 3 watchful centuries as India tumbled. And Dravid did it all while being the quintessential nice guy. I am 100% certain that if you interview every single international cricketer in the world who has ever played against Dravid and ask them to say something nasty about him, they would not be able to say anything. Perhaps the only criticism that I can think of is that he wasn't assertive enough when it came to himself. He was dropped to make way for Gambhir, taken in when Gambhir got injured and then dropped to make way for Mohammed Kaif. He never featured in a T-20 series for India. He wasn't even considered. He was dropped from the ODI side when it was convenient and recalled when it was inconvenient. He never complained. He smiled. He performed. His only anger was directed at himself and that was when he gave his wicket away. He acknowledged good deliveries when he got them and most of all, he respected the game. He understood the honor of representing his nation and singing his National Anthem. He wasn't involved during the ugly sponsorship spat with Wills. He didn't care about the money. He spent his off season in the forests of Kabini with his good friend Anil Kumble studying tiger tracks and working on ways to conserve the forest land. He didn't endorse everything from licquor to zandu balm. He was "Jammy" from the Kissan ads. When asked about his thoughts on being called "The Wall", he chuckled in response and said – "ask the media, they named me. As far as I know, I'm Rahul." When appearing on MTV Bakra and being serenaded by a girl who insisted on marrying him, he politely told her that he was too old for her and advised her to concentrate on her studies and her future. These were not things which excited the crowds or the media. He didn't have affairs. He wasn't involved in scams. He never sledged. Not even when Michael Slater charged up to him, got in his face and called him a liar for standing his ground when he thought that a catch was dropped; he was given not out by the third umpire after confirmation that the catch was indeed dropped.
The game of cricket was once played by Gentlemen. Today, the BCCI has reduced it to something which can be compared to the flesh trade in the Vikhroli market. But that's unfair of me. At least the women in Vikhroli market have no choice but to do what they do. They need to feed their children and take care of their no good husbands. They don't have a choice. They do it because they have to. Because they need to. The BCCI does have a choice. They do it because their greed knows no bounds. The Indian cricket team has just come back from Australia after 4 months, having been absolutely thrashed in the series. They have not spent time with their families and their loved ones in all that time on the road. Yet, they are given a 48 hour break and then sent packing to Bangladesh for the Asia Cup. People are already talking about the mouth-watering India-Pakistan encounter. Dravid's retirement is all but forgotten. 2 days after the Asia cup begins the brothel of all tournaments, the IPL. That lasts for a month and a half. Which means that 8 of India's 11 players would have played cricket from November through mid-May with no breaks. Yet, when they lose a match, we're quick to demand that their necks be wrung. Let's rewind to 2011. India won the World Cup. Did they have the opportunity to rest after a crazy tournament and celebrate with their friends and family? No. The IPL began 4 days later and then a series in Bangladesh. For what joy? Even Bangladesh has no idea. I have had this argument with several people and I agree that playing a lot of cricket is good for the economy, for the people, for the future of the game. But for me, cricket has always been a sport. Not a business. And that is where I shake my head in sad disbelief when I see what the BCCI has done to the game once played by McGrath, Warne, Cairns, Gilchrist, Hayden, Vaughn, Lara, Akram, Younis, Walsh, Ambrose, Kirsten and Pollock to name a few (cricketers from my generation of watching the sport). It has been reduced to a fast food version with schemes like "Power Plays" which further discourage the development of fast bowlers because being a batsman is where the glory is where the money is.
Rahul Dravid represented the old testament of world cricket. Back when cricket was still played for a sense of honour, dignity and the pride of playing for one's country. Glen McGrath once said "If there is ever a player from another country who can walk into the ACB offices and ask for a chance to play in the Australian National side, it is Rahul Dravid." And he said this when Australia were invincible, having won 16 or so tests on the trot. The speech that Dravid gave in Australia for Don Bradman's foundation was written by him, expressed simply and beautifully. Dravid announced his retirement a few days ago and was accompanied by his wife and his children. He ended his retirement announcement by saying "When I look back, I probably exceeded my expectations with what I have done over the last 10 to 12 years. I never had an ambition to do it because I never believed – it is just a reflection of my longevity in the game." Humble words from a humble man. Dravid always considered himself a student of the game, not a teacher. He developed his limited overs technique so that he could have a record comparable with the best in the game's history. He was the first batsman in the world to have registered a century in every test playing nation and to score 10,000 runs at the number 3 position, and he was not dropped from the Indian team for almost 100 consecutive test matches. Some players announce their retirement during the midst of a series or at the beginning of a series so that they get to say farewell to the crowd and perhaps bask in the spotlight for one last time. Others announce their retirement after scoring a 100 or a double hundred or taking a 5 for so that they can end their career on a high. Dravid chose to return home and call a press conference in his home city, his home ground – where it all began. No farewell to a screaming crowd. No tears. No bat in the air. No spotlight. An expression of gratitude, a short speech and he's off.
One of India's greatest sons, one of the best ambassadors the game will ever see, a doting father, a loving husband, a true team player and a gentleman. If asked about the one thing I will miss the most about this icon, I would have to say it is his relentless and almost religious pursuit of perfection.
As the bails are flicked off, the sun sets with shadows enveloping the stadium, the reassuring presence at number 3 walks towards the dressing room for the last time. Farewell sir. Thank you. For everything.
This write-up is dedicated to my father who has been an unwavering Rahul Dravid supporter through the highs and lows of Dravid's career. Dad often compared Dravid's approach to cricket as a way of life. Know when to charge, when to hold back. When to be assertive, when to ignore. Substance over style. Mind over matter. Technique over flamboyance. Be humble, be respectful and always remember – country and team come first. The rest does not matter. As the great Gavaskar once said – "Form is temporary. Class is permanent."