Ricky Ponting: The legend we love to hate
1.39K //
29 Nov 2012, 17:04 IST
Rahul Dravid. Mark Boucher. Andrew Strauss. VVS Laxman. Brett Lee. 2012 has been a pretty sad year for cricket buffs. It just got worse. Ricky Ponting has announced his retirement from international Cricket in a press conference today morning. The Perth test against South Africa will be his final test.
The 37 year old batsman will equal Steve Waugh's record of 168 test match appearances for Australia in the Perth match. His current run tally stands at 13,366 runs, second only to Sachin Tendulkar. He is also a 3-time World Cup winner, twice as a captain. The only player to be a part of 100 test wins. He also holds the records for most wins as captain in both tests and ODIs. That is a resume any young cricketer would dream of emulating.
Ricky Ponting was someone who people loved to hate, especially the Indian public. I was among the frontrunners in that bandwagon. He was not just an immensely talented batsman, but also an arrogant, obnoxious, cocky character on the field. Who can forget the 2003 World Cup finals? It was India's chance of clinching the World Cup after 20 long years. Ricky Ponting had different ideas. He went on to clinically dismantle the Indian bowlers and along with it, India's hopes of lifting the coveted trophy. Later that year, India toured Australia with hopes of recording their first series win down under. Ricky Ponting was in supreme touch and the biggest thorn in India's flesh. His 257 in Melbourne was crucial in denying India their tryst with destiny.
He then led Australia to a Champions Trophy victory in 2006. This made Australia the only nation to have won every trophy on offer in World Cricket, before the T-20 WC was initiated. He shoved Sharad Pawar off the podium to collect the trophy. Then came the 2007 World Cup, which was cricket's equivalent of Rafael Nadal winning the 2008 French Open without dropping a set. The Australians bulldozed every opponent thrown in their way, and Ponting helped Australia lift their 3rd World Cup on the trot. An incredible achievement. I loathed him more for that.
In early 2008 came that infamous Sydney Test against India. Australia had brought the "Spirit of the Game" into disregard and "cheated" their way to victory, with Ponting at the helm. This was something Ponting will never be forgiven for. The hate against Ponting had grown to such proportions that his and the Australian team's failures were celebrated even if it was not against India. When Ponting became the first Australian captain to lose 3 Ashes series in 2005, 2009 and 2011, we loved it. The fact that he was only the 2nd Aussie captain to hand a 5-0 whitewash to the Poms was conveniently ignored.
In the 2011 World Cup, Ponting was struggling for form, and his unbeaten run in World Cups as captain was brought to a halt by the Pakistanis. India knocked them out in the quarter finals. Ponting scored a century in that match, his first in international cricket in over a year. Post the World Cup loss, Ponting stepped down as Australia's captain, giving way to Michael Clarke. For reasons unknown, the hate directed towards Ponting was now changing itself into respect and admiration.
I had come to realize, albeit a bit late, that Ponting was a legend in his own right. He just had his own ways to go about his business. For someone with such tremendous achievements as a team player and also on a personal level, it was almost excusable for him to be stubborn, arrogant, disagreeable and whatever else he chose to be. Maybe the hate for him all along was more of envy than actual dislike.
Ponting's career from that point onwards was a case of how much longer can the legend continue to deliver. His form in the test series against Sri Lanka, South Africa and New Zealand in 2011 was mediocre. Then in early 2012, he scored a century and a double against the Indians. I thought this might be the beginning of his second wind. But the slump continued against West Indies. And, it has gone from bad to worse in the current series against South Africa. His dismissal in the first innings of the Adelaide test was pretty sad to watch. A legend had been quite literally brought to ground.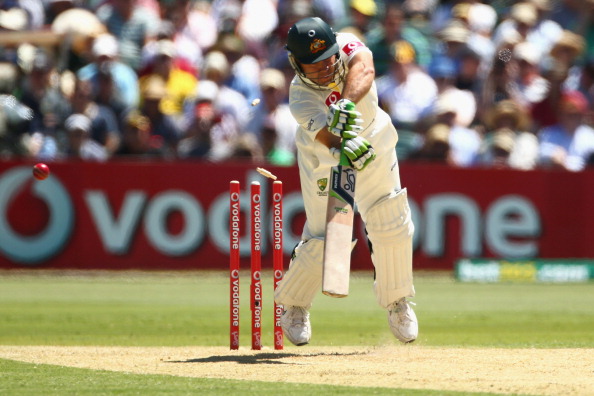 Ponting suggested in today's press conference that he was troubled by the mode of his dismissals in the recent past and that he hasn't been contributing to the team as much as he would want to. Ponting's major motivation has always been to help Australia win test matches. He realized he was not helping the cause, and hence the decision was made.
He has stated quite often that he would love to have one more crack at England for an Ashes redemption. As much as it would have been an immensely emotional journey for him, he has taken the right call, at almost the right time. He made his test debut at Perth, and will sign off at the very same place.
Ponting's exit from the ODI arena was rather unceremonious. I am glad that he got to quit the Test Arena on his own terms. With Ricky Ponting's retirement, Australia will have lost the last remaining member of their invincible team of the early 2000 era. Michael Clarke will be leading the new regime in their quest of regaining cricketing supremacy.  Australia will become the No.1 ranked test team if they manage to defeat South Africa in the final test. It would be just about fitting if they reach the pinnacle with Ponting still in the team. A perfect sendoff for a near perfect cricketer.