Sachin Tendulkar - A man who is beyond comparisons
1.74K //
17 Mar 2012, 22:23 IST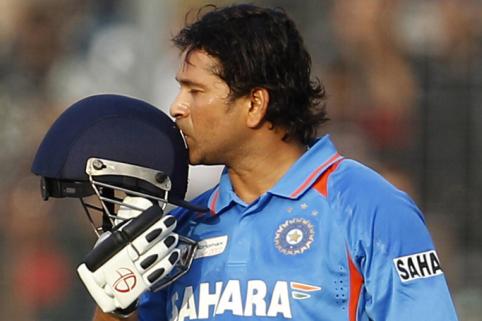 If you are an advertiser wanting to sell your product big and if you want your brand to be viewed by millions and millions of people, especially if u target India as your prospective market, then there is only one place which can offer you a quick recognition. Just search in the internet where India is going to play their next cricket match.  Get an appointment with the shortest man of the Indian team with curly hair. Have your brand name pasted in the cricket willow that he carries. Then the rest of the thing will be taken care of by him.
The short man will go to the crease and after taking guard would get ready to face a fast bowler on song. You, as an advertiser, need to pray for a slightly over pitched ball at leg and middle, possibly. In no time, the ball would have reached the boundary, courtesy a copy book straight drive. The camera's focus would not be on the ball reaching the boundary, for sure. Rather their focus would be on the follow through of the great man. The eyes of the TV viewers and the spectators, if there is a big screen in the stadium will see only one thing, the brand which you want to sell. Immediately, in no time, your brand would stand recognized in India.
It is needless to mention who the great man is. This is one man who does not require any introduction.  There is only one batsman in the whole lot of cricketing talents who could play a straight drive as crisp and incisive as what I have mentioned before and he is the owner of the cricket bat which has just complimented him with his 100th ton. He is the incomparable batting maestro called "Sachin Ramesh Tendulkar".
What a journey this man has had and is continuing to have in the world of cricket. Who would have thought a guy who had got bowled cheaply by the "toe crusher" called Waqar Younis when he debuted at the age of 16 could amass his 100th ton playing 23 years of cricket! Coming out of the disappointment of having scored a duck in his very first innings of international cricket, when you found the same man later developed an  intensity which propelled him to step out of the crease to Abdul Qadir's deliveries, hitting him for sixes, all we could say was "a star was finally born."
It was never looking back since for Sachin Tendulkar in his incredible career which saw more ups than downs. This article is not going to be about Sachin Tendulkar as a player which any Tom, Dick and Harry will know. This is about how different the great man was when compared to the rest of the players in the world. Throughout his career, I have never seen him dispassionate about the game on any count. This is what which has made him one of the greatest in the business. I have been seeing cricket since the days of Gavaskar and Viv Richards. Are they not great themselves? Is Lara not great in batting? Is Inzamam not a great player of pace bowling? Of course they were all great in their own right?
Then why Sachin is something special is what I am going to address. Viv Richards is arguably one of the greatest players ever. He is an unbelievable match winner who intimidates even the best of best fast bowlers. But when he takes guard you would have noted that he was not serious. He would smack the bowlers all round the park, chewing the gum, with utmost arrogance. But he never ever bothered to preserve his wicket. You would have never seen him focusing so much. If he scored, he scored and if he did not, precisely, he did not. You would have felt, having watched him play, he could have got out at any stage of the match. This is not the case with Sachin. He may not be as flamboyant as Sir Richards but he values his wicket very much. When he takes guard and faces the bowlers you could neither see him chewing any gums nor would he display any lethargic look on his face any time. Whether he was playing a bowler like Mcgrath or Warne or he was playing a part time spinner you could see him focusing on scoring runs only. He would never try to bully any bowler even if the latter was weak and he would treat the balls on merit. That is the reason Sachin is now where he is.
Take the example of Inzamam. He was hand picked by one of the greatest intellectual in cricket in Imran Khan. When Inzamam won the semi finals against New Zealand in 1992 world cup single handedly, we felt a star was born. The ease with which he could come on the front foot against menacing pace bowlers even in bouncy pitches was something out of the world of batsmanship. Infact, no one had this courage other than this lazy giant. However, just see how easily he used to get provoked.
In Toronto "Friendship Cup" a spectator was teasing him while he was fielding in the boundary and he was deeply hurt by it. He chose to take law in his own hands and went on to have a physical altercation with an Indian fan. If you have such distraction inspite of all the talent that you seem to possess you will never become great. Was Sachin never provoked? Infact he was. A Zimbabwean bowler called Henry Olonga provoked him with a sign of his middle finger and you all know what he got in return. Sachin never went to on to do a Javed Miandad on Lillee. Instead he chose his bat to do the talking in the next match he played against Zimbabwe. He just slogged the bowler all round the park. This is the way to answer such provocation.
Now lets us take Brian Lara for an example. He was the person with immense potential. He was a genius at work while batting. He still holds the highest record for most number of runs in a single innings in tests as well as first class cricket. Crowned Prince of Trinidad, he achieved quite many a milestones in little time but still he is quite a distance away from Sachin. Is it because he is in way secondary to Sachin? Iwould say "Not at all". However why Sachin was called greater than B.C.Lara? It is because Lara was never cordial with anyone not even with his own cricket Board. He had drinking habits which brought down his dignity as a great player which he was. But, Sachin never had any feud with anyone. Not even when Rahul Dravid declared the innings while he was batting on 194 in a test match, he did not make any hue and cry about it, though fans were incensed at the happenings.
Even you can take Sunil Gavaskar as an example. He once threw the bat and started returning to pavilion, playing in Australia, as he was bowled through out the over bouncers after bouncers. If you take an example of Sachin, inspite of all the injustice meted out to him, in the form of bad decisions, he took it all sportingly and never chose to remonstrate on those happenings.
So, these were some of the instances where in Sachin differed from the rest of the other greats of the game. In this manner, people of various countries, not to mention India, fell for him. He was respected by every past and present cricketer precisely for this reason in addition to his batting prowess.
This hundredth ton against Bangladesh was just another feather in his India cap, which he was proudly wearing for 23 years now. He looks quite good enough to score another ten to twenty tons. Immaterial of all criticisms surrounding him, he will continue to ignore them by enabling his bat to do the talking.
If any one of you were wondering as to how a little man could carry such a heavier bat it was nothing as he has been carrying a burden of millions on his shoulders for this long. So, take a bow to this little master who has been an indispensable player ever to have embraced the game.