Sachin Tendulkar is not God
3.29K //
17 Mar 2012, 10:50 IST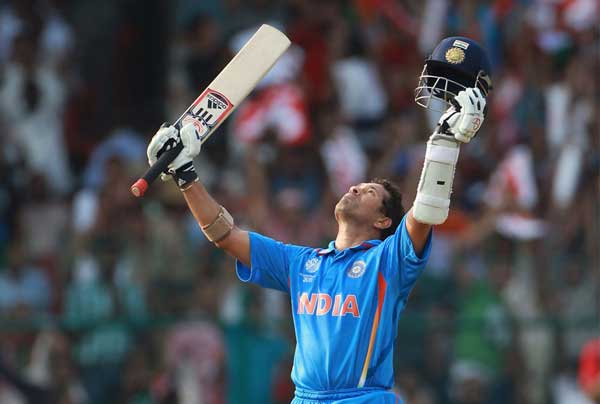 Throw a stone out of your window and you'll find a Sachin fan bleeding. In a country where religion dictates the common man's life, carves out antiquated traditions in the minds of the current generation and tilts the balance in topsy-turvy political dramas, Sachin Tendulkar is the God of a cult called India.
It is human nature to hunt for a role model. Someone you look up to, see no wrong in and wish to emulate. Role models differ. Everybody has a different personality, different preferences which judge who could be the ideal inspiration for an individual. Sachin Tendulkar, on the other hand, is a different phenomenon.
Different people are good, bad, senile, nice, evil, diabolical, caring, giving, murderous, depressed and all the other adjectives. Different people would have different goals and dreams, different standard of living, different backgrounds but if there's one thing that binds them together, it's Sachin Tendulkar.
Over the past year, the Little Master has been on the pursuit of a gargantuan hundredth hundred. Questions of him being our time's Donald Bradman were put to rest when he slammed that epic double century against South Africa two years back. The man's talent is endless, his appetite voracious and his desire never ending.
Since making his 99th century, a massive feat in itself, talks of his 100th have overshadowed team India's miseries. People have stretched their imagination a little too far and blamed his inability to get there for the team's performance. Now that's the thing about being someone as humongous as Sachin Tendulkar. We live in a country which has a billion people earning a livelihood every day. A billion people pin their hopes on this little man after having a bad day in the office which, let's be honest here, is very often.
Sachin Tendulkar isn't called a 'God' out of fondness or our undying love for him. People really believe he is a deity. Someone who can throw all our miseries into the darkness and turn water to wine. We hang malas around his neck not because we think he's a God but because we pray to him before sleeping every night.
The past year has been tumultuous. Probably for the first time in his career, Sachin was facing backlash in his own country. 'Selfish', they called him. In his 'trivial' pursuit of a hundredth hundred he has put himself before the team, they said. Sure, he need not prove his greatness by scoring that one extra ton but by saying he has put himself before the team is plain half-witted and inane.
For 23 years, let that sink in, 23 years, Sachin Tendulkar has tirelessly scored runs for his country to bring smiles to our faces, to bring glory into our lives and a lean patch, which isn't as lean as one would think, leads us to browbeat the legend and ask for his head. Is this what we've come to? We don't hope Sachin scores hundreds anymore. We expect him to. We've become like over-expectant parents, wanting their child to score a 99 in his boards and nothing less. Anything below and we reprimand him. "No, son, a 98 won't do. Go to your room to suffer and die."
He has played some great knocks in the past year only to find himself amidst a team collapsing to bits and pieces. But we don't blame the team. We blame Sachin Tendulkar.
In the Jim Carrey hit 'Bruce Almighty', his character blames God for all the rubbish that is going on in his life. That's when Morgan Freeman as God comes down to Earth and gives him His job, just to see how difficult it is. Sachin Tendulkar's story is the same. After everything he's done, we still would rather blame him than anybody else. His life walks on a tightrope. One misstep and there'll be hell to pay.
Sachin Tendulkar hit his 100th international century yesterday. Some will say it was against a weak opposition. Some will say we still lost the game. 'Some' don't see the bigger picture.
"I'm not God, I'm Sachin", said the man after scoring his hundred. Something he's been pleading the fans to realise. We've come to expect a lot from him over the past two decades. He'll continue entertaining us and we'll sing songs for him. Once he fails, we scream at him.
And that, children, is how the eco-system works. Carry on, India.