Sachin Tendulkar - The 'maidan' marauder
1.31K //
23 Dec 2012, 20:49 IST
On the morning of 25th April 1998, just a day after Sachin Tendulkar had smashed the Australian attack to all parts of Sharjah, Mumbai's Shivaji Park was full of budding cricketers. Everybody wanted to bat that day, and the bowlers too wanted to put their batting gear on and smash the ball to all parts of the ground. 'Tendulkar mania' had gripped the cradle of Mumbai cricket. For one man present there, it was nothing new. Ramakant Achrekar, Tendulkar's coach, was coaching his pupils like he always did. I remember him telling his wards not to copy Sachin and to keep working hard.
Such was the euphoria of Tendulkar that everybody wanted to bat like him. I remember in a net adjoining Achrekar Sir's net, one of the young cricketers hit the ball straight and danced in joy- he had his 'Tendulkar' moment. Another kid danced down the track and hit the leg spinner over extra covers- in a similar manner to how Tendulkar smashed Warne - he had his 'Tendulkar' moment too.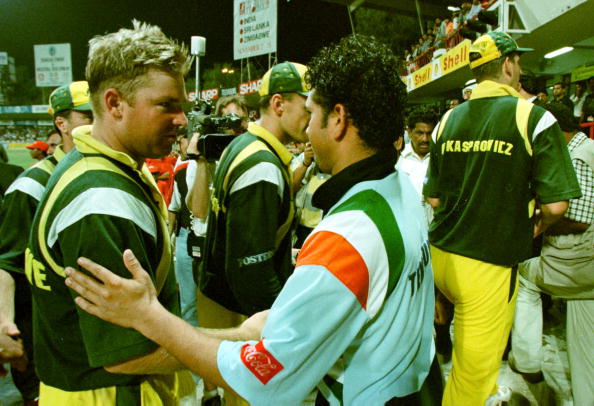 In the 1990s, Tendulkar was what every youngster wanted to be. The teachers in the school gave his example to catch the attention of  the students, the bosses gave his example to his employees to explain what productivity was, and the girlfriends too wanted their boyfriends to be sweet as the batting sensation of India.
Sassanian Cricket Club, Azad Maidan is a small club in Mumbai. In 1988, Tendulkar and Vinod Kambli were involved in a partnership of 664 runs. There are very interesting stories told by the groundsmen over there. One of the groundsmen says, "Tendulkar smashed one of the St. Xavier's bowlers for three consecutive boundaries and there was a huge roar from the pavilion." The reason was because the bowler had conceded 200 runs. Another bowler started crying since his team could not get Tendulkar and Kambli's wicket. Schoolboy Tendulkar's presence in the middle attracted huge crowds from nearby offices. The local media used to report his scores which were seldom less than 100. He had a whopping average of 1600-something in the Harris Shield – the highest aggregate by any batsman in the 116-year-old competition history, and is still a record.
Even umpire Madhav Gothaskar called up Achrekar to tell him that his ward would surely play for India. Tendulkar was only 12 when Gothaskar had prophesied this. When Tendulkar made his debut against Gujarat in 1988, the Wankhede stadium was chanting his name. His first scoring shot in first class cricket was a booming cover drive off a spinner. When Tendulkar hit that shot, many people gave him a standing ovation from the "North Stand." A genius was taking his baby steps. His century, as a 15-year-old, showed glimpses of his talent.
The next game in Mumbai was at Dadoji Konddeo Stadium, Thane. In between, Tendulkar had scored 58 and 89 against Saurashtra at Rajkot. At Konddeo stadium, there were a lot of school going kids in the ground. They wanted to see a glimpse of Tendulkar, who looked much like their classmate. Tendulkar scored only 17. They were heart-broken, but were sure to see his batting in the years to come and they were right.
Tendulkar then got selected to play for India. Raj Singh Dungarpur, the then chief selector of India, was convinced that the lad had the potential to play for the country after watching him bat at the Cricket Club of India. The club broke their rule (no person under 18 was allowed to enter the ground) and allowed schoolboy Tendulkar to play at the Brabourne Stadium.
On 15th December, 1989 he first took strike when India were reeling at 46 for 4. This was a 16-year-old playing the fearsome pace trio of Waqar Younis, Wasim Akram and Imran Khan, a feat that would have given any established batsman jitters. But Tendulkar was born to bat. He just did not back out. He dominated the international attacks for another 23 years. The maidan boy was now batting on international stadiums. He spread joy to a millions with his unflappable temperament and the gift of his talent.
Today Tendulkar has retired from the ODI cricket. But go to any maidan in Mumbai and invariably you will hear a story featuring him. We get to read the rich history on batsmen from some of the finest writers. But the maidans have just as many stories to tell about the man who has made batting look ridiculously easy. Attaboy!