SCG to turn pink on Day 3 in honour of Jane Mcgrath
2.35K //
08 Jan 2015, 01:58 IST
SCG prepares itself for an emotional day – the seventh 'Jane McGrath Day' – when the two sides take the field on day 3 amidst sea of pink. Every third day of the first test of the year at SCG is celebrated as Jane McGrath day in honour of late Jane McGrath, a breast cancer awareness campaigner and wife of former Australian pacer Glen McGrath.
Jane, who herself fell victim to breast cancer, was honoured as a Member of the Order of Australia (AM) on 26 January 2008 "for her service to community health through support for women with breast cancer and establishment of McGrath Foundation".
The third day of SCG, which was earlier known as Ladies' Day, is now known as Jane McGrath day. The Ladies' Stand too is renamed for the day as 'Jane McGrath Stand'. To create awareness about breast cancer everything turns pink. There are pink stumps, pink keeper gloves – even the baggy green becomes baggy pink for the day. For Glenn McGrath, the observance of this change of norms is about "having fun and enjoying life".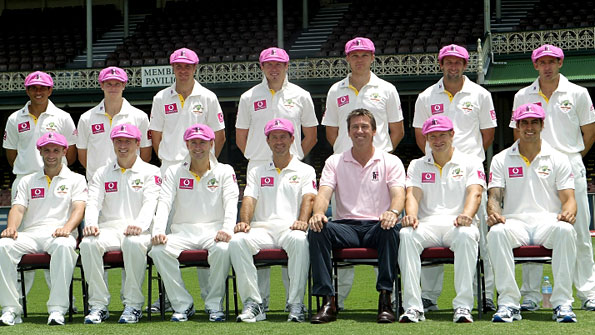 Mcgrath Foundation's fight against cancer
The 'McGrath Foundation' has been doing service for breast cancer awareness since its inception in 2003. The foundation was born out of Jane's desire to 'provide facility of breast care nurse for every Australian household afflicted by breast cancer', as she had herself found her breast cancer nurse to be of immense help during the time she was undergoing treatment.

McGrath Breast Care Nurses are specially trained nurses who act as patient advocates. They provide care for the women experiencing breast cancer and their families. McGrath Breast Care nurses since have supported 25,000 families and 87 % of the nurses work in rural areas. McGrath Foundation has been successful in placing 98 such nurses. Apart from the generous donation the McGrath Foundation has received outstanding support from the Australian Government.

Thus, a wonderful relationship has been established between cricket and breast cancer awareness and hopefully this relationship continues in this splendid manner and give strength to many other women who are currently fighting breast cancer.