Sehwag, Pujara make merry as England toil
900 //
15 Nov 2012, 17:52 IST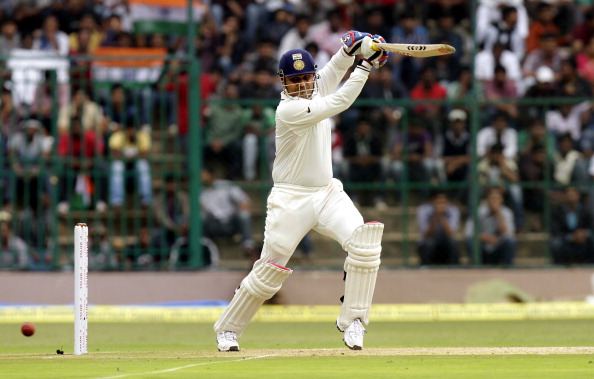 Day 1 of the 1st test between England and India suggests that things are going as per script for the Indian team. India finished the day with the score at 323/4.
MS Dhoni won the toss and as expected, elected to bat. The first part of the "Bat first, score big, strangulate the opposition with spin" plan was successful. Gambhir and Sehwag, under huge pressure, started off tentatively, with a couple of inside edges, and the players wafting outside the off-stump.
The shots started coming in the 6th over, when Sehwag creamed Anderson for three boundaries. That was enough for Sehwag to fill his confidence meter. Boundaries started flowing in abundance and Sehwag motored along to 79 of 66 balls by lunch. Gambhir on the other hand was much more sedate with 37 of 103 balls. He did not look much at ease, especially against Swann. India, with their score at 120/0, were looking set for a big haul.
The post lunch session got off to a much better start for England. Swann ended Gambhir's ordeal, bowling him for 45. In came Pujara at number three. He and Sehwag went into accumulation mode, and runs were coming rather too easily for England's liking. Sehwag got his 23rd ton in test match cricket in the 39th over, lifting the ball over long on for four off Swann. In the meantime, Pujara was growing in confidence as well, and the English bowlers were being milked.
The run-rate was constantly hovering at over four. England got the big breakthrough in the 50th over. Swann was at the forefront again, cleaning up Sehwag, and hence also overtaking Jim Laker as England's most successful off-spinner. Tendulkar was next in, and played a couple of glorious shots. He did not last for long though, as he holed out to Swann for 13. Kohli joined Pujara and played out the one over before tea was called. The score at tea was 250/3.
The final session of the day started with Swann and Anderson bowling some tidy lines, with just 8 runs coming of the first 8 overs. Kohli got his first run only after 30 balls. Pujara on the other end was at his patient best, and was gathering runs at an easy pace. These two youngsters were in consolidation mode and everything the English bowlers threw at them was blunted out.
It was going good, until Swann produced yet another snorter, helped a bit by the pitch, and clipped Kohli's stumps. Kohli was gone for an uncharacteristic 19 off 67 balls.  Next in was the comeback man, Yuvraj Singh. With the pitch taking spin and starting to behave differently, Cook persisted with Swann and Patel till the 86th over. The new ball was taken after that, and Broad got first use of it. No damage was done however, as the bails were off with Pujara on 98* and Yuvraj on 24*.
It was a good contest between bat and ball. Swann probed the Indian batsmen consistently over his 32 overs for the day, and picked up all the four wickets to fall. Anderson, Broad were good in patches, Bresnan was a big letdown, and Patel did a tidy job.
Sehwag and Pujara made merry, albeit in contrasting fashion. Barring Kohli's dismissal, which could be attributed to both the bowler's skill and the pitch, the rest of the Indian batsmen fell to loose shots. Pujara will be looking to get a hundred, with Yuvraj and Dhoni playing around him. Anything in excess of 450 will make life difficult for England. The English bowlers will hope to pick up a couple of scalps in the first hour tomorrow, else they might be subject to yet another long day on the field.