Simply Harsha..
4.19K //
13 Jul 2011, 02:05 IST
There are men, there are extra ordinary men. And then there are gems, people who rise above the rest, who dare to think beyond the ordinary, who become icons for the aspiring and  ordinary. So, what does it take to be a champion? To be the best at what you do? Talent, yes, but there are a horde of other things. It is essential that you recognise your calling, find out what you enjoy doing and go ahead and pursue it. Champions have a knack of surprising people, each time you think he has already reached the peak, he comes up with a better performance! Fear is not a hurdle for them, rather it is a driving force. They love to do what they do.
Indian Cricket has had 3 consistent performers in the last two decades – Sachin Tendulkar, Anil Kumble… and Harsha Bhogle! I grew up watching Kumble send batsmen back to the pavilion, Sachin wipe the smile off the bowlers' faces, and then this man, Harsha, a perfect foil, help put smiles on our faces even when India was losing. If Kumble travelled with a ball in one hand and a camera in other, Sachin with a bat in one hand and the walkman in the other, Harsha travelled with a pen in one hand and a mike in the other and he sure knows how to use both of those.
If cricket is my religion and Sachin my god, Harsha is my guru, the preacher who through his ever so wise words helps us connect to and understand our religion better! During my schooling days, I still vividly remember, each time I bought a Sportstar/Wisden I would flip through the pages super quick and start with his articles. His bylines changed but his magic only grew. He sometimes told things which you already knew but would still manage to leave u baffled. Like a good writer, he brings to the fore the not very obvious, and the reading experience is informative, amusing and titillating. In a place where a sportsman's success is measured in terms of the money they earn and churn, a place where respect is a by-product of money earned, this man has managed to change the way people look at sports. He has become a star in his own right and commands a respectful fan following.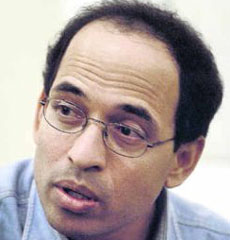 Not only an engaging writer, he is also a captivating speaker. His observations and analysis reflect intuition and intellect. He talks not just about the game, but about other generic things like strategy, that seem to apply universally. He, along with his wife, has been successfully running a sport-based communication consultancy called Prosearch. They do a motivational lecture series called 'The Winning Way' which basically deals with drawing parallels between situations in sports and organisations.
This connection to sports might seem abstract, and even bizarre at first. A web search for information on Harsha Bhogle will lead you to his views on excellence, where he has drawn general analogies from the game. He talks about ends and paths, and things such as how luck is a "combination of preparation and recognition." Being an IIM-A grad, he is a 'most-wanted' speaker in the B-School circles. You will find his speeches striking, and for a moment you are charmed by his personality. He has it all – ethics, courage, wit, and most importantly, willingness to share his experiences and how he learnt from them.
Within the light-hearted and witty talker, there is a thinker who is thoroughly dedicated, greatly ethical and a believer in hard work. "Most useless and overrated ability is talent, beyond a point, its your effort and hard work that matters, talent sometimes prevents you from learning how to solve problems," said Harsha and talked of Sachin Tendulkar. Come to think of it, people always just talk about how talented Sachin is. Less mentioned are his work ethics and dedication, these being the very qualities which made him what he is. If he had just sat back and expected his talent to work miracles, he would have been just another face in the crowd today.
According to me, given the line of his career, the excellence and his achievements, Harsha Bhogle is in a place from where he can effect a change. What is  interesting is that he seems to know that, and is making active efforts in that direction. Now, when was the last time you saw impressionable youngsters listening in intently to a cricket commentator talking about ethics, ends and paths. However, there is one thing I want to mention. I think his fans would like him to be more outspoken on sensitive issues. Harsha, over time has moved away from being a straight from the mind speaker to a more diplomatic one.
'By the time I retire I want to prove that though being an international cricketer helps, you don't have to be one to become a successful sports writer/commentator'. He has already done enough to silence the critics, lets see what this great man does to go one up on himself – he  has only himself to compete against.