Sourav Ganguly is a threat to cricket writing
2.26K //
12 May 2012, 09:36 IST
The former Indian captain's  inimitable charisma makes him one of the most-written about cricketers. While he continues to please our visual and aural senses, Debojit Dutta argues that writing on Ganguly is one of the toughest tasks around.
As the last bit of credits roll down,  Sourav Ganguly emerges as a tiny haze on a foggy morning. He is vaguely visible. We only see a figure in the Indian cricket team's practice jersey running down a bridge, approaching us. We wish our hero will permeate the morning mist and from there he will surface smiling, just a measured two-inch smile — a mark of modesty which will convey, 'Even though I have won over nature I am too reluctant to accept it.'
But instead, the film's maker Mitali Ghosal cuts the sequence then and there. She has bigger plans. In the next sequence Ganguly is swimming in the river. We get a feeling that he will, perhaps he can, cross it.
The Warrior Prince, journalist Mitali Ghoshal's documentary on the playing life of the former Indian captain is an average fare on many counts — especially marred by Ghoshal's own screen presence. Yet it plays excellently on emotions.
It helps that Ghoshal is both a Bengali and a cricket journalist. There's this story most Bong kids have been pestered by in their childhood: Ishwar Chandra Vidya Sagar once crossed a (freaking!) river to meet his mother because the boatmen refused to sail him across. The story, true or not, is a death-defying act as Vidyasagar had braved a river storm. On another level it symbolises one-minded devotion and dedication.  And so, from the very beginning Ganguly is established as a parallel.
If my interpretation is somewhere near correct, Ghoshal has done her research well. Vidyasagar was a visionary, a reformer and a translator among other things; Ganguly in his own sphere was all the three. What he lacked was modesty. And probably this poverty of humility made him what he is today.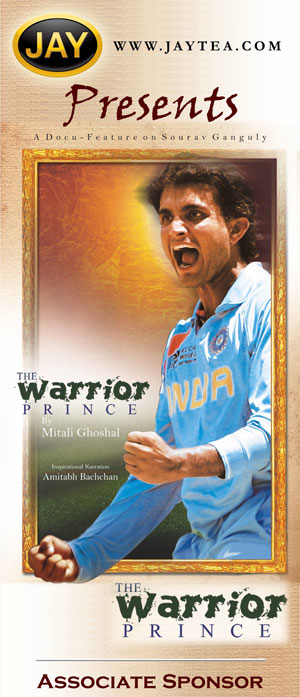 When a journalist looks for a subject to write about, there are certain things he takes into consideration.  At first, in his mind he segregates the famous and the anonymous, on this depends his approach to the story. While writing about anonymous characters and places requires rigorous digging out of facts, the rest of the job is pretty easy: all you need is to say, 'Mr. X is dead' to people who never knew who Mr. X was. Writing about the famous is a difficult task for so much would have already been written: what new can you produce and why should it sell?
Gavin McOwan writes in The Guardian, "Old American sports journalists will tell you what a privilege it was to cover Muhammad Ali – and that if you could not write about him, you could not write. Period." According to McOwan, "He (Ali) was so captivating and gave such great copy he made even the laziest hack look good."
Ganguly packs an equal punch on the faces of the cricket journalists. Most of the articles talk either of the aggression or the charisma of his character and are mostly good in a regular way, there are few which are outstanding like Dileep Premachandran's No one divides like Ganguly that speaks of the love and hatred we reserve in equal measures for the cricketer, but now even this idea has been done and dusted.
What is there that we don't know about him? According to an earlier report Dada owns almost three dozen posh cars, we know that. He took up left-hand batting because he used his elder brother's gear, who doesn't know? He secretly married his childhood sweetheart who lived next door, anyone even marginally interested?
It doesn't help either that Sourav is naked when it comes to talking about his achievements. In an interview with Sambit Bal in 2003 the then Indian captain accepts, "In my first 36 Test matches I averaged more than 50. Then from around 2001, I struggled for one-and-a-half years, for about 11 Tests. Then my average went down and it put a lot of pressure on me. I started thinking about my average and records and all that stuff."
This analysis of his might impress a stats geek. But our legends from folklore aren't known to remember their records. They are known to give a damn about stats, at least they say so. How can you imagine the immortal Bengali browsing through statsguru, clicking on his own name, taking voyeuristic pleasure in his own old videos on Youtube and surfing the net to read who has written what about him today. But this is Ganguly, probably he does all these things.
Some weeks back, Ganguly — the 40-year old, running backward, his sight on the ball which is up in the air; Ganguly in inertia for a moment and then his fall, one arm below his body, his cry of agony — provided a poetic moment for the lensmen and T.V audiences. But for us the writers, if we had written, we would have had to do with cliches like 'aged warrior' and 'falling hero'. The better among us could/must have played around with symbolisms:  'the monument crumbles', 'a hero in denial'. But could we have produced in words a cinematic equivalent?
"How hollow is your imagination," mocks a friend. "Just a few weeks ago, Ganguly after dismissing KP (Pietersen) took a wild sprint, almost reached Lal Qila." I give him a deadpan Rob Pattinson expression. He continues, "The wind ruffles his wild hair, it reveals bald patches and then he stops. He doesn't reach Lal Qila as he is already panting. Food for thought?"