Sourav Ganguly: The man who showed India the dream
2.58K //
08 Jul 2011, 11:59 IST
On April 2nd 2011, when India won the world cup and splendid fireworks began all over the country, one man, part of the official commentary team, was watching silently from the sidelines all the excitement and jubilation as the dream of thousands of Indian cricket fans' was fulfilled. He was happy too as that was the dream he saw first. The dream of being the world champion one day will remain that man's single biggest contribution to Indian cricket. Yes, that man is our beloved 'Dada' Sourav Ganguly. Ganguly not only saw the dream but also showed it to the whole cricket crazy country. He built the confident Indian cricket team that believed in the dream of being the world beaters one day. Your dream gets realised when you believe in your dream and never give up. That never say die attitude was instilled in the team by Sourav that helped the team to win the world cup in Oneday format and reaching the world no. one ranking in the test cricket.
Debut in the International Cricket and initial career
If you give a close look, Sourav Ganguly's story of rise is somewhat similar to India's success story. In 1992, when India had just opened up its economy to pace its growth machine, it was unsure where will the decision lead it. Similarly, in 1992, a rather unsure, immature Sourav gets his first chance to begin his international cricketer. A potential superstar, Sourav didn't get many chances as he was dropped from the national side. Many attribute that to Sourav's arrogance while others say Bombay lobby worked against Kolkata's 'next big thing'. But true talent never gets ignored. Sourav got his 'next' chance in 1996 to debut in test in England at Cricket's Mecca Lord's ground. Thanks to an angry Navjot Singh Siddhu's decision not to tour England, gave Sourav the chance he was longing for. Under pressure to make the most of this chance, Sourav hit a ton at the debut test at Lord's. He followed it up with another century in the next match at Trent Bridge. That cemented his place in the Indian national team. Another demigod in Indian cricket was born.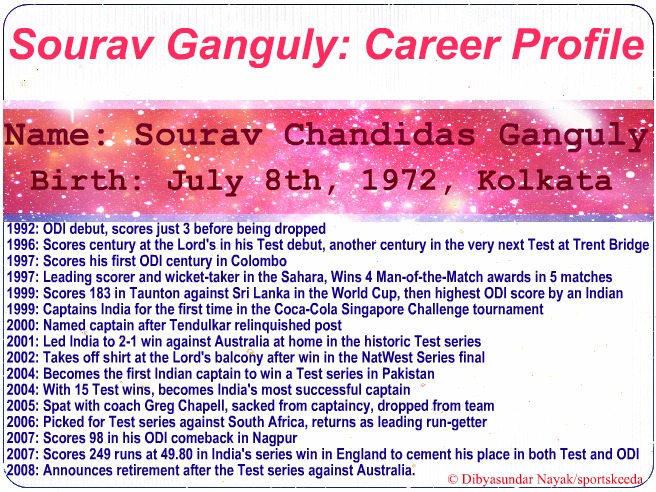 Another great chapter in his career was his performance in the series against Pakistan in the Sahara Cup in 1997. India thrashed Pakistan 4-1 in the series riding on Sourav's individual performances. Out of five matches, Sourav won 4 man of the match awards and he also was the highest run getter as well as the highest wicket taker in that series. Superb 183 against Sri Lanka in the 1999 World Cup with towering sixes off Muralitharan and Sourav made space in the hearts of fans. It was difficult to be noticed in an era which also saw Sachin Tendulkar still it was Sourav's shrill brilliance that made him a star.
Captaincy and leading a 'new India'
Beginning of 21st century was a moment of resurgence for India both in international level as well as in Cricket. India had tested its own nuclear bomb to mark its presence among the nuclear powered state. Facing sanctions after the test, India vowed not to bow to international pressure and stand as a vital force in the world. Something similar was happening in the Indian cricket. After being ashamed by the match fixing scandal, the team's confidence was at all time low. Sachin quitted the job of captaincy to save his batting career. It was at this juncture Indian cricket decided to make Sourav Ganguly the leader of the team. It was that time, in 2000, he saw the dream to beat the world champions. He built the new time around this dream. He put young blood at the top of his priority list. Several successful player of the current era debuted under him. Sehwag, Gambhir, Yuvraj, Dhoni, Harbhajan Singh, Asish Nehera etc. were handpicked by him. Thanks to his 'Operation Resurgence', India started to believe "Yes, We can". And they could. They messed up Steve Waugh's retirement plans. They halted Australia's winning train. They started winning matches abroad shedding the tag of 'tigers at home'. In 2003, he led the team to the world cup final. The dream of being the world champion remained unrealised. It was heartbreaking but somewhere everyone of us, the fans, knew in our minds that the initiative by Dada would pay off one day.
He may not have won many tournaments like the current captain honi has won. But Captain are not judged by their winning records but their decisions that helps the team in long run. Picking talented young players and fighting for them with the board is the reason Sourav is still dear to the Indian cricketers and fans while many people in cricket administration do not like him. Other decisions like giving wicket keeping gloves to Dravid to fit another batsman in the team, identifying Sehwag's talent and sacrificing own opening slot for Sehwag who was a lower order batsman till then etc. shows how good he was at decision making. He knew if India could move ahead, it was through aggressive cricket. At the same time, he also knew that aggressive cricket is counter productive if the team lacks proper talents. he inducted fresh talents in the team and led the team from the front aggressively. A shirt waving act at Lord's after young Yuvraj and Kaif's match winning knock might have won him ire of English media but he was undeterred. A confident Sourav later said,
I am here to win matches not to win popularity contests.
Spat with Guru Greg and then being named as 'the King of Comebacks'
Two swords can't be kept in one scabbard. Sourav always knew a proactive captain and an intelligent coach in the backroom is the recipe  of success in cricket. He proved it with his association with John Wright. Later, Dhoni-Gary Kirsten era also proved the theory. But Greg Chapell had other plans. He wanted to remain in the limelight and take all decisions. Clash happened and Sourav was the victim. Those were frightful days. Sourav was ultimately dropped from the team. Everyone including this author thought 'DADA is over'. But destiny's own child was yet to write another chapter in his illustrious career. People remember Dada for his elegant stroke making, leadership qualities and his never say die attitude. He returned to HIS team and how! Knocks after knocks, he slapped on the face of the critics and proved writing him off is the biggest mistake one can dare to commit. This author who was a Sachin fan and Sourav admirer switched sides and became a Sourav fan and a Sachin admirer after the spectacular comeback.  Thousands of runs he scored after his comeback and then decided to retire gracefully from international cricket on an high. Many still believe the retirement was forced as Dada was at his pick yet unjustifiably dropped from the ODI team. Whatever the reality regarding the retirement may be  but India's middle order is yet to replace the void Dada's retirement created.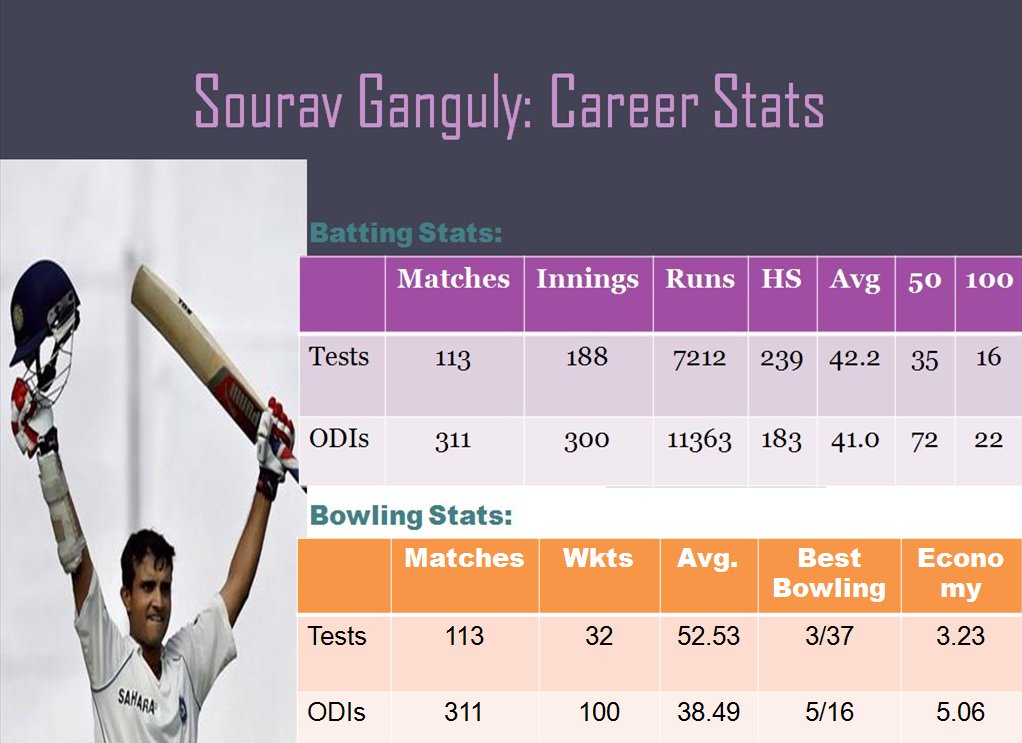 If Sachin is the symbol of perfection and talent, Sourav stands for battling one's own inefficiencies and fighting till you achieve your dream. People called him arrogant, pointed fingers at his slow running between the wicket or poor fielding, but Sourav never claimed to be a 100% perfect cricketer. He was the man who put team's success ahead of personal gains and moulded his game as per team's requirement. Perhaps that's the reason, India never lost a test match in which Sourav hit a century. Yes, NEVER. On Sourav's 39th birthday today, we cricket fans of the world champion team must thank him for the dream he showed to us. Thank You Dada!