South Africa retain No.1 Test position
766 //
03 Dec 2012, 16:38 IST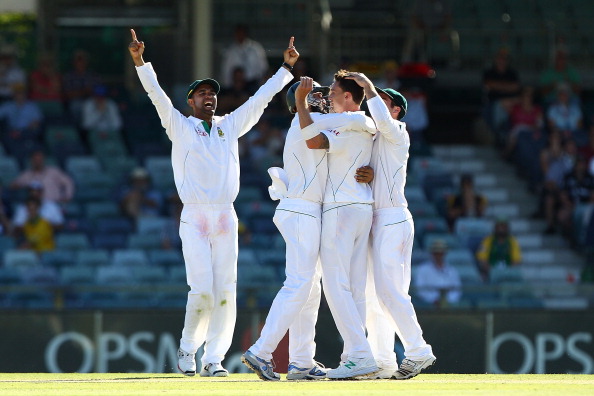 Dubai - South Africa retained their status as the top-ranked team in the International Cricket Council's (ICC) Test Championship table following their 309-run victory over Australia Monday in the third and final Test in Perth, which gave them a 1-0 series win.
South Africa's series victory meant that they are the clear leaders at the top of the table, leading second-ranked England by six rating points. Australia are still in third position but have dropped to 114 after conceding three points.
However, Australia will move ahead of England if India win the remaining two Tests in Kolkata and Nagpur. If India win the next two Tests, they will win the series 3-1 and jump ahead of England by 0.01 point.
In sharp contrast, if England win the remaining two Tests then they will rise to 119 rating points and India will drop to 103 ratings points. In case of a drawn series, England will drop two points while India will gain two points.
A total of $3.8 million in prize money will be shared among the top four sides Apr 1 in 2013, 2014 and 2015 after the ICC approved a proposal earlier this year to substantially increase incentives in the form of prize money to promote Test cricket in the period leading up to the ICC Test Championship event in 2017.
Previously, the top team in the rankings received a cheque of $175,000 but from 2013 it will receive a minimum of $450,000, rising to $500,000 in 2015. From 2016 there will be further increases.
Meanwhile, Bangladesh have an outstanding opportunity to move ahead of the West Indies into seventh position in the ODI Championship table.
After taking a 2-0 lead in the five-match series, Bangladesh are already guaranteed a place ahead of New Zealand in eighth position but to move up one more place they need to win the remaining three matches that will be played in Mirpur Dec 5, 7 and 8.
In the event of Bangladesh winning these matches, they will jump to 87 rating points while the West Indies will slip to 81, two ahead of ninth-placed New Zealand.
If the West Indies bounce back and win the remaining three matches, then they will finish on 92 points while Bangladesh will end on 73, one ahead of New Zealand.
The side that tops the Championship table on the Apr 1 cut-off date collects a cheque of $175,000 along with a shield while the team that finishes second receives a cheque of $75,000.