South Africa – So close, yet so far
2.50K //
25 Mar 2015, 03:25 IST
On January 2015, Francois du Plessis said he would love to play New Zealand in semi-finals. He wished to set things right after 2011 semi-final loss. A wish that was duly granted. If only he had wished for a South African victory, a place in the final. If only.
Faf came in to bat in the 4th over after Amla failed to make an impact yet again. He strode out slow. He took his time to reach the crease. He made New Zealand wait. He was too calm. So much so that Shane Warne in the commentary box thought that perhaps he wasn't calm at all. Calm or not, he was playing the inning of his life until the rain made an appearance.
South Africa must be sick of rain interrupting their matches
This has to stop somewhere. The rain and South Africa equation I mean. South Africa were 216 after 38 overs with set batsmen AB de Villiers and Du Plessis on the crease and big hitters – David Miller and JP Duminy still to come. We know where this ends; perhaps somewhere around the 350 mark. The previous 8 overs had produced 87 runs. The next 12 had the potential of producing about 150; especially with about 5 overs to be bowled by the 5th bowler.
The rain, however, had a major say. Firstly, it stopped the momentum that South Africa had built in the last few overs. It prevented the use of the fifth bowler for New Zealand at the death. Lastly and more importantly South Africa lost 7 crucial overs in the end; 7 huge overs.
South Africa knew about the rain forecast. They still opted to bat first. All they could do was to hope that the rain, if it did, came at the right moment for them. David Miller did inflict some meaty blows in the end to push the required run-rate up to 7 for New Zealand. But to chase 298 in 43 overs and to chase 350 in 50 are two completely different things.
A poor day in the field
In this game, which was tense and nervy right from the start, both the teams were equally bad in the fielding department. New Zealand dropped 4 catches, bowled 13 wides and missed a few run out chances. De Villiers was the beneficiary of one such dropped catch and one such missed run out chance.
De Villiers must have thought that it was his day; that it was South Africa's day. Little did he know that there was another South African born playing for New Zealand who would prove to be luckier on this day – Grant Elliott!
Elliot was let off a few times towards the end of the innings. And he made it count. In the 41st over, Quinton De Kock missed a regulation run out chance with Elliott miles away from the crease. In the 42nd over, a mistimed shot from Elliot fell smack in between three converging South Africans. But the most crucial one came in the last ball of the 42nd over.
Elliott top edged a delivery from Morkel between deep backward square leg and fine leg. Behardien got under it but Duminy – his eyes only on the ball – was running in from fine leg. There was no calling. Or perhaps there was. But it wasn't heard amidst the noise the 45,000 supporters were generating. It was a drop. A drop that cost South Africa a place in the World Cup final.
Eden Park has a history of witnessing heart-breaks in World Cup semi-finals – New Zealand in 1992 to South Africa in 2015. World Cup has a history of witnessing South African heart-breaks in general. When both converged, it was game over for South Africa.
New Zealand finally broke their semi-final hoodoo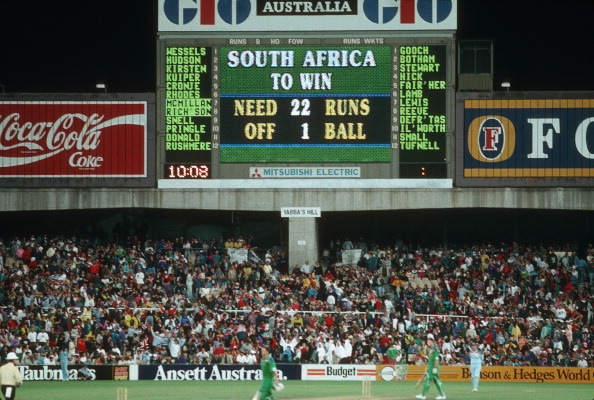 Both the teams were hurt in the 1992 semi-final when the World Cup was played Down Under the last time. South Africa lost to England requiring the infamous "21 runs in 1 ball" and New Zealand lost to Pakistan in a game they were supposed to win easily. It has been 23 years since then and both the teams were yet to break their semi-final duck. There was, however, going to be only one winner today and it turned out to be New Zealand.
Elliott rode his luck and went on to register the most important win for New Zealand in their history. He was almost left out of the squad before the start of the World Cup. But he came, he performed and he conquered. He conquered none other than Dale Steyn. What an innings it was under pressure. What a game it was. Brilliance, errors, roars, agony. Wow!
The game could have gone either way though. It was Dale Steyn after all who was bowling the last over. You expect him to defend 6 in the last over. He had to defend 12. A couple of good deliveries would have meant South Africa would have reached the finals. But it was not to be. So close yet so far. South Africa's wait continues.
The last a time a team won an Eden Park semi-final went on to win the World Cup. Can the Black Caps repeat history?