Sportskeeda exclusive: Rahul Dravid's mother speaks
5.15K //
15 Mar 2012, 18:16 IST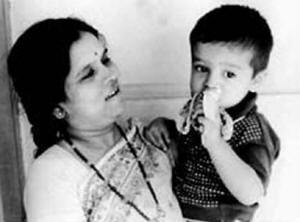 In a rare encounter with the media, Rahul Dravid's mother, Pushpa Dravid, shares some of her feelings about her famous son in an exclusive chat with Sportskeeda:
On her most proud moment of Rahul's career:
"I never watched Rahul's matches. They made me nervous. His father used to follow (them) ball-by-ball and he always kept a tab on Rahul's progress. So when people talk about Rahul's greatest knock, there is a good chance I would not have sat through the whole innings. I just used to take a sneak peak into the TV from time to time.
"But if you ask me what moment in his career gave me the greatest amount of pride, I think it has to be his speech at the Sir Donald Bradman Oration. Until a day before the speech, we had no clue he was delivering a speech in Australia. He had called a day before the speech and told Vijeeta (his wife) that it would be telecast at such and such time in India. First of all, to have such an honour is great. He is the only Indian to do this, and to speak for as long as he did is even more amazing. I felt so proud. I think the credit should go to my genes (laughs). Since I have been a lecturer, it must have rubbed off on him". (She pats her back as she says this).
On traits in Rahul's personality that she cherishes most:
"Rahul has always been the intellectual one. He reads books, and he can write really really well. Not many people may know this, but his writing simply does not need to be edited. He has a flair for writing. The whole speech that he gave with so much confidence in front of such a high-profile crowd was also written by him without any help.
"Rahul is a thinker and that's why he is capable of having the vision about the game that he spoke of during the speech."
On the factors that made Rahul's childhood dreams come true:
"Rahul always had an inclination towards cricket. As a three-year-old boy, he would accompany his father to the company matches. His father played cricket for Kissan (Sharad Dravid was the general manager at Kissan) almost every week. I think that is how he got interested in the sport.
"A large share of the credit for everything that Rahul has achieved today must go to his school, St Joseph's High School. The people of that school were supportive all along. They were able to help him bring about a balance between studies and sports.
"Our aim was to keep our children perpetually busy in sports and studies so that they did not waste time on anything else. Their father always told them, 'do whatever you want as long as you maintain first class grades', and both our sons did just that. They both never needed a tutor.
"And yet, things were always so uncertain before he got his breakthrough. We insisted that he get a degree; what if he was unable to make a living out of cricket? Today players get paid well, even at the Ranji level, but earlier that was not the case. Thankfully, things worked out for Rahul and he started playing for the country."
On the secret to Rahul's extraordinary commitment and concentration levels:
"When I am teaching, I don't think about home. And when I am painting, I don't think about anything else. It is something I tell all my students, and something that I instilled in both my sons from an early age. Have all the fun you want; but when you study, stay focused. I used to allow my sons — Rahul and Vijay — to play even hours before their exams because I knew that when they got back home, they would study instead of watching television. Rahul never does anything for the sake of doing it; he is completely committed to whatever he does."
On Rahul's life after marriage:
"Rahul was able to focus on cricket even after his marriage and for that I need to thank to my daughter-in-law Vijeeta. She is a doctor but she gave up her career to support Rahul and look after their children (Samit and Anvay). She used to take care of the home while he stayed focused on the game. She did travel with him quite a bit, but not always, as the Samit's school often got in the way."
On taking a family vacation:
"During Rahul's earlier days, we used to avoid traveling with him for outside games because we feared he would be more worried about whether we were comfortable or not. We didn't want such worries to disturb his game and his concentration. I think now that he is off cricket, we should plan a family trip. Maybe to New Zealand. He has always told me it's a beautiful country."
On what it feels like to be the mother of one of the greatest cricketers in history:
"When famous England cricketer Colin Cowdrey told me 'I wish I had a son like Rahul', it brought tears to my eyes. I am happy I have been given the chance to be his mother."