Sportskeeda Indian T20 League - A brand new fantasy game
2.62K //
27 Mar 2013, 15:33 IST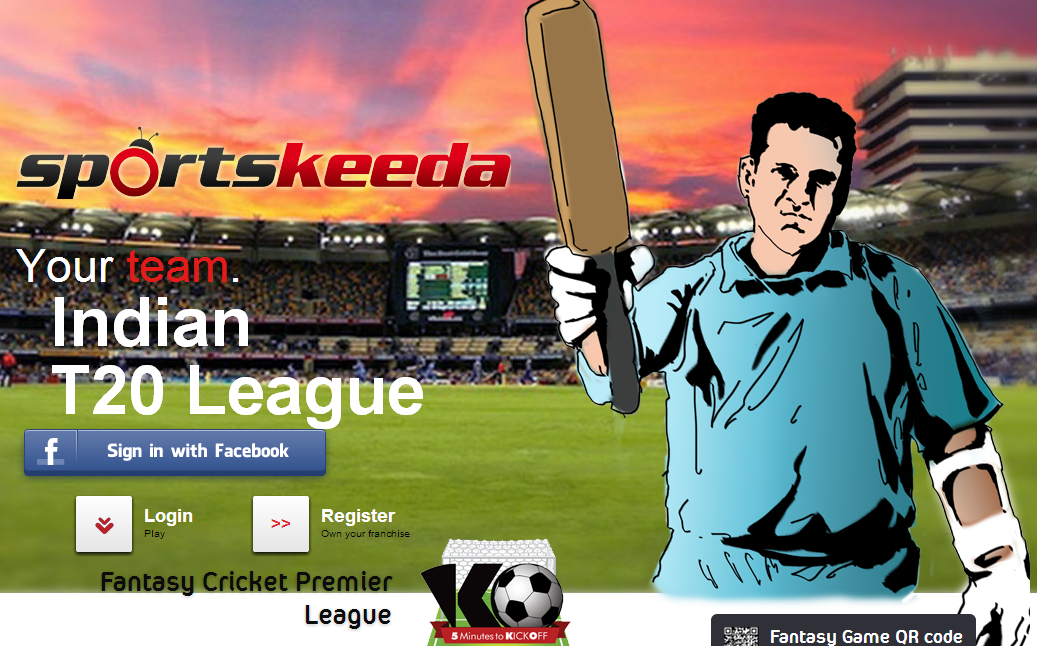 Cricket is a religion in India and the Indian Premier League is one of the most notable tournaments in the world. Which is why Sportskeeda, in association with 5 Minutes to Kick Off, brings to you a unique cricket fantasy game that is sure to bring all your selection skills to the fore. This brand new game, which you can find at fantasy.sportskeeda.com, has all the features that you wish for in a fantasy cricket competition. It has been developed by two game freaks Karan Khairajani and Mohit Lala from Mumbai, who are absolute sports freaks.
Squad: You need to pick a 15-player squad consisting of 7 batsman, 6 bowlers and 2 wicket-keepers. Every player has a certain value and you are given a budget of 120 million with which you have to select your squad.
Number of players from a single team: The best thing about this game is that, unlike other fantasy games, you have no limit to the number of players that you can choose from one country or franchise.
Transfers: You get one free transfer everyday. However, every subsequent transfer will cost you 20 points.
Leagues: There are public and private leagues, as you would have guessed. By scoring points and go up/down in the global public league. You can also create your own league and ask your friends to join to see who prevails.
War of the Cities: While creating your team, you will be asked what team you are supporting in this year's IPL. You will then be added to a league consisting of all members supporting that team. All points scored in that league will be added towards that team's points total in another league called 'War of the Cities'.
Captain Fantastic: You can assign a player to be your captain. The points he scores get doubled once the match finishes.

Power Play: Probably the most unique feature of the game. You get 5 power plays in the entire tournament. Once you activate it for any day, it doubles your points scored in that entire day. It would be wise to use this feature on the days when there are two matches, or when a majority of the players from your team are in action.
Scoring: Players in all positions, i.e Batsman, Bowlers and Wicket-keepers, have the same points scoring system. Points scoring can be done in the following ways: 

1 point per run
20 points per wicket
5 points per catch/run-out/stumping
20 points for Man of the Match
10 points for maiden over
Press Conference: There is the additional feature of the press conference where you can give your thoughts on the upcoming games or who you think will win the competition.
Deadlines: The greatest feature of the game is the deadline up to which you can change and shuffle your team. Yes, as the name suggests, it's 5 minutes. You heard it right, only 5 minutes to kick off - you can make as many changes to your team up to 5 minutes before the start of the first match of the day.
Rivals: The unique platform also lets you send  and receive rival requests to/from one another.  Add fellow players to your rival-list in order to keep track of what they are doing and how well they are scoring.
What you get in real: Lastly, but most importantly, there are fabulous prizes up for grabs. At the end of the tournament, the winner of the overall fantasy league gets to win a Nokia Lumia 520 and the one finishing second gets a Micromax Funbook Tablet. There are three HP 16 GB pen drives as consolation prizes as well!
Also, did we mention that you can win a T-shirt or a laptop skin every week from store.sportskeeda.com?
So get started and invite all your friends so that you can have a gala time!
Please visit fantasy.sportskeeda.com now to create your team and invite your friends.