Sri Lankan lions - True gladiators
If you, like me, enjoy supporting the underdog, the Sri Lankan Lions present a veritable feast. They play a fiery brand of cricket and refuse to roll over and die; true gladiators this bunch.
The CB Series final down-under has been a feast of elegance, spirit and skill. Undoubtedly the two best teams made the final, and what a three match final it is turning about to be. One game a-piece and all to play for in Adelaide.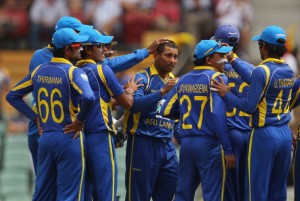 The Aussies have had an absolutely brilliant summer, drubbing the Indian tourists consistently. The rub of the green, resurgent and new talents, it's been fun all the way for Australian cricket. Michael "Pup" Clarke mentioned world domination more than once, as I recall from press reports.
And then came Mahela and his brigade.
Leading from the front, elegantly using his golf drives and deft nudges at the top of the order, the Lions aren't struggling any more. Dilshan has struck the purple patch of his life after being relieved of captaincy and Prince Sanga is creaming the bowlers with his own special brand of south-paw elegance. The youngsters are not far behind, with Chandimal and Thirimanne showing a clear glimpse of the future of Sri Lankan cricket. The all-round talents of Kulasekara have surfaced, finally.
The Aussies look fallible. Something that escaped our imagination when they were mauling the Indians a few weeks ago. Warner and Hussey have looked brilliant with the bat, but suddenly the Aussies are beatable; overwhelmed by the purpose and application of their opposition.
A small island producing such amazing talent and leadership is a true credit to the sport. I grew up in the generation when Sri Lanka gained Test status, and despite being the rookies back then, they demonstrated amazing depth, skill and talent. To Sri Lankan cricket followers of the new generation this may sound strange, but they can really be proud of the state of their cricket in their short history as a test playing nation.
I look forward to the big finale of the CB Series come Thursday night, as do a few million Sri Lankan and Aussie fans. If you are a betting person, don't bet against Sri Lanka unless the odds are really favorable. This team doesn't really know when they are beaten.
And, while we are on the subject, the Asia Cup will be a true feast for the cricket glutton. With a spirited Sri Lanka, a resurgent Pakistan, and India on the rebuild, it promises many a sleepless nights.
Enjoy the final on Thursday!