November 27, 1986 - It is a special day to remember as one of India's most reliable middle-order batsman in the 21st decade, was born on this day. It marks the birth of Suresh Kumar Raina, a player who went on to play crucial knocks at crunch moments for the country at the highest level. 'Underrated' is a word that you can associate very closely with Raina, as he has always found himself in and out of the team.
A complete team player and a selfless person, Raina managed to reserve some of his best knocks for pressure situations. He does not possess those humongous numbers like a Sachin or Kohli does, but the numbers don't often convey the true story of the worth of an individual. He has a Test hundred, an ODI hundred, a WT20 hundred, an IPL hundred, a CLT20 hundred and an ODI WC hundred - The only Indian in the history of the game to achieve this rare feat.
Raina was never an outstanding red ball cricketer, neither did he have the proper technique to succeed in that format. But in the shorter formats of the game, he was an absolute gem for India, whenever he took the field. He is a brilliant fielder, a complete team man who gives his 100% on the field, a very good middle-order batsman and a decent part-time spin option for India. When a wicket falls, when his teammates get to a landmark, whenever the opponent player did something extraordinary, Raina was always there to encourage and celebrate his team player's achievements like his own. He had that child-like enthusiasm on every little good thing that happened to Indian cricket, making him one of the greatest human beings on and off the field in the history of the game!
Raina is not the kind of character who makes you go awe about him based on his numbers but there were many top notch knocks that he played for India in ODIs - to rescue India from a crisis in that particular game, series or in some cases, both of them.
He has five ODI tons with 36 fifty plus scores, with an average of a shade over 35. As Raina turns 32 this week, we roll back the years, witnessing some of the best Suresh Kumar Raina knocks over the course of the last 13 years.
Here, we do not go purely by numbers, the impact that Raina created in that game/series is taken into account.
#6 India vs Zimbabwe, Eden Park, Auckland, 2015 WC, 110*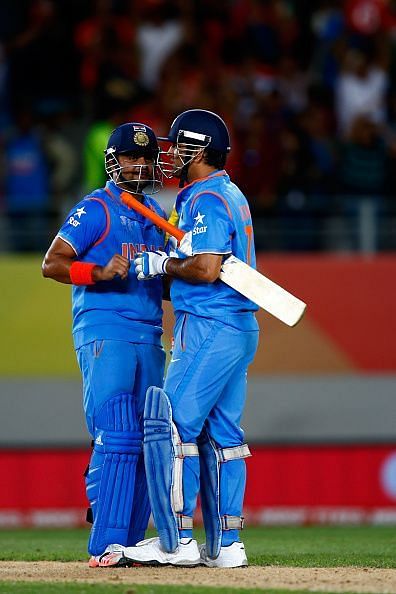 This has to be one of the top Raina knocks as it came in a World Cup and against a team that was threatening to take the game away from India. Zimbabwe batted first in Eden Park, Auckland and not many people expected Zimbabwe to challenge India in a high-profile game like the WC. But Zimbabwe defied all odds to post a challenging 287, thanks to an enterprising 138 off just 110 deliveries from their skipper Brendan Taylor. Even after being set a target of 288 for victory, India was expected to get there without much fuss, considering the experienced batting lineup of India.
But Indian fans were in for a rude shock as wickets tumbled at regular intervals. The two openers, Rohit and Dhawan were back to the hut in no time, and it was left to Kohli and Rahane to steady the ship. At 21/2, the duo combined to form a useful 50 run partnership but the successive wickets of Rahane and Kohli brought Zimbabwe right back in the contest. At 91/4, India was in all sorts of trouble as only Raina and Dhoni were left as regular batsmen.
Then the magic happened. The duo, already having a great understanding, thanks to the fruitful CSK association, milked singles and twos with the odd boundary here and there. The target was slowly getting to a manageable level as they brought up the century partnership, much to the delight of Indian fans.
Raina was fantastic in his approach, as he scored a fine hundred in that game. His undefeated 110 came off just 104 deliveries, thanks to the nine boundaries and four big ones into the crowd. If not for Raina's masterclass, an Indian defeat was imminent as not much batting was left after the magical duo. Dhoni too was in his destructive best, as he scored a fine 85* off just 76 deliveries, with eight fours and two sixes. Eight fours and two sixes will always remain in the minds of every Indian fan as this was the exact number of boundaries that Dhoni hit when he played that iconic innings in the 2011 WC final against Sri Lanka.
Raina and Dhoni had put on a fabulous 196 run stand for the fifth wicket as India cruised home safely. This innings of Suresh Raina was particularly important as it eased the early jitters in the dressing room. It not only came as a saviour in that Zimbabwe game, but it also made Indian fans believe that India had reliable hands in the form of Suresh Raina and MS Dhoni in the middle order, going forward in the WC.
It is always important that a team gets equal contributions from every single player in a tournament like the World Cup. And the fact that Raina's masterly century came when India was in all sorts of trouble, shows Raina's mental strength and his ability to deliver in crunch situations for whichever team he played. He was awarded the Player of the Match in that game, as Indian fans felt relieved that they could bank upon a reliable Suresh Raina in the middle order.
This was one of the five tons that Raina has scored in his career, and truly one of the amazing knocks played by him in ODI cricket.
#5 England vs India, 2014, 2nd ODI, Sophia Gardens, Cardiff, 100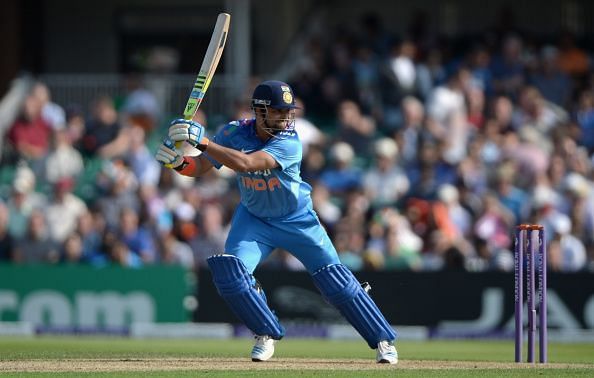 Raina's 100 set the tone for India to win the series
India had a disastrous Test series in the 2014 tour of England, except probably the one in Lords, where the Men in Blue managed to win against all odds. Then came the ODI series, in which India was expected to perform a lot better. The first of the five-match series was washed out without a ball being bowled in Bristol. So, virtually it was a four-match series between England and India.
Cardiff hosted the second ODI, in which England won the toss and put the visitors in. India needed a win to start the series as it is always crucial to start on a winning note in a bilateral series. They lost Dhawan and Kohli pretty early, as Rohit and Rahane steadied the ship with a fifty partnership, but two quick wickets again meant that India was in a spot of bother at 132/4.
This was again one of the many instances that Raina and Dhoni had bailed India out of trouble. Raina once again managed to get a hundred, this time off just 75 balls, which put India firmly in control. To face the likes of Anderson and Woakes in English conditions is always a tough ask and it seemed that Raina had an answer to every question that the English bowlers threw at him. He was once again in his free-flowing best to get a hundred and in the process, bailed India out of trouble yet again.
He had an able partner in MS Dhoni, who chipped in with a just over run-a-ball half-century. The famed duo put on a humongous 144 run stand and by the time both the batsmen fell, they had done enough to bat England out of the contest. India had raced to 304, a total that looked well beyond reach when the top order fell in real quick time.
It has to be said that Raina almost single-handedly carried India to 304, with the next top scorer being Dhoni and Rohit (52 runs to their name). That is one of the major reasons why this knock will find a place in the top ODI knocks in Raina's career.
Raina can be very handy with the ball as well, as he showcased on that day in Cardiff. He bowled three overs for just 12 runs and picking up the wicket of Jordan. India decimated England that night, by bowling them out for just 161. Hales top-scored with 40 and England did not have much to show after that. Raina deservedly was awarded the Player of the Match award, for his all-round heroics that set the tone for India for the rest of the series.
India did manage to win the series by a thumping 3-1 margin, and Indian fans will fondly look back to this game in Cardiff, where Raina enabled India to start the series on a winning note. Indian cricket and its fans badly needed this series win after the battering that it got in the Test series, and it was very much made possible, thanks to a Suresh Raina special in Cardiff!
Truly a masterclass from Suresh Kumar Raina in Cardiff!
#4 India vs England, 2012-13, 5th ODI, HPCA Stadium, Dharamsala, 83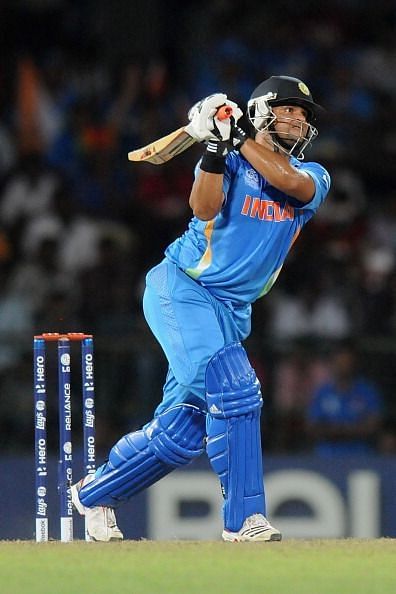 It seems Raina vs England would always end up being a fruitful battle for the former. The fifth ODI between India and England at the picture-perfect Dharamsala was no different. India had already won the series and was leading 3-1 in the five-match series. So, there was not much pressure for India, but still, the thoughts of making it 4-1 were well and truly on.
England won the toss and elected to bowl first, a decision that seemed to have paid rich dividends, considering the start that they got with the new ball. Bresnan and Finn were proving to be lethal as India got one of the worst possible starts. Rohit fell for 4, Kohli for a golden duck and Yuvraj too fell without the troubling the scorers as India were 24/3 at one stage.
24/3 became 49/4 as Gambhir fell for 24. Once again, Raina and Dhoni joined hands but this time, the repair work was limited to just 30 runs as Dhoni departed for a paltry 15. At 79/5, India had already lost the core of the batting lineup, with only Raina being the lone survivor. The all-rounders and the lower half of the lineup had to support Raina, and it was not going to be easy considering the sorry tale of the main batsmen.
The wickets at the other end did not seem to disturb Raina as he continued playing his shots. He found a very good partner in Ravindra Jadeja and the partnership of 78 runs came in handy for India. Jadeja fell at the wrong time, but Raina had already taken India past shame. He had brought some respectability to the total, thanks to his sensible 83 off just 98 balls. The fact that Raina had a strike rate of 85 with wickets tumbling at the other end, goes to show that he could mix caution with aggression when needed. Raina fell for 83, and a late flourish from Bhuvi, who scored a run-a-ball 31, took India to 226.
A target of 227 was always going to be easy for an English lineup that had the class of Root, Pietersen, Bell and Morgan, to a name a few. England as expected, made light work of the target as they got there with 7 wickets and 16 balls to spare.
Though India lost the game, this game will be remembered for one of the outstanding innings played by Suresh Raina in his entire career. He took India to a total of respect without any handy contributions from the other batsmen. The fact that Raina ended up with 83 runs and the next top scorer being Jadeja, who made 39, again shows how dependable Raina can be, at times of crisis. Such lone warrior innings are rare in ODI cricket and this innings again reinstated the fact that Raina can very well bat with the lower half of the lineup and rescue India.
Because of his single-handed knock to take India to a total of respectability, Raina's 83 will certainly find a place in the list of top knocks that he has played in his ODI career.
#3 India vs England, 2005-06, 2nd ODI, Nahar Singh Stadium, Faridabad, 81*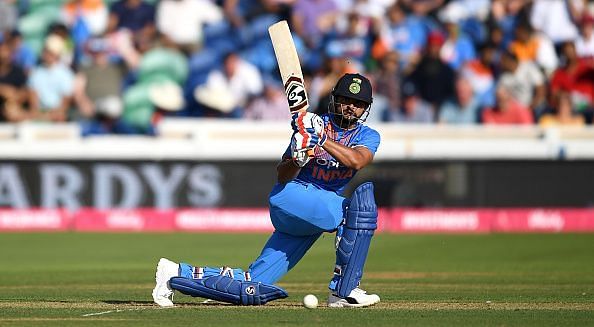 Another top knock of Suresh Raina in ODI cricket that has England involved in it. This series was a six-game affair and was expected to be a very interesting battle. It was early days for Suresh Raina, the international cricketer, as he was not even one year old in international cricket. It is always tough to face a top side like England in your early days of international cricket.
In the second game of the series in Faridabad, Suresh Raina not only faced the likes of Anderson, Flintoff and Plunkett with enormous ease, but he also showed early glimpses of what everyone can expect from Suresh Raina, the cricketer.
England opted to bat first, a decision that might have been taken considering the inability to chase a target of 204 in the previous ODI. They managed 226, thanks to the fifties from Strauss and Pietersen. A target close to 240-250 was not a cakewalk those days, hence India needed a good start to win the game.
Though India got a solid opening partnership of 61 runs between Sehwag and Gambhir, the floodgates opened once Sehwag was dismissed. It was soon followed by Gambhir and Dravid, and a little while later, Yuvraj and Kaif had fallen, leaving India in a hopeless situation.
At 92/5, two youngsters in Raina and Dhoni were out at the middle. Not many fans would have given India a chance at that juncture, with only Irfan Pathan left as a player who could bat. One more wicket at that time and India would have been done and dusted. A young Suresh Raina, along with a calm MS Dhoni, probably had other ideas.
This was again one of the occasions where Raina and Dhoni won the game for India through their partnership. It was probably the start of a long and fantastic association between these two. They shared a superb 118 run stand that took the game away from England. They not only won that particular game for India, but a hero in Suresh Raina had emerged that night, thanks to his magnificent 81 off 89 balls which included eight hits to the fence and a solitary six. He had a calm Dhoni at the other end, who made a supporting 38 off 55 balls with a couple of boundaries to his name. Except for Dhoni's 38, no other player managed to touch the 30s and it was one of those days were Raina was way ahead compared to his teammates, as his 81 had solidity, class and sensibility written all over it.
Again, Suresh Raina got the Player of the Match award for his unconquered 81 off 89 balls. One of the fabulous Suresh Raina moments in the history of the Indian ODI team.
#2 India vs Sri Lanka, 2009-10, Tri-Nation Tournament Final, Mirpur, Dhaka, 106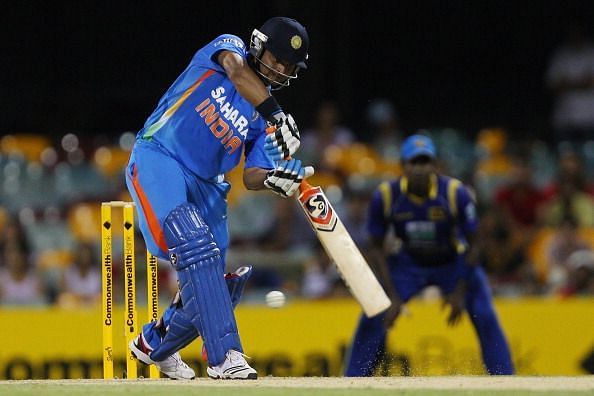 This has to be mentioned in the top knocks of Suresh Raina. It was the Finals of the Tri-nation tournament and India was all set to play Sri Lanka, with hosts Bangladesh being eliminated in the group stages of the competition.
Sri Lanka put the Men in Blue to bat first, after winning the toss. They immediately had a hold in the game as India was reduced to 16/3 with Gambhir, Kohli and Yuvraj being the victims, courtesy some brilliant exhibition of fast bowling from Kulasekara and Welegedara. Dhoni did not last long either, as India were reeling at 47/4 with Sehwag still in the crease.
That is where Raina joined Sehwag in the middle and one would have thought that the last recognised batting pair was out in the middle. Sehwag soon fell for a fine 42 off just 27 balls, with the Indian scorecard depicting a sorry tale. At 60/5 and with only Jadeja and the tail to follow, all hopes of India batting out the full quota of 50 overs was in doubt, let alone India winning the game. Again, with India in the brink of facing a massacre, Raina was there to hold the innings together with the tail.
He first combined with Jadeja to form a meaningful century partnership. Jadeja was as slow as a snail, as he limped to 38 off 64 balls, without a single boundary. But he did well to stick around and let Raina do the bulk of the scoring and bring India to some sort of respectability.
Once Jadeja fell for 38, Raina again stitched a superb 47 runs stand with Harbhajan, who contributed a meagre 11. Raina was simply outstanding and unstoppable on that day, as he handled the pressure of a final and the quality bowling of the Lankans with utmost ease. Harbhajan's departure brought in Zaheer to the crease, who never looked like playing a supporting role. He managed 16 quick runs with a couple of boundaries and a sixer. By then, Raina had already completed in what was a delightful 100 under testing circumstances.
When Raina was finally done for the day, he had not only scored a fantastic 106 off 115 balls, but he had also restored the pride of the Indian batting lineup, by taking them past the 240 run mark. It was a total that the bowlers could bowl with, if not win the game for India.
India managed 245 on the board but a combined effort from almost every Lankan batsman meant that they were the victorious team in the end. They chased down the target with 4 wickets, and 9 balls to spare, thanks to Mahela's unconquered 71.
India did not win the game, but Suresh Raina certainly won the hearts of one and all with his crucial 100 that gave India something to bowl at. Here again, the next top scorer in the innings was Virender Sehwag's 42. Raina had managed more than double the runs of the next top-scorer. Certainly, it was one of the finest knocks ever played by Suresh Raina and it was only fair that it came in a crucial final, albeit in a losing cause.
#1 ICC WC 2011, Quarters vs Australia, Ahmedabad, 34*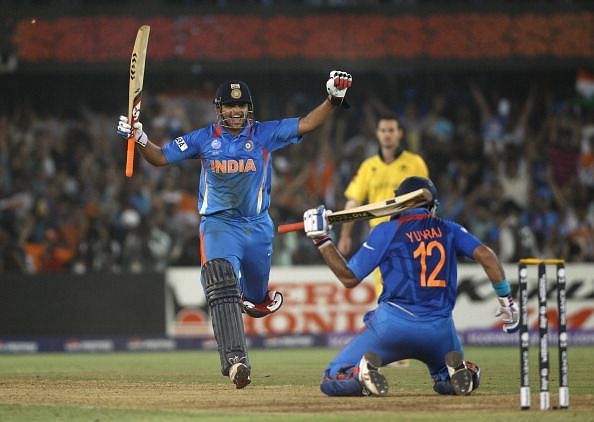 Suresh Raina does not believe in numbers. At least it looks as if he does not believe in it. The twin match-winning knocks that he played in the Quarterfinals and Semifinals of the ICC World Cup 2011 has to be the best knocks that he has played in his career. Not going by numbers, but largely due to the fact that the two knocks were delivered when there was pressure from all directions. India had not won a 50 over WC for 28 years, and everyone felt that this was the best chance for India to reclaim the trophy, this was the last chance for India to bid a fantastic WC winning farewell to one of its beloved sons, Sachin Tendulkar.
And with each passing game, India managed to grow from strength to strength, as each one contributed in their own little way to reach the quarterfinals. India had to play the mighty Aussies for a place in the semis. They had to play a team that just did not know the meaning of 'defeat' in the last three WCs, as they had won the title, hat-trick of times, a record that will stand the test of time.
Australia batted first, hoping for a 2003 WC final heroics with the bat. Ponting scoring runs against India seemed to be an eternal story as the champion batsman raced to yet another hundred against India. Australia ended up with a challenging 260, challenging considering that it was a WC quarterfinal. India in reply got to a good start from both the openers. Though Sehwag fell for 15, he had put on 44 with Sachin, who was looking well set at the other end. Sachin registered yet another fifty against Australia and just when he was looking set for a big one, he was dismissed by Tait and Gambhir was soon run out, having got a fifty against his name. Kohli and Dhoni did not last long as the pressure was right back on India.
At 187/5, India pinned their last hopes on Yuvraj and Raina. The fact that Raina did not play the initial stages of the tournament and got his first game of the tournament against the West Indies, meant that he did not have enough match practice, in the build-up to the quarters.
That is where Raina showed his class and experience to stitch a valuable 74 runs stand to take India past the finish line. Raina's wicket at that stage would have made life difficult for India but he kept his nerve and played a lovely helping hand to Yuvraj. Yuvi was magnificent in that game, as he was during the entire tournament. He remained unbeaten on 57 and ensured that India did not have any further hiccups.
Raina scored just 34 in that game, but each of those 34 runs was worth its weight in gold as he enabled India to stay alive in the tournament, by defeating the mighty Aussies in a high voltage clash.
Raina's 34 off 28 was one of the finest and most sensible innings ever played by him in the shorter format of the game.
#1 ICC WC 2011, Semis vs Pakistan, Mohali, 36*
An Indo-Pak encounter always brings in a lot of interest in the cricketing fraternity, and the pressure on both the teams cannot be measured in numbers. The heart beats fluctuate each ball, and both the sides will not be satisfied for anything short of a victory. More so when it comes in the biggest of matches and in the biggest of stages like the World Cup semifinals.
India faced Pakistan in Mohali, a game that was challenging for both the Asian giants. India opted to bat, as Dhoni believed in putting runs on the board in big games like the semifinal. The start was nothing short of thunderous for India, as Sehwag tore apart the Pakistan bowling and smashed his way to 38 off a mere 25 balls with nine boundaries.
Once Sehwag fell, Sachin and Gambhir slowly and steadily enabled India to further strengthen the game. India had to deal with a triple blow as Gambhir, Kohli and Yuvraj fell one after the other. Sachin watched all these from the other end, as he scored a fine and patient 85 that put India in a safe position. India still had not got to the match-winning total when Sachin fell, as the scoreboard read 187/5 and Raina walked out.
Dhoni's 25 came at a slow pace as India slipped to 205/6. They needed a final flourish in the death overs and that is exactly what Raina provided for India. He scored a near run-a-ball 36, as he dragged India to 260, a total that was tricky enough in a semifinal. Raina had to again bat with the tail, and he did his job to perfection, by scoring 36 crucial runs that proved to be the difference between the two sides, as India managed to win the game by 29 runs.
Raina has been a silent warrior for India in many of the matches, and the collection of these games just goes to show how valuable a player he is when India is under pressure. He can bat with the lower order, he can be a livewire on the field, he can be a good motivator for his side, he can chip in with part-time off-spin when needed and he can also rescue India from the jaws of defeat. Suresh Kumar Raina has been a complete package in ODIs as far as Indian cricket is concerned.
It will be a delight if he gets to play the 2019 WC for India. Indian fans will only welcome Suresh Raina with both hands.