Team India - The battle is won, but the war is on!
2.11K //
06 Jul 2013, 10:56 IST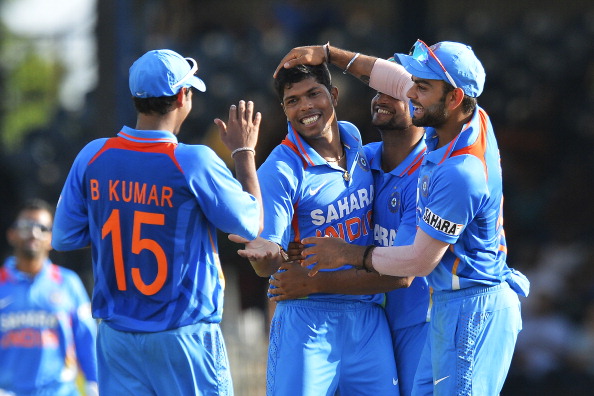 What a relief. A very good show put on by Team India. The tri-series might not be a high class event, but our prestige is at stake. Today, the Indian cricket team is considered one of the best teams in the world. Also, the blot of spot fixing is haunting. Therefore, to get out of its shadow, the only option left is to perform, which will be beneficial for everyone. In fact, the way our young brigade has shown their fighting spirit in recently-concluded Champions Trophy in England, we have already become strong contenders for winning the next World Cup.
Earlier, Team India was suffering due to failure of few of the senior players like Sehwag or Gambhir or Zaheer Khan, and a capable replacement was a big issue. Today, not only does captain Dhoni have a lot more options, but his quick shuffling of the squad sends a loud and clear message – to remain in the squad, it is imperative to perform.
For ages, fans used worry about who would replace Sachin Tendulkar; but today we have got one in the making – Virat Kohli. The only thing left is polishing his skills as a captain. Also, he will have to reduce the element of aggression if he really wants to follow the footsteps of Sachin.
Now on our bowlers. Most of them, especially our latest discovery Bhuvneshwar Kumar, are displaying the guts and skill needed for a world-class bowler. Their body language, their confidence and self-esteem appears fascinating to many of the fans. All these young bowlers have a down-to-earth approach.
Also, I believe that with the passage of time, if given proper chances and exposure, Yadav has the capability to fulfil the much-needed requirement of a true pacer. Ishant has not been able to deliver in comparison to the chances given to him (though he is trying hard, and has improved in the recent months). Also, Sir Jadeja has got a defined role of a fifth bowler, and he has been able to fulfil that.
Our batting order probably the best in the world, but Rohit Sharma needs to work on adding quick runs. Also, it appears that Dinesh Kartik is unable to play big innings and his contribution is clearly questionable. Shikhar Dhawan's habit of throwing his wicket away is troublesome. Suresh Raina has always responded to the call of the team, but there is tremendous scope for further improvement. MS Dhoni and Virat Kohli have chipped in with valuable contributions most of the time. Sir Jadeja has already proved his worth on a number of occasions. Murali Vijay is also expected to improve provided he gets chance to play regularly.
We were defeated by Sri Lanka by 161 runs in previous ODI, but we have defeated West Indies by a margin of 102 runs. Again, Bhuvneshwar Kumar haunted Gayle. Sunil Narine and Kemar Roach tried to save the situation with the ball, but could not do much. The most heartening thing was that not only did the bowlers take timely wickets, but the run rate was also under control.
With this kind of spirit and zeal, clubbed with total commitment, team work and, of course, tight fielding, Team India looks capable of getting back into this tournament.