Team India's Fantastic Four: Shoes too big to fill?
1.52K //
18 Jul 2011, 08:36 IST
There was a time when it was said that even God can't get a place in the Indian middle order, which was dominated by the Fantastic Four- Dravid, Sachin, Laxman and Ganguly. Then Ganguly disappeared for a while and we kept tinkering with the slot that was left vacant by him, but no one could fill that slot with the same conviction as that of Dada.  But, the comeback king that he is, Dada made his comeback and retired from the game on his own terms.
Since Ganguly has left, the talk has started about whether the young guns of Indian cricket are ready to fill in the shoes of greats like Sachin, Sourav, Laxman and Dravid, when they indeed hang up their boots. The upcoming India vs England series has all the focus on Sachin Tendulkar getting his 100th ton at Lord's, but one may ask the question, how long is Sachin going to be there?? Perhaps 2 years at most.  What about Laxman and Dravid?? Another year maybe.  Do we even have players who are half as talented and devoted as the Fantastic Four were?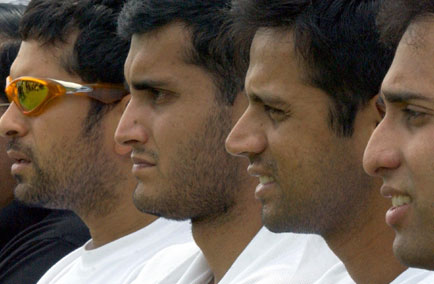 What happens when you remove the 42364 runs scored by the fantastic four out of the Indian batting line up? It leaves a void that would be almost impossible to fill. Lets take a look at our options.
Yuvraj Singh: One of the most gifted batsmen I've seen in a long time, a hugely successful One day and T-20 player, the only frontier he hasn't conquered is test cricket. The talent was never an issue, the application was, and somehow the arena of Test cricket was just too tough to handle for him. He has been in and out of the Indian test team for over 5 years now. Even in the practice match which ended earlier today against Somerset, he was out for a duck.
Suresh Raina: Raina is a force to reckon with in the IPL and one dayers, but as the England series beckons, the nightmares of the past must be coming back to haunt him. The last time Suresh Raina was in England for the 20-20 World Cup, he was dismissed for single digit figures in 3 matches, getting out in similar fashion all the time: all short balls, attempting to pull, the ball loops up for a simple catch. It would be wrong to say that he hasn't come a long way from there, but  he has rarely been tested outside the Indian sub-continent, not to mention he's only 11 tests old. A promising sign is the century he scored in the recently concluded practice match against Somerset.The upcoming series will be a big test for the talented batsmen, to perform under bowler friendly conditions
Virat Kohli: A promising young batsman with all the potential in the world.  He's done well with the limited chances he has got at the one dayers and T-20s. Kohli has only played 3 tests, so it would be unfair to comment on his Test batting prowess just yet, but the selectors could have atleast given him a chance in the upcoming series.   He's not even in the squad.
Rohit Sharma: One could just not stress on the fact enough that talent has to be converted into performances, and such is the case of Rohit Sharma. Some people had gone to lengths to saying that he might be the closest thing to Sachin Tendulkar India might have right now, but he has not even made his Test Debut yet. Even in the ODIs you would think that a player of his potential would have a better average than 33.something.
Looking at our options right now, I am afraid that we might not be able to sustain the No.1 ranking and what happened to Australia when Warne, Gilly and McGrath retired, the same might happen to India when Sachin, Laxman and Dravid call it a day.