Tendulkar - The Lovers and the Users
1.03K //
18 Mar 2012, 18:04 IST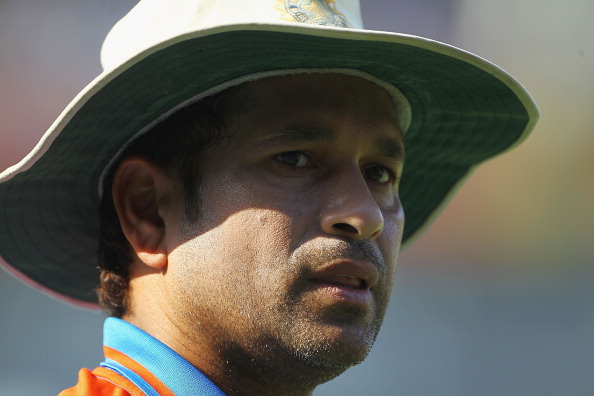 Tendulkar tucked a harmless ball down to fine leg and close to a billion people erupted with joy all over the world. The man himself was however, more sedate. He proceeded with the customary helmet removal and thanking-the-lord ritual before doing two things very uncharacteristic. He tapped the team emblem on his helmet and pointed it towards the dressing room. He might have as well pointed it towards the media, towards the crazy fans. He then wiped away a tear or two. It might have been tears of relief. On the other hand, for all we know, it might have been tears which meant to say 'they brought me down to this, one of my ugliest centuries turning out to be my hundredth.'
Ever since the World cup triumph, the obsession over Tendulkar's 100th hundred escalated alarmingly and unlike all hypes, it did not fizzle out after the initial froth. Rather, it turned into a noxious effluent rearing its hood to strike the master himself. Every time the man walked out to the middle and managed to cross just the double digits, the whispers grew louder, social networking sites defied saturation as the hopes increased for the magical moment, news channels started putting up breaking news which went "Sachin misses 100th ton again" even on occasions when he got out for 20s and 30s. The hype brought TRP's for the media. The critics rubbed their hands in anticipation to ridicule Sachin, not because he asked for it but because they had a chance to become famous once again. They knew that anything said for or against Tendulkar will make them noticeable.
As the landmark started to prove far more elusive than the general perception, the hype turned ugly. It had turned ugly long before critics and media started calling for Tendulkar's head; when the Little Master started feeling the pressure of the hundredth, while people ranging from his milkman to his housemaid started questioning him on when he would fulfill their wish. This saw a period of eight test matches and as many ODIs when Tendulkar would get consumed in a quagmire after initial brilliance. He started fearing failure. Of all the people, he would have been the first person to acknowledge that this fear was hindering him and his team's cause. He still defied critics and made himself available for the Asia cup – a relatively insignificant tournament which is not far away from existential crisis. He missed out on a feather-bed against Lanka and looked immensely disappointed with his dismissal that he even went to the extent of standing his ground hoping it was an above-the-waist no-ball when in reality, it was a gentle thigh-height full toss. "Tendulkar misses 100th Ton again" cried the media. The man had scored six.
So when it was evident that an average bowling attack and a slow, flat pitch was in the offing for the next match, he decided he had had enough. What we got from Friday's match against Bangladesh was a cautious, sedate, ugly and at times selfish innings which projected to the world the kind of agony that Tendulkar was going through. Between the score of 81 and 99, we saw a human Tendulkar, an error-prone Tendulkar, a struggling Tendulkar and more importantly, a frustrated Tendulkar. So when he took the single to get to that 'magical' figure, it was mostly a feeling of relief, not only for the great man but for most of his fans. The hundred which should have been sweet nectar turned out to be remedial cough medicine.
Having got the monkey off his back Sachin did another uncharacteristic thing. He came out and spoke in perhaps the strongest manner which his soft-spoken persona allowed him to do so about the media. He admitted that the hype had got to him and was not very subtle when he blamed the media for this. And the very fact that such a shy man who keeps most of his opinions to himself came out with such a statement should have shamed almost any entity. But sadly, the Indian media does not fall in this category of entities that sense shame. So as they got an opportunity to increase their TRPs once again because of Sachin, they have started off with their tribute shows, interviews and special live chats. There is another section of social media which is baying for Tendulkar's blood even after this by claiming the slowness of his hundred to be the cause of India's loss. This post will not attempt to retaliate to this section of people for that will be a redundant and worthless exercise. Rather, I will end this post here by stating a theory which I believe has become more of a fact during the past year.
When it comes to Tendulkar, there are only two type of people – The Sachin-Lovers and the Sachin-Users. You can choose which category you fall into.